14 Things to Do in New York City With Kids
.article-cta-top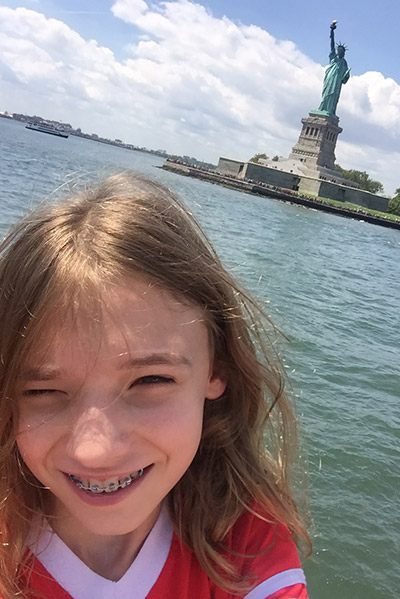 Recently, a friend in Texas asked me where he should take his 12-year-old daughter on an upcoming trip to New York City. Even though I lived there for over a decade, it's not a question I've been asked very often. Travelers may not consider New York City a kid-friendly destination, but it definitely can be! There are plenty of things up and down Manhattan Island (and beyond) to make a soon-to-be sullen teen wide-eyed with wonder. Let's start downtown and work our way up.
One World Observatory

Freedom Tower
285 Fulton St.

One World Observatory, view of skyline - © David Gaitan
Chances are your kid has never been this high in the sky. Guests of the tallest building in the Western Hemisphere get a 360-degree view of New York City and New Jersey. Even the most cynical among us are moved to tears at the big reveal on the 102nd floor. A virtual tour via iPad is offered to enhance the experience, but it really isn't necessary unless there's no visibility.
Cost: Adults, $34; kids 6–12, $28; seniors over 65, $32; priority access for ages 6 and over is $56 and allows you to skip the general admission line.
Regular Hours: 9 a.m. to 8 p.m.; summer hours: 9 a.m. to 10 p.m.
Nearby attractions: From Statue of Liberty cruises and the Anne Frank Center to the 9/11 Museum and Memorial Plaza, there's no shortage of downtown Manhattan attractions.
Hudson Eats

200 Vesey St.

Hudson Eats, Upscale food court - Mark Abramson/NYC & Company
After blowing your kid's mind with that view, take the elevator down to the One World Trade Center West Concourse and traverse the stunning white-marbled underground walkway, which echoes the design of Santiago Calatrava's Transportation Hub above ground. Cross over to Brookfield Place and have lunch at Hudson Eats, a modern food hall of "chef-driven restaurants" that offer counter service and views of the Hudson River and the Statue of Liberty. Enjoy gourmet selections from Blue Ribbon Sushi, Chop't, Parm, Le Muenster and plenty more!
Walk Over the Brooklyn Bridge

Brooklyn Bridge - Alexander Rotker/Unsplash
As expensive as it is, New York City has quite a few things to do that are free; walking across the iconic Brooklyn Bridge is one of them. From the Manhattan side of the bridge, take the subway (4, 5, 6, J/Z or R train) or a taxi to City Hall Park and begin the 1.1-mile walk to Brooklyn. And take a sweater with you—it can get chilly up there. Here's a handy Brooklyn Bridge guide that explains exactly where to start and what to do on the other side. (We suggest a stop for pizza at the iconic Grimaldi's, under the bridge, at 1 Front Street.).
Tenement Museum

103 Orchard St.

Tenement Museum, Visitors Center - Jay Manday/Wikimedia Commons
There are plenty of museums in New York City, but none quite like the Tenement Museum. Housed in a five-story walk-up, it tells the stories of the 7,000 people who lived in the building in the 19th and 20th centuries, including shop owners, sweatshop workers and street peddlers, all from more than 20 nations who struggled to adapt to their new lives in a quest for the American Dream. A visit here explores the rich cultural heritage of the Lower East Side and the issues of immigration, adaptation, discrimination and industrialization, all through the eyes of former residents.
Cost: Adults, $25; students and seniors, $20
Hours: Fridays to Wednesdays, 10 a.m. to 6:30 p.m.; Thursdays, 10 a.m. to 8:30 p.m.
Russ & Daughters Cafe

127 Orchard St.

Russ and Daughters, interior counter - Elizabeth Goodspeed/Wikimedia Commons
While on the Lower East Side, take time out to nosh at Russ & Daughters Cafe, the new sit-down location of the restaurant's "appetizing shop" on Houston Street, just around the corner. If you have a budding foodie on your hands, the smoked and cured fish, cream cheese, pickled vegetables, matzo balls, borscht, caviar and bagels will be a real treat. Complete with a soda fountain serving egg creams, it doesn't get more New York than this!
The High Line

Gansevoort to 34th streets, between 10th and 12th avenues

The High Line, Spring day - travnikovstudio/iStock/Thinkstock
What kid would be interested in touring a converted rail line above what was once a seedy section of the Meatpacking District? Any kid who is interested in a one-of-a-kind park that features high-powered telescopes, wildlife and garden tours, art installations, performances, dance parties and more. This restored 1.45-mile-long elevated railway has something for everyone — kids included.
Cost: Free
Hours: Opens every day at 7 a.m.; closes December 1 to March 31 at 7 p.m.; April 1 to May 31 at 10 p.m; June 1 to September 30 at 11 p.m.; October 1 to November 30 at 10 p.m.
Broadway Shows

Matilda the Musical at Shubert Theatre on Broadway - Dennis Beck, Broadway Tour/flickr
You may not have a song-and-dance kid, but I suggest you overrule any hesitation and experience live theater in all its glory. Get discounted tickets of up to 50% off at TKTS, which has four booths for pick-up across the city (Times Square, South Street Seaport, downtown Brooklyn and Lincoln Center). Don't expect to score seats to Hamilton (it's not happening), but you can get same-day tickets to Broadway shows like Fiddler on the Roof, Matilda the Musical, Cats or off-Broadway shows like Blue Man Group.
Times Square

Broadway and Seventh Avenue, from 42nd to 47th streets

Times Square - Ivo Jansch
Yes, it's overcrowded. Yes, you will encounter the Naked Cowboy (not really naked), giant Elmos and Elsas and other oddities. But there's a good reason that more than 360,000 people descend upon Times Square every single day of the year: There's nothing quite like it anywhere in the world. Visit at night, and your kid will finally understand the phrase "bright lights, big city." Also, it should be noted that visitors needn't feel as if they are going to be accosted by street performers; as of June they have been cordoned off, so tourists go to them and not the other way around.
Grand Central Terminal

42nd Street and Park Avenue

Grand Central Terminal, Celestial Ceiling - pixabay
Your child may be familiar with the phrase "as busy as Grand Central Station" but not know where it comes from. Make the connection amid the bustle of commuters, and be sure to look up at the beautiful celestial ceiling, bright with illuminated stars. After you walk the main concourse of Grand Central Terminal, visit the Whispering Gallery on the lower concourse outside the Oyster Bar. Stand on opposite corners, face the wall and whisper: The person diagonally across from you will be able to hear you plain as day. If you're hungry, head down to the dining concourse for 35 restaurant options, or visit the separate market for cheeses, coffee, chocolates, meats, baked goods and more.
Central Park

Central Park - Hector Argüello Canals/Unsplash
It's not possible to list in one paragraph the myriad things to do in an 843-acre park — the world's most famous — but I have a few suggestions:
Rent paddleboats in the Reservoir (east side of the park between 74th and 75th streets)
See the Alice in Wonderland sculpture (east side at 75th)
Visit Strawberry Fields (west side between 71st and 74th streets)
Hop on the 57-horse carousel during summer (mid-park at 65th Street)
Visit the Central Park Zoo (east side between 63rd and 66th streets)
Walk the pedestrian pathway
The Central Park Conservancy has a great list of Things to Do and See where you can get a personal audio tour of the park from celebrities via SoundCloud. Just click any link with a headphones icon and listen as Jerry Seinfeld, Kelly Ripa, Whoopi Goldberg and more share the history of Central Park.
Serendipity 3

225 E. 60th St.

Serendipity 3, Frozen Hot Chocolate - m01229/flickr
In business since 1954, the dessert destination Serendipity 3 has been popular with everyone from Marilyn Monroe to Jackie O (Andy Warhol even declared it his sweet shop of choice!). As New York's first "coffee boutique," Serendipity 3 specializes in "frrrozen" hot chocolates, frothy espresso drinks, teas, pie and cakes, but you can also make reservations for lunch or dinner. If you're feeling flush, order the Guinness World Record-holding Golden Opulence Sundae for a cool record-setting $1,000.
Dylan's Candy Bar

Flagship location: 1011 Third Ave. (at 60th Street)

Dylan's Candy Bar Whirly Pop® - Steven Depolo/flickr
Rarely do you want to indulge an appetite for candy, but if there is one place to do it, it's here. Dylan's Candy Bar is the Willy Wonka factory of New York, minus the oddball host and Oompa-Loompas. The Upper East Side location has three floors overflowing with more than 5,000 kinds of lollipops, gummy bears, chocolates and more.
Hours: Mondays to Thursdays, 10 a.m. to 10 p.m.; Fridays and Saturdays, 10 a.m. to 11 p.m.; Sundays, 10 a.m. to 9 p.m.
Real New York Tours

Midtown, Madison Ave. & 36th - Daryan Shamkhali/Unsplash
You may be tempted to hop on a double-decker bus to witness the sights and sounds of the city, but you can do better than that. Real New York Tours offers private and group walking tours that range from three to six hours long. For guests who don't want to pound the pavement, try the well-reviewed "Free Wheeling Tour" via private luxury vehicle with Moments2Memories Tours. Both companies recommend private tours for those with kids under 8.
Cost: Tours range from $45 per person, for the shortest group tour, to $400 for the longest (six-hour) private tour for 1 to 4 people.
American Museum of Natural History

Central Park West at 79th Street

Stegosaurus, American Museum of Natural History - InSapphoWeTrust/flickr
You could spend a month or more just visiting the museums of New York City. And it's true; each has something amazing to offer. There's the Metropolitan's 5,000 years of art, the Guggenheim's stunning architecture, MoMA's cutting-edge contemporary art collections and The Whitney's 20th- and 21st-century American art, but if you want a museum especially attuned to the interests of kids, visit the American Museum of Natural History. Renowned for its "sleepover nights," the museum explores the world of dinosaurs, the universe (in a film narrated by Neil deGrasse Tyson), national parks (in a 3D IMAX film) and the complexities of the human microbiome.
Cost: Adults, $22; kids 2–12, $12.50; seniors and students $17; tickets that include the IMAX/3D film and the Hayden Planetarium are a bit extra.
Where to Stay
The Carlyle, A Rosewood Hotel