20 Must-See Festivals in Spain
When most people think of fiestas in Spain, they likely imagine tomato throwing or the running of the bulls. But Spain's 17 autonomous regions offer a variety of fascinating celebrations, each infused with the history and culture of that particular area. Here are a few to consider attending on your next visit to Spain.
JANUARY
Spain celebrates the arrival of the Three Wise Men often with more enthusiasm than Santa Claus. On January 5, the day before Three Kings Day, parades are organized throughout the country, but Alcoy's is the oldest. Held since 1885, it starts with children dressed as shepherds and continues with Melchior, Gaspar, and Balthazar arriving on camelback carrying gifts. As they ride through the streets, the royal pages use wooden ladders along the parade route to climb up to balconies to distribute presents.
The last weekend of January, bands known as cuadrillas dance, sing and compete with one another on the streets of Barranda, a small village in the municipality of Caravaca de la Cruz. The festival celebrates folk music from all over Spain and is often accompanied by a market where the region's cheese, honey, wine and traditional sweets are on offer.
FEBRUARY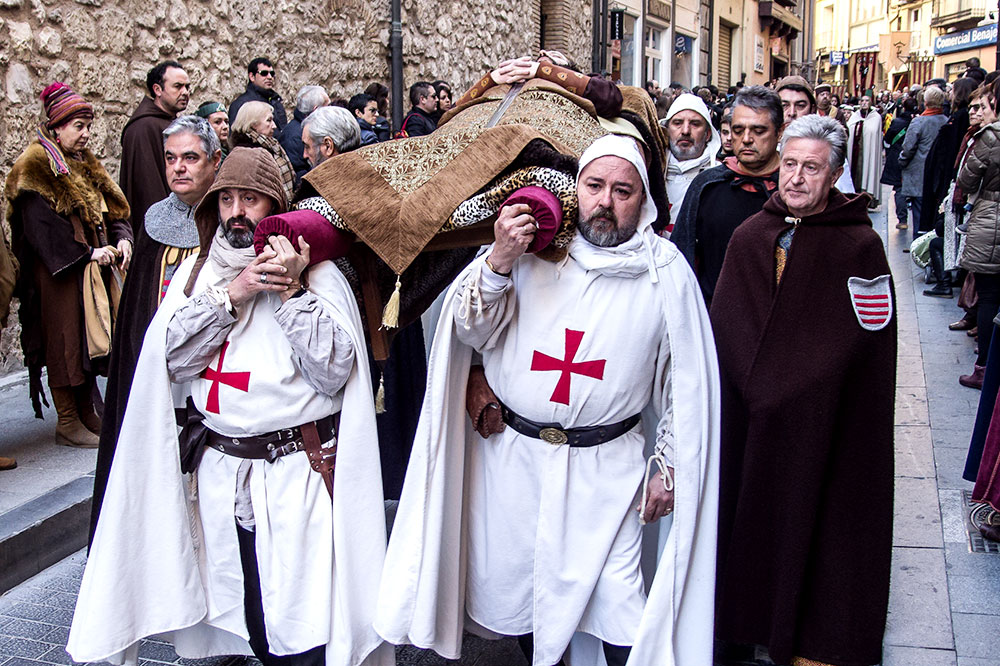 Participants in the Wedding of Isabel de Segura in Tereul, Aragon, Spain - Francis Raher/Flickr
Part of the "Europe in Love" network of cities that memorialize tragic love stories, Teruel celebrates the 13th-century legend of an unfortunate love triangle by returning to the medieval times. Mid-February, street theater re-creates scenes from Isabel de Segura's story; battle reenactments, sword fights, falconry displays and traditional concerts take place throughout the city.
Carnival
Santa Cruz de Tenerife, Canary Islands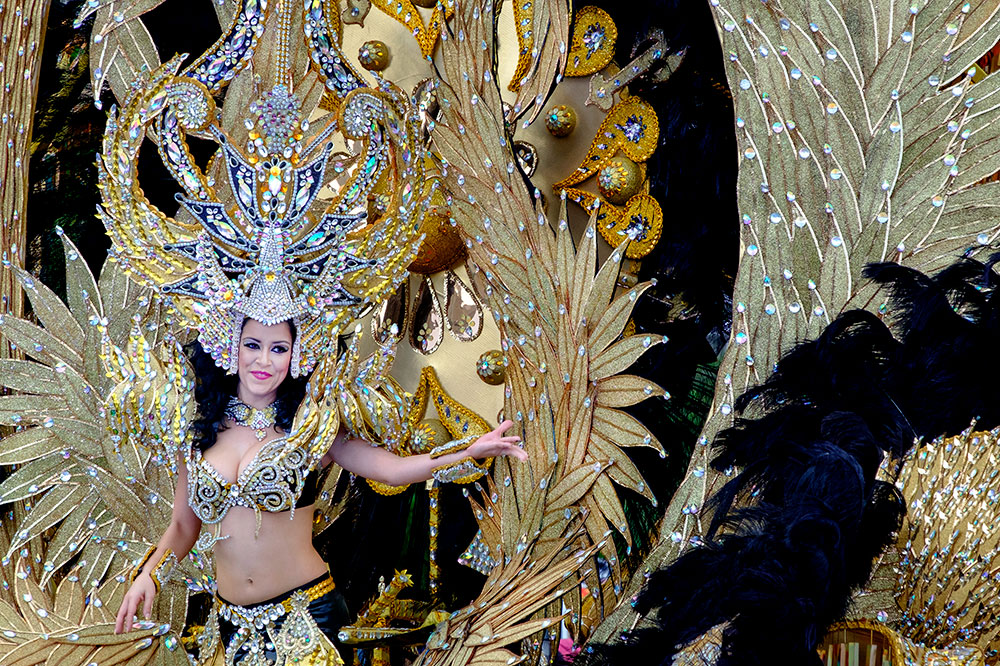 A woman in a lavish costume at Carnival in Santa Cruz de Tenerife on the Canary Islands, Spain - argalis/iStock/GettyImages
Dubbed the "most Brazilian" of all Spanish Carnival celebrations, the Santa Cruz de Tenerife Carnival takes place in February or March, depending on the date of Easter. During its two weeks of color, music and glitzy parades, competitions and performances take over the streets. Celebrations end when a sardine that symbolizes the spirit of the Carnival is burned in a ceremonial burial.
MARCH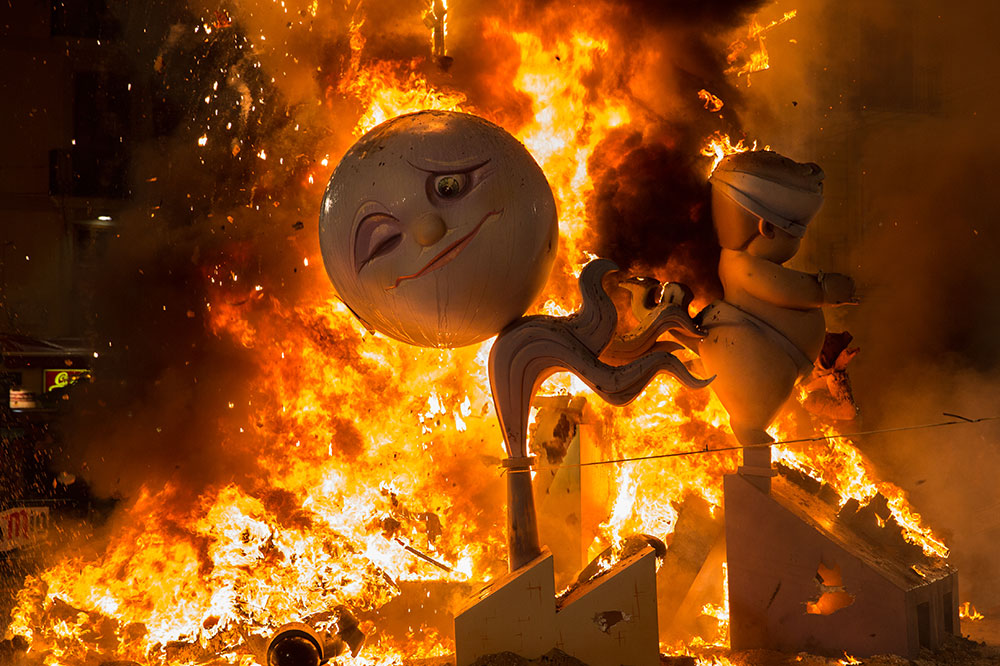 The burning of a papier-mâché falla in Plaza de la Reina during Las Fallas in Valencia, Spain - Jorgefontestad/iStockPhoto/GettyImages
Elaborate statues of niñots (figurines, with satirical undertones), noisy petard explosions, traditional music and dancing, medieval parades and paella cookouts are just a few experiences that characterize one of Valencia's most important celebrations. Held March 15 to 19 each year, the festival culminates with close to 800 fireworks and massive fires all in one night — an experience not to be missed.
APRIL
Spain's devotion to Easter is evident throughout the peninsula — almost every town celebrates with processions of religious statues and somber music. But it's Lorca's that you wouldn't want to miss. Processions include the likenesses of Egyptian gods, Roman emperors, Cleopatra and the Antichrist, and they even host chariot races.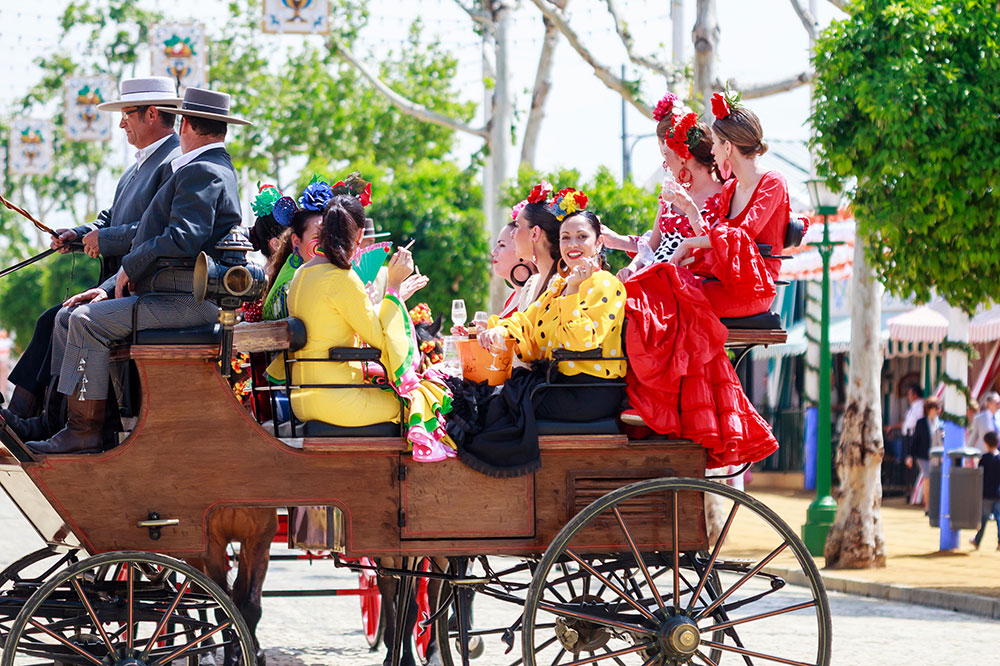 Women taking a ride in a horse-drawn carriage at April Fair in Seville, Spain - Shootdiem/iStock/GettyImages
Seville's largest fiesta began in the 19th century as a cattle fair; today it's a week when city residents abandon their homes for casetas, tents installed on the fairgrounds. Most celebrations take place inside those casetas, and there is food, drink, conversation and sevillana, a local folk dance reminiscent of flamenco. The vast majority of casetas are private, meant to welcome family and friends, but there are also public ones for visitors. Make sure to wear the traditional Andalusian dress and rent a carriage with a driver so you can take part in a horse and carriage parade.
Believed to be the oldest gastronomic celebration in Galicia, this festival takes place during the last weekend of April and honors the lamprey, a type of fish that has been part of Galician cooking for centuries. To the sound of bagpipes and other traditional band music, visitors sample lamprey dishes, enjoy Galician wines that accompany them and learn about the importance of this boneless fish to the region.
MAY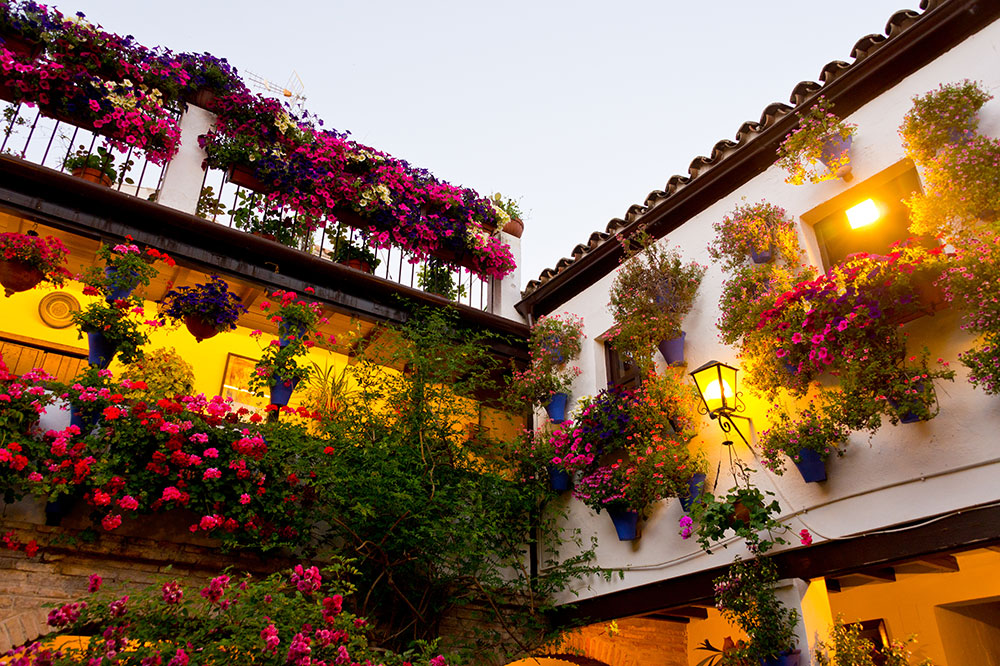 A traditional flower-decorated patio at the Courtyards Festival in Cordoba, Spain - NLink/iStock/GettyImages
Peeking through closed gates at flower-filled courtyards is every tourist's favorite pastime while strolling the whitewashed streets of Córdoba. But during this festival that runs during the first two weeks of May, no peeking is required. Residents open their patios to the public and compete for the title of the best display in an almost 100-year-old competition. The sounds of street flamenco shows and the taste of local tapas accompany the celebration.
Madrid is one large picnic during the San Isidro Fair, especially on May 15 (to picture it, just view Goya's painting "The San Isidro Meadow," minus the parasols). Get some local cocido (a stew) and rosquillas (doughnuts) and enjoy them next to Madrileños dressed in traditional, chulapo-style clothes. There are also street concerts, traditional chotis dancing and fireworks displays. Not to be missed are the parades of "giants," 13-foot-tall effigies representing historical or folk characters, and "big heads," dolls with comically large heads.
JUNE
Known as Las Fallas del Pirineo, these festivities go back generations and happen in more than 60 villages and towns in Aragon and Catalonia, as well as in Andorra and the south of France. Honoring San Juan Day and the arrival of summer, celebrations take place on June 23 and 24 and vary by town. In some, residents descend from the highest nearby point carrying torches; in others they organize races and dances with fire; and in yet others, festivities culminate with a large bonfire in the center of the village.
JULY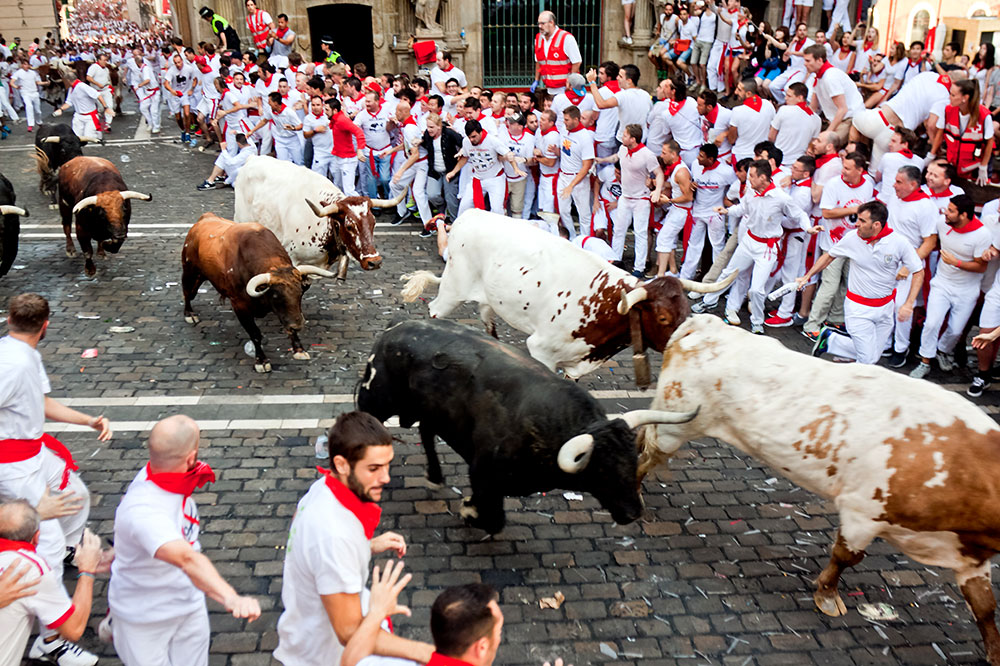 The running of the bulls at San Fermín Festival in Pamplona, Spain - mmeee/iStock/GettyImages
Although the running of the bulls is the main attraction of San Fermín, the festival, which takes place between July 6 and 14 also offers concerts, open-air celebrations and, of course, parades and dances of giants and big heads.
First organized in 1978 by a local bagpipe school to honor the Celtic origins of Galicia, today this four-day open-air festival celebrated in mid-July (dates vary from year to year) includes other kinds of traditional folk music. There are also photography exhibitions, craft fairs, dance workshops and marching band performances.
AUGUST
Mark the last Wednesday of August on your calendar, buy a ticket well in advance (they run out fast), and participate in a tradition that goes back to 1945. Start with a breakfast provided by the town hall, and continue the day by throwing tomatoes at everyone around you. By the end of the day, the city will resemble a large pot of tomato sauce, your clothes will be soaked and the hosing offered by the organizers will feel like the best shower ever.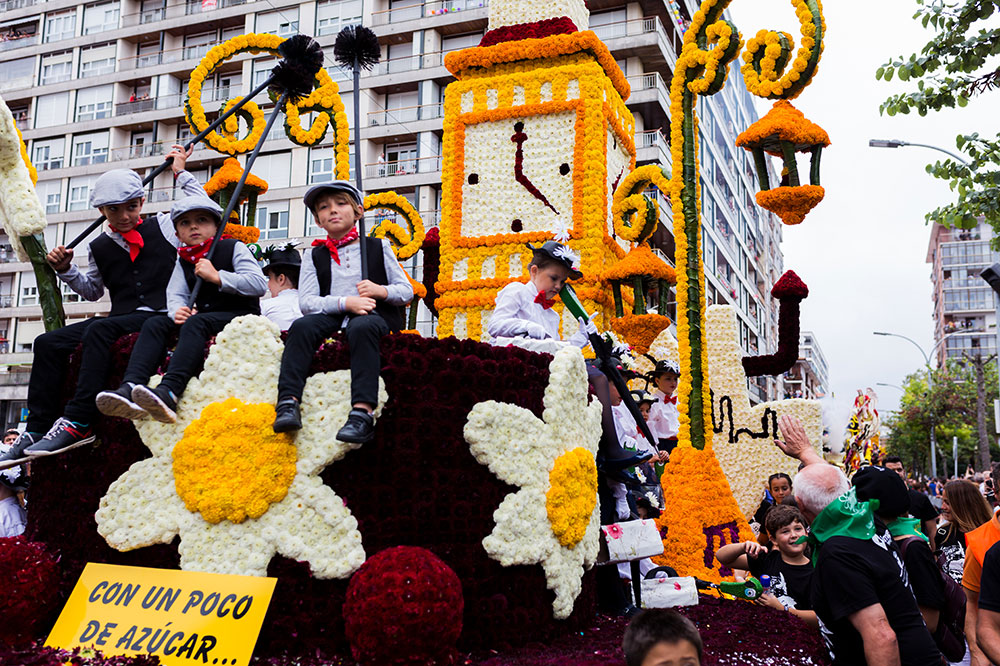 A Mary Poppins-themed float at the Battle of Flowers in Laredo, Spain - Bonilla1879/iStock/GettyImages
Neighbors work together to create elaborate floral floats, some more than 20 feet high, using close to 2 million flowers (most grown by town residents themselves). Taking place on the last Friday of August, this parade is accompanied by traditional music and dancing and culminates with fireworks. Perhaps the most interesting part is the night before the parade when visitors are invited to watch the assembly of the floats and witness how people unite to complete an almost yearlong dream.
SEPTEMBER
If you ever wanted to crush grapes by foot to make wine like in the olden days, this weeklong celebration that takes place around San Mateo Day is your festival. The batch you'll make will be offered to the Virgin of Valvanera, the saint of La Rioja, and you can continue to enjoy the celebrations with street performances and wine tastings.
La Mercè
Barcelona, Catalonia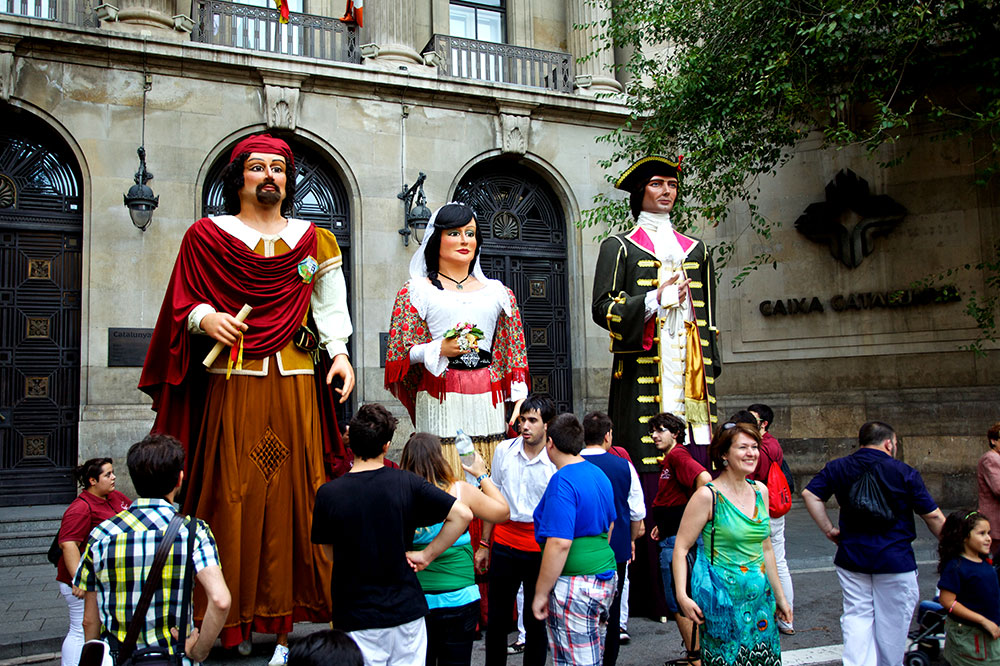 Giant figures created for La Mercè in Barcelona, Spain - payee/iStock/GettyImages
Barcelona's largest street party, this free "festival of festivals" hosts several hundred activities during the weeklong extravaganza. Honoring La Mercè, Barcelona's patron saint, celebrations focus on showcasing the city as the hub of artistic expression. Street theater, dance, circus, pyrotechnic displays and large art installations highlight the diversity of artists living and working in Barcelona. Visitors can also witness traditional castells (human towers) being built, watch the parade of royalty and participate in a fire run: the procession of devils and other creatures armed with sparks and fireworks.
OCTOBER
This weeklong festival held around mid-October is dedicated to zarzuela, a lyrical genre of Spanish opera. It welcomes both professional and amateur groups to perform in the Teatro-Auditorio Tomás Barrera in La Solana. Tickets are available online and workshops are organized for children to learn about the tradition.
NOVEMBER
Held in the town of Potes, located in the heart of the Picos de Europa mountain range in northern Spain, the festival celebrates Orujo, a pomace brandy, Galicia's most famous liqueur. It is obtained by distilling the solid remains left after pressing of the grapes, and visitors are invited to witness the traditional distillation process.
DECEMBER
Not exactly a festival, this centuries-old Mallorcan tradition is still worth your time. Every Christmas Eve a child sings this Gregorian chant in churches across the island. UNESCO declared it an Intangible Cultural Heritage of Humanity in 2010.