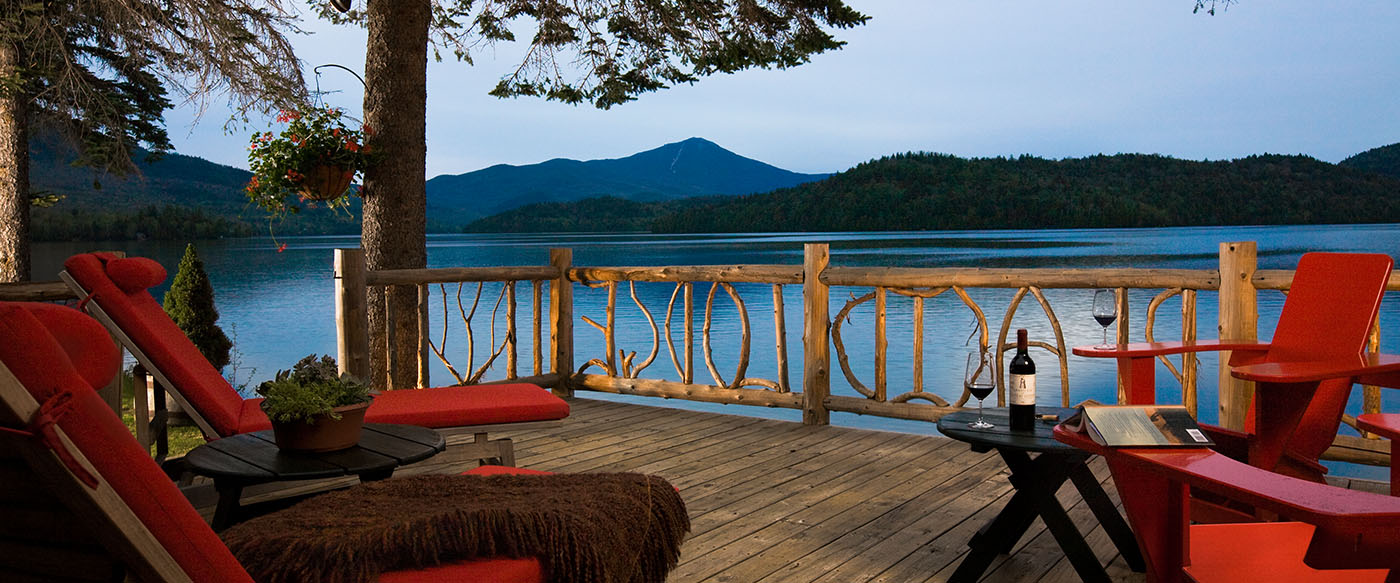 2011 Restaurants of the Year
2011 Grand Award Winners
By Hideaway Report Editor
January 1, 2011
Amangiri, Utah
Situated close to Lake Powell and just 25 minutes north of the Glen Canyon Dam, Amangiri is set on a 600-acre estate and is surrounded by some of the most overwhelming scenery in America. From its central Pavilion, a desert landscape of  bluffs, mesas and stratified rock pillars unrolls with epic grandeur toward the Grand Staircase-Escalante National Monument.
Its architecture also demands your attention. The concrete structures display a Modernist severity that makes few concessions to traditional resort design, but in their extraordinary natural context, they acquire a sculptural quality. The main Pavilion is a huge, open space that contains multiple woodburning fires, a library, a dining room and an open kitchen. On one side, picture windows frame the desert; on the other, glass doors open onto a terrace beside an astonishing swimming pool that winds around the base of a dramatic escarpment. 
The resort comprises 34 accommodations in two wings. Our Mesa View Suite came with a king-size bed on a raised platform surrounded by a striking expanse of white-stone floor. An adjoining bath lined with sage-green tiles contained a soaking tub and two wall-mounted showers. And a so-called "sky terrace" provided  daybeds, a huge square block of natural wood for a table and a recessed ethanol-burning fireplace.
Amangiri's principal amenity is an atmospheric 25,000-square-foot spa. The menu of outdoor activities is seemingly endless, as the resort is surrounded by the Grand Circle of national parks, with Bryce, Zion and the Grand Canyon all within a three-hour drive. 
Ranch at Rock Creek, Philipsburg, Montana
Taking its name from a blue-ribbon trout stream that flows out of the wilderness along the Continental Divide, The Ranch at Rock Creek is surrounded by a magnificent 6,600-acre property. 
Nine conventional rooms are housed within Granite Lodge, a log-and-stone structure that contains the dining room, a rustic lounge, a spa and a sod-roofed "saloon." A quarter-mile away is a barn (with two lodgings), a romantic log cabin and eight wood-and-canvas cabins bordering the creek. These look like tents, but are warmed by gas fireplaces and contain plush beds that let you fall asleep listening to the water flow by. Luxurious private bathhouses are just steps away. Finally, two log homes offer three and five bedrooms, respectively. 
Bluebird Cabin is the most romantic spot on the ranch, positioned for privacy at the edge of the rushing creek. And we envied the guests who had reserved the Trapper cabin, located a quarter-mile upstream from the other creekside lodgings, with a large etched-glass window facing the creek and a private streamside veranda, where a deep hot tub invites open-air soaks.
We were consistently pleased with the meals from the ranch kitchen. One evening we had George's Bank sea scallops with white bean purée, cashew romesco sauce and braised leeks, and a perfectly done Montana rib eye with white cheddar gratin and grilled asparagus. Overall, this is a fine new property, and it joins a select list of Montana retreats where you can experience the thrill of the great outdoors, but still eat exceptionally well and sleep soundly in sophisticated comfort. 
Lake Placid Lodge, Lake Placid, New York
In 1882, a German family built themselves a rustic camp from which they could enjoy the dramatic view of Whiteface Mountain in the Adirondacks. This remained a private residence until 1946, when the property was sold and reopened as a hotel. Over the years, Lake Placid Lodge became an American institution. However, in late 2005, the main building suffered a catastrophic fire.
The lodge reopened in 2008. Today, the front hall is once again a classic Adirondack interior, its wood floors covered with area rugs, a welcoming fire in a stone fireplace, cleverly crafted furniture made in the distinctive regional "twig" style, and a stairwell filled by a towering birch tree. Elsewhere, the public areas are hung with paintings from the Hudson River School.
There are 13 rooms and suites in the main lodge and an adjoining building, plus 17 cabins beside the lake. Our cabin proved to be a haven of comfort, with a beamed ceiling, wood-paneled walls, a stone fireplace and picture windows. The furniture was a mix of antiques and handcrafted pieces by local artisans. A well-equipped bath came with a separate shower and a soaking tub.
The main lodge is full of spaces that are just as cozy and appealing. Our favorite among them was the Moose Room, with its huge stone fireplace. The property has two restaurants. Artisans, the formal dining room, offers a seasonal New American menu. Wood-paneled Maggie's Pub, with its fireplace and tables set by the windows, is just the place for a first-rate burger and a pint of the locally brewed Ubu Ale. Lake Placid Lodge is an iconic American resort, and its restoration has been a remarkable success.
The Hazelton Hotel, Toronto, Ontario
Although a "contemporary boutique hotel, The Hazelton displays none of the usual deficiencies of the genre. At the front desk, a charming young woman handled our check-in with warm efficiency, and throughout our stay, the prowess of the concierge desk impressed us. 
The interior design is modern, with dark wood accents and earth tones balanced by large windows that admit generous washes of natural light. The 77 guest rooms are larger than usual, averaging 600 square feet. Their décor is soothingly understated, with cream walls and original works by Canadian artists. The furniture includes leather reading chairs and spacious desks. Baths have beautiful deep-green polished granite walls, heated floors, separate showers with overhead rainfall fixtures, soaking tubs and LCD televisions set into the mirrors above the vanities. 
The hotel's excellent One Restaurant is under the direction of notable chef Mark McEwan. Its high-ceilinged dining room looks out onto a terrace which, in favorable weather, has some of the most sought-after tables in town. The dinner menu offers a fine selection of oysters, plus simple but delicious appetizers. So-called "Composed" main courses include dishes such as lightly smoked day-boat scallops with mussels, clams and baby vegetable ragout, and grilled lamb chops with merguez sausage, olives and minted couscous salad.
Among the hotel's amenities are a health club featuring a lap pool lined with striking mosaic tiles, and a lovely small spa. The Hazelton has a contemporary aesthetic that may not appeal to everyone, but we highly recommend it to those who prefer smaller hotels and are comfortable with modern design.
Tambo del Inka, Sacred Valley, Peru
The sacred valley of the Incas lies 35 minutes' drive to the northwest of their Andean capital, Cusco. Carved out by the surging waters of the Urubamba River, the valley runs for about 40 miles from Pisac to the Inca fortress town of Ollantaytambo (starting point for the four-day hike to Machu Picchu known as the Inca Trail). 
Tambo del Inka debuted in early May on the banks of the Urubamba. Designed by the lauded Miami firm Arquitectonica, it comprises a series of linked low-rise pavilions with inviting wood-and-glass fronts. Nothing about the exterior, however, prepared us for the breathtaking interior, which features stone floors, polished beams and huge panoramic windows.
We found our spacious room to be just as pleasingly designed with the same striking interplay of wood and stone, plus beautiful Inca-motif fabrics and subtle lighting. Decorated in earth tones with polished wood accents, it provided a large sitting area, plus spellbinding views of the river and mountains. The large bath came with a soaking tub, double granite vanities and a separate shower.
Architecturally, both the bar and Hawa fusion restaurant are spectacular. Chef Rafael Cassin sources much of the produce locally, so you can expect superb vegetables and delicious fish, including excellent grilled trout. Elsewhere in the property, the scale is imposing, especially in the spa, which houses a dramatic indoor-outdoor pool and a wet area with Jacuzzis.
Tambo del Inka is an exceptional new hotel. However, insist on a river-view room, otherwise you could find yourself facing the town of Urubamba or, worse, the parking lot.
Titilaka, Lake Titicaca, Peru
After a two-hour, 50-mile drive from the nearest airport in Juliaca, our hearts sank as we turned down a small road toward the lake and first spotted the Titilaka hotel. "Utilitarian" seemed a generous adjective to apply to its boxy red-brick architecture. But the second we set foot through the door, we realized that we had come to a special place.
Created in 2007 by a scion of the family that owns Peru's Inkaterra properties, the hotel has 18 loft-like accommodations. Our sophisticated suite was dominated by a large window, beneath which matching daybeds provided a perfect spot for an afternoon read. A full-length glass wall separated a raised wet area—appointed with a slatted wood floor, a separate slate-clad rainfall shower and an oval soaking tub—from the sleeping/living area.
The most appealing public room is the open-plan dining room/lounge, a light-washed space with floor-to-ceiling windows, a high timbered ceiling and a sitting area that at the end of the day provides a venue for a convivial cocktail party. The food is very light with a Mediterranean cast, and we especially enjoyed a delicious pumpkin soup followed by fettuccine with smoked trout.
Numerous excursions are available, including tours among the indigenous peoples on the Uros floating islands. This is one of those enchanting, end-of-the-world places where you feel you have succeeded in leaving the inessential behind. One night after dinner, we strolled out onto the deck off the dining room and stared up at the blazing night sky. Owing to the altitude and the clarity of the air, we felt as though we were being lifted off our feet into the cosmos.
The Peninsula House, Dominican Republic
A small world unto itself, perched 1,000 feet above sea level, The Peninsula House is the result of impeccable taste and a thousand intelligent decisions.  A plantation-style guesthouse, it contains just six airy suites and public areas distinguished by a museum-quality art collection, the life's work of French proprietor Marie-Claude Thiebault and her American partner, Cary Guy. 
On arrival, we stood for a moment in the foyer admiring the light-filled interior courtyard, rife with broad-leafed tropical plants, before being led up to our spacious corner suite. This came with high ceilings, a hardwood floor scattered with kilims, and a four-poster king-size bed. Louis XIV chairs and cabinets were combined with Indonesian marionettes and mandala scrolls. Inside the cozy bath, a rainfall shower sat opposite a soaking tub. French doors opened onto a vast wraparound veranda.
Dining is an eminently civilized experience, and meals feature dishes such as tangy merguez skewers, delicious dorado ceviche, roasted quail in a caramelized onion reduction, or flank steak with Argentinean chimichurri sauce. Guests take lunch down at The Beach Restaurant, a casual open-air establishment that is a five-minute car ride from the main property.
On a half-mile constitutional along the sands of Playa Coson, we ran into only a handful of other people. We spent the rest of the day at the main property, reading by the pretty saltwater pool. While it may lack the spa and sport facilities of a classic luxury beach resort, The Peninsula House is a very special place, and is certainly a fine choice for a birthday or an anniversary with a zero in it.
Tucker's Point, Bermuda
This remarkable property sets an entirely new standard for Bermuda and manages to combine the charm and intimacy of a smaller hotel with the benefits and amenities of a much bigger resort. This happy combination arises because the hotel is part of a larger entity, Tucker's Point Club, which extends across a 200-acre estate on the island's East End.
Tucker's Point occupies a gracious building done in British manorial style. Its spacious rooms come with polished limestone floors and richly patterned fabrics for curtains and bedspreads. French doors lead from the bedrooms to balconies or terraces that afford views of either Harrington Sound or Castle Harbour. Baths are sumptuous, with large, freestanding oval tubs and separate showers. Seven particularly desirable Poolside Deluxe rooms have steps leading from their terraces to private alcoves appointed with canopied daybeds beside the 75-foot Castle Harbour Pool. 
The hotel offers two appealing restaurants: Tucker's Bar and The Point. Coffered ceilings and walls hung with hunting and sporting prints imbue the former with the atmosphere of an English club. The Point is more formal, with delicious, chiefly Italian food served by smartly attired staff in double-breasted white jackets. Antidotes to gastronomic indulgence include a 2,000-square-foot fitness center. Golfers will revel in the superb par-70 course set on some of the finest waterfront land in Bermuda. Laid out in 1932 by Charles H. Banks, it was completely reworked in 2002 by Roger Rulewich, former chief designer with Robert Trent Jones.
Banjaar Tola, Central India
Situated along the banks of the Banjaar River, which here forms a boundary of the legendary Kanha National Park, Banjaar Tola comprises 18 air-conditioned tented suites. Each is set on an elevated wooden platform and provides a large bedroom with a king-size bed, a huge bath with a soaking tub and walk-in shower, and a private terrace with two daybeds in addition to a dining table and chairs. Everywhere, the influence of upscale African safari camps is in evidence. Our suite's imaginative use of local materials, textiles and artifacts; its expanses of indigenous wood; and its clever juxtaposition of elegance and rusticity all evoked memories of happy times spent at the edge of the Kalahari.
On our first evening, the temperature was pleasantly cool, so we eschewed the air-conditioned dining room and sat outside on a terrace overlooking the river. There, we enjoyed a delicious meal of lightly spiced Indian food, accompanied by a bottle of chilled white wine. 
We were awakened at 6 the following morning by the arrival of coffee and cookies. Half an hour later, we clambered aboard our safari vehicle, a sturdy Land Cruiser with three banked tiers of seats, in all respects identical to those in service at top African game lodges. Our driver-guide explained that he had been extensively trained by South African instructors, and over the next three days, he proved himself an exceptionally knowledgeable and charming companion. During our visit, all the guests saw at least one tiger every day, and one fortunate couple encountered three individuals in the course of a single afternoon.
Sumahan on the Water, Istanbul, Turkey
Roughly equidistant from the Bosphorus Bridge and the Fatih Sultan Mehmet Bridge, the 18-room Sumahan on the Water occupies a three-story former raki distillery that is perched right at the edge of the water.
Our welcome was warm, and the book-filled library adjacent to the reception desk was an appealing place to sit for a few minutes while the staff confirmed that our duplex Loft Suite was ready. This proved a delight, with a woodburning fireplace in the cozy sitting room on the main floor, from which French doors opened onto a grassy verge beside the Bosphorus. The living area came with a wool-flannel sofa and a plasma-screen television with a DVD player on which to watch movies from the hotel's extensive video library. A proper stairway with a railing and wide wooden steps led up to the bedroom loft, which had two small windows overlooking the Bosphorus, and a large, very comfortable bed. The full bath was clad in gray marble and provided a soaking tub and stall shower, plus Turkish toiletries, including olive oil soap and spice-scented shampoo and lotion.
The property's excellent seafood restaurant, Kordon, actually preceded the hotel, having moved to the site in 2001. In fair weather, tables are set outside beneath an awning, from where there is a glorious view of the water and the Bosphorus Bridge. One afternoon, we decided to relax in the hotel's beautiful Turkish bath and enjoyed a deeply relaxing hour that began with a sauna and continued with a brisk exfoliation, a full-body lathering and a final soaking. Afterward, we retired to the adjacent relaxation room to sip tea and nibble on walnuts and dried apricots. 
Villa Bordoni, Tuscany, Italy
The intimate 10-room Villa Bordoni Can boast origins as far back as the 11th century, when it was a fortified tower midway between the perpetually warring cities of Florence and Siena. During the 18th century, Giuseppe Bordoni, a scion of a local landowning family, made the villa his permanent home and invested heavily in the vineyards, producing a renowned Chianti Classico. 
Our spacious quarters came with a high ceiling of exposed beams, an antique bureau with a basalt top, and an extremely comfortable bed with Italian linen sheets and a goose-down duvet. The dark gray walls had been handpainted using a water-based lime wash and were complemented by embroidered drapes. A little mezzanine level with an Empire daybed provided a perfect perch for a late-afternoon read. Baths at the Villa Bordoni feature floors tiled with antique ceramics made in the tiny town of Vietri sul Mare on the Amalfi Coast. Ours was equipped with a white-marble counter and a shower with both an overhead fixture and wall-mounted hydromassage jets.
The property's English-speaking staff members are uniformly charming, and the quality of chef Francesco Fineo's cooking is exceptional. We loved our supper of charcuterie from the famous Antica Macelleria Falorni in Greve in Chianti (which dates from 1729) followed by whole-wheat spaghetti with mussels, clams and cherry tomatoes, and fettuccine with an earthy wild boar sauce. Outside among the olive groves, guests will discover an unheated pool and an open-air fitness pavilion. Though not especially luxurious, the Villa Bordoni is an enchanting country house hotel and a fine base from which to explore.
Hotel Le Fontanelle, Tuscany, Italy
Set on a hilltop overlooking miles of rolling   countryside and housed within a farmstead dating from the 13th century, the understated 25-room Hotel Le Fontanelle came as a breath of fresh Tuscan air.
The welcome was exceptionally warm, and our Deluxe Double room with bare wooden beams, cool terra cotta- tiled floors and whitewashed walls was authentically Tuscan. Doors opened onto a delightful private outdoor terrace. A black wrought-iron four-poster bed was made up in hemstitched linen sheets and fitted with white cotton damask curtains. Screened windows allowed us to be lulled to sleep by the burbling fountain below. The bath was on the small side, with a combined tub and shower, but we found that such shortcomings could readily be overlooked. 
Public rooms included a lounge, library and bar, all furnished with refined simplicity. La Colonna restaurant derives its name from an ancient stone pillar at the center of the room. There, we enjoyed excellent contemporary Tuscan cooking as we gazed through panoramic windows at the majestic landscape. Meals can also be taken beside the large outdoor swimming pool or on the Belvedere scenic terrace. 
The amenities at the Hotel Le Fontanelle include an indoor leisure center with a large heated pool, hydrojet pool, sauna, steam room, gymnasium and spa. Wine tastings can be arranged by the sommelier, and guests may visit the property's Wine Shop, which sells the estate's extra virgin olive oil as well as its "Sole di Sesta" Chianti Classico. This is a hotel with a profound sense of place.
Lydmar Hotel, Stockholm, Sweden
This new 46-room boutique property was recently created from the former Swedish national archives building, a handsome butter-yellow 1829-vintage structure located on the waterfront next to the National Museum and close to the Old Town.
The light, attractive public areas are appointed with modern Swedish furniture and striking contemporary art. Upstairs, we discovered that the various accommodations are grouped around comfortable, well-lit lounges, each equipped with a flat-screen television and stocked with books and magazines. These engaging public spaces create a warm, relaxed atmosphere, more like that of a private house than a hotel. 
Throughout the Lydmar, new technology blends with restored 19th-century plaster and woodwork, and tall windows afford memorable park and waterfront views. No two rooms are alike. Our 560-square-foot Medium Room made an immediately favorable impression. Windows hung with pale-blue velvet curtains, parquet floors, a louvered armoire, and handsome oak shelving all complemented an exceptionally comfortable bed backed by a brown leather headboard. The bath was spacious, with a huge white ceramic sink, a combination tub and shower and Swedish Byredo Parfums toiletries. 
The Lydmar has a popular restaurant where the menu offers international bistro fare, as well as local seafood such as fillet of char with lavaret roe (a whitefish found in northern lakes). Throughout our stay, we found the staff to be extremely friendly and obliging. All told, this is a remarkably pleasant and well-run hotel with a perfect location.
Tenbosch House, Brussels, Belgium
For many years, our preferred grand hotel in Brussels has been the 174-room Hotel Amigo right in the heart of the Old Town. On a recent visit, however, we decided to sample smaller properties and came across a real gem on our first night. The seven-suite Tenbosch House opened in April 2010, and in our opinion, it is now the best address in Brussels for anyone who prefers individual hideaways and who also has a taste for modern design.
Located in the stylish Ixelles district just off the chic Avenue Louise, the hotel was created by combining two 19th-century townhouses clad in granite and gray brick. Seen from the street, you might expect brocade curtains and cabinets filled with china figurines. Instead, the soaring white-walled lobby is hung with contemporary art and framed photography, and the public rooms are furnished with '60s-vintage Danish modern furniture.
The guest accommodations are individually decorated, uncluttered, light and spacious. All come with raw oak parquet floors, beds made up with cotton-covered duvets, plasma-screen televisions and iPod docks. The large tiled baths have sleek Duravit fixtures, separate stall showers, Belgian linens and robes, and British REN organic toiletries. A wonderful third-floor suite (there is no elevator) offers a sitting room, dressing room, bedroom, two baths and a private balcony.
Although there is no restaurant or room service, breakfast is served in the salon, and guests have the use of a well-stocked honor bar. The bar, lounge and salon all have access to a secluded private garden, where a pavilion contains a sauna and a small indoor swimming pool. 
Lime Wood, Lyndhurst, England
Under two hours' drive from central London, Lime Wood is situated in Hampshire's New Forest, within easy reach of Salisbury, Winchester and the yachting center of Lymington. Constructed of pale Portland stone, the neoclassical Regency mansion seems to embody a sense of serene continuity. However, a $46 million renovation has had a predictably dramatic effect on the interior. Designer David Collins has achieved a remarkable synthesis of tradition and modernity, aided by a striking collection of contemporary paintings. 
The main house at Lime Wood offers nine rooms and seven suites. Three attractive new buildings contain an additional 11 suites. Our Forest Suite had a color scheme chiefly of cream and gold. Rich fabrics complemented elegant modern furniture, and the polished wood floors were softened with area rugs. A brightly lit bath provided a huge soaking tub and a walk-in shower paneled with magnificent veined marble. 
Lime Wood offers two restaurants: The Scullery, an informal "country house kitchen,"  and The Dining Room, with a much more ambitious menu under the direction of chef Luke Holder, whose résumé includes a spell at three-star Enoteca Pinchiorri in Florence. A leather-bound guest folder in our suite outlined hikes and bike trails of varying lengths and degrees of difficulty. Another therapeutic option is provided by the 16,000-square-foot Herb House Spa. The Herb House features the Raw and Cured restaurant, serving salads and sushi. Lime Wood provides an excellent touring base for Americans who are in search of deep comfort and delicious food in refined contemporary surroundings. 
Amberley Castle, Arundel, England
Sixty miles south of London, set amid the rolling chalk hills of the South Downs, Amberley Castle dates from the 12th century. It would be impossible to conceive of a more perfect small fortress. Indeed, from a distance it is easy to wonder whether it might be a fake.
Beyond a massive portcullis set into the 60-foot-high walls, we found ourselves in an enchanting English garden, with lawns clipped to Wimbledon-worthy perfection. A friendly young woman showed us to our room, which contained a four-poster bed draped with heavy gold and crimson brocades. There are 19 accommodations, and all are individually decorated with antique furniture, rich fabrics and traditional artwork. The overall effect is one of having walked into a historical novel by Sir Walter Scott. Baths have been modernized to an acceptable standard—though one or two are on the small side—with separate showers and whirlpool tubs. However, electronic amenities are minimal. 
The principal dining room at Amberley is the magnificent barrel-vaulted Queen's Room. We thoroughly enjoyed an oxtail and porcini mushroom risotto, followed by braised neck and shoulder of Sussex lamb with pickled red cabbage. The affable sommelier directed us to a superb St.-Emilion and then returned with two complimentary glasses of vintage Port to accompany the selection of British cheeses with which we concluded a memorable meal. 
Aside from the pleasures of the table, the principal activity at Amberley is provided by an 18-hole putting course. But sometimes, even this can seem like unnecessarily vigorous exertion. 
Mauna Kea Beach Hotel, Big island, Hawaii
Severe earthquake damage sustained in 2006 resulted in Mauna Kea being closed for more than two years. A $150 million renovation has produced fewer but larger rooms (258, down from 310), restyled interiors and significant upgrades to the golf course. 
The main building is still an architectural tour de force. A completely open design, with rooms set around three atria, ensures the constant flow of cooling air. Overall, the effect is one of Zen-like calm and spareness, an atmosphere accentuated by the extraordinary collection of Asian and Pacific art assembled by the resort's creator, Laurance S. Rockefeller. 
The same understated elegance that characterizes the public areas was to be found in our lovely Ocean View room. The interior featured cool, white stone floors, white walls and white bed covers. Honey-hued wood had been used to frame the windows and to construct an ingenious unit incorporating shelves, drawers and a writing desk. Despite the renovations, however, some baths at Mauna Kea are still on the small side.
The property provides numerous dining venues, the most formal of which is Monettes, where the cuisine is "American/French with island influences." In contrast, Manta has an exhibition kitchen that showcases Kohala regional cuisine. At the superb Kauna'oa Beach (one of the best in Hawaii), guests find equipment and instruction for snorkeling, diving, kayaking, fishing and sailing. Other facilities include a new Mauna Kea Spa, which offers a combination of Balinese- and Hawaiian-inspired therapies. 
The Beverly Hills Hotel, Beverly Hills, California
An iconic pink structure located at the corner of North Crescent Drive and Sunset Boulevard, The Beverly Hills Hotel opened its doors in 1912. Although  we have sometimes eschewed the property because of its overt links to Hollywood celebrity, we have always been lured back by the tranquility of its 12-acre garden setting.
Beneath the porte-cochère, we were intercepted by a swarm of valet parking attendants, and despite our self-evident lack of A-list credentials, everyone was exceptionally polite and friendly. It was immediately apparent that considerable effort has been expended on the recent renovation of the public areas. Our Deluxe double room was similarly immaculate. The Beverly Hills has 204 rooms and suites, plus 21 bungalows (in which it is possible to take individual rooms). Bungalows come with separate entrances, living rooms and dining rooms. Some have pianos and Jacuzzi tubs, while the most opulent of all, four-bedroom #5, has a private lap pool.
Dining options at the hotel include the eccentric Fountain Coffee Room, which serves sandwiches and burgers at 19 barstools along a curved counter, plus the legendary Polo Lounge, for decades the Hollywood power lunch venue of choice. For some reason known only to the architect, to reach the delightful Cabana Café adjacent to the hotel's celebrated pool, you must first pass through the reception of the 1,900-square-foot La Prairie spa. The pool and its 21 cabanas are part of Hollywood legend, but leaving its star-spangled history aside, it is just a wonderful place to relax on a sunny day, beneath the towering palms and overarched by the deep blue of a cloudless California sky. 
Sneak Peek
This article appeared in The Hideaway Report, a monthly newsletters exclusively for members.
Learn About Membership