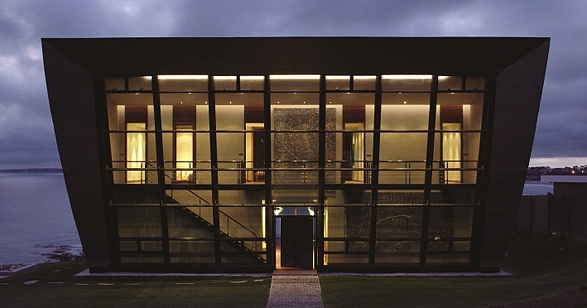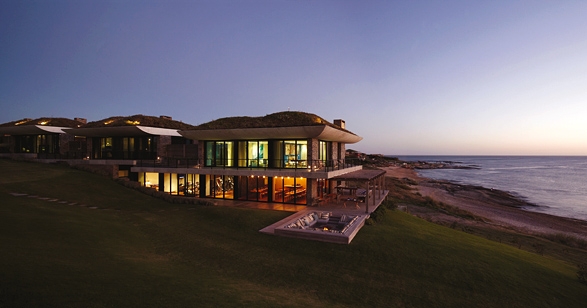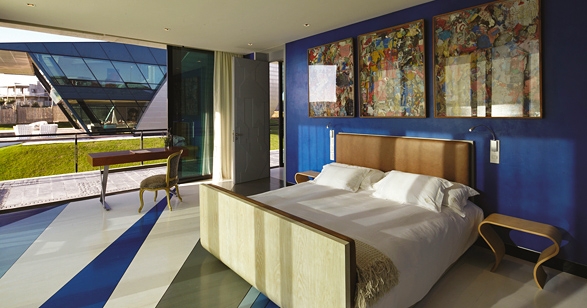 Playa Vik José Ignacio is the work of Uruguayan architect Carlos Ott, who also designed the Contemporary Arts Center in Cincinnati and the Opéra Bastille in Paris. The property opened last year and comprises four suites and six pavilions (with two or three bedrooms). A spectacular lap pool is cantilevered over an expanse of lawn, and museum-quality modern art is displayed in the sculpture pavilion, a striking structure containing two pieces by Iraqi architect Zaha Hadid, among works of other world-class artists. Overall, the place has an upscale bohemian personality.
The seafront complex is surrounded by a wall that encloses limestone, concrete, titanium and glass structures in a landscaped garden. The pavilions are ideal for families, while the four suites are better suited to couples. Our rhomboid-shaped room, "Fuerteventura," proved to be the ultimate in sea-shack chic, with teak floors, white walls and striking photographs. A very comfortable bed was made up in Frette sheets, and a dressing room came with built-in teak shelves and wardrobes. Despite the bold contemporary design, the room also managed to be very comfortable, almost cozy, with a moss- green velvet sofa; a copper-clad, granite-topped coffee table; and an area rug made from thick strips of soft brown leather. The large and dramatic bath was clad in sheets of aluminum riveted together like an old airplane. A rainfall shower and a large Boffi bath by Philippe Starck flanked the double vanities.
We were a little disappointed with the food and beverage options. Fortunately, there are numerous good restaurants in José Ignacio, and most guests dine out for both lunch and dinner. Amenities at the resort include a small spa, a workout room with a sauna, and a sunken barbecue pit. If you require 24-hour room service and a serviced beach, then Playa Vik is not for you. If, on the other hand, you are content with an easygoing seaside existence and appreciate contemporary art and design, this remarkable property just might become one of your favorite hotels.
Suite (two people), $1,600; Casa (four people), $1,700. Calles Los Cisnes y Los Horneros, Jose Ignacio. Tel. (598) 94-605-212.