A 60-room boutique hotel-within-a-hotel, The Canyon Suites at The Phoenician is an oasis of tranquility, despite being attached to a huge resort with 647 rooms, eight swimming pools, three nine-hole golf courses and a 22,000-square-foot spa.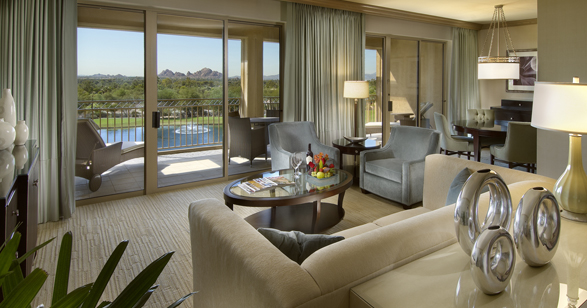 After check-in, a Canyon Suites "ambassador" walked us to our room, taking pains to explain the multitude of amenities and, most important, entry to the private Canyon Suites swimming pool. Our 600-square-foot Canyon Room offered comfortable contemporary furnishings and a well-lit bath with a generous travertine shower stall and vanities surrounded by speckled granite. From our second-floor balcony, we had a mesmerizing view of saguaro-studded Camelback Mountain.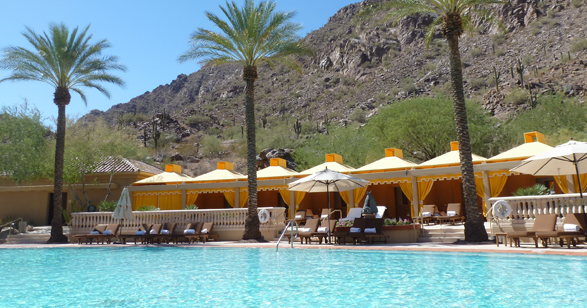 It became my routine each afternoon to bring a book to the private pool and to read a chapter or two in the shade of an umbrella. Those wishing to make a day of it should reserve one of the 10 cabanas, which have their own refrigerators and full baths. When not basking poolside, we enjoyed strolls through the grounds, especially the Cactus Garden, a delightful strip of desert greenery set between one of the two main buildings and Camelback.
The J&G Steakhouse is a stylish Jean-Georges Vongerichten restaurant with views across Scottsdale. Here, we sampled the delicious tasting menu, which included creamy tuna tartare with avocado and ginger, a smoky asparagus risotto, a delicate steamed halibut with black beans and artichoke hearts, and a perfectly cooked filet mignon with tangy J&G steak sauce. I left Canyon Suites with considerable regret.
Canyon Room, $520; Canyon Suite, $1,200. 6000 East Camelback Road, scottsdale. Tel. (480) 941-8200.