A New Copenhagen Hideaway
.article-cta-top
Copenhagen is a city that is almost impossible to dislike. It is big enough to be cosmopolitan, yet small enough to be intimate. Cobbled squares and copper-roofed townhouses are complemented by dazzling modern architecture. It is safe, friendly and clean. Everyone speaks English. Few cities have made life as easy for cyclists. On warm summer days, dozens of people can be seen swimming in the harbor in front of the Opera House. The food is consistently delicious, and around a dozen restaurants can usually boast Michelin stars, including two, noma and Geranium, that are frequently cited as being among the best in the world. Surprisingly, however, Copenhagen has lacked a boutique hotel of real distinction. This changed last November with the opening of the 54-room Hotel Sanders.
Hotel Sanders
Hotel Sanders in Copenhagen, Denmark - Photo by Hideaway Report editor
Located on Tordenssesgade, a quiet side street, the Sanders offers the best of both worlds, being within easy walking distance of Kongens Nytorv, Copenhagen's largest square; the Amalienborg Palace; and the Nyhavn canal, the city's colorful 17th-century waterfront. Set within a row of townhouses, the property is owned by Alexander Kølpin, the former principal dancer of The Royal Danish Ballet. (In 1992 he won the Prix Benois de la Danse, one of the world's most prestigious ballet competitions.) His transition to hotelier might seem surprising, but Kølpin comes from a hotel-owning family. And the Sanders was intended to embody a cosmopolitan style that reflected his many years of international travel while on tour.
A common area lounge at Hotel Sanders - Photo by Hideaway Report editor
On arrival, I passed through theatrical velvet drapes to find myself in the hotel's spacious living room, an extremely stylish and comfortable space where people sit reading, tapping at their laptops or enjoying a drink in front of the log fire for hours at a time. Stripped wooden floors, rattan chairs, subdued colors and eclectic artwork combine to create an exceptionally peaceful and civilized environment. Check-in was at a small desk, set to one side.
Room 312 at Hotel Sanders - Photo by Hideaway Report editor
From there I was escorted to my Sanders Bedroom. This was very pretty, but it was also rather small (269 square feet) and overlooked an inner courtyard. I therefore decided to upgrade to a 560-square-foot Master Bedroom — actually a full suite — with living-room windows that opened onto Tordenskjoldsgade.
The first thing that impressed me was the quality of the materials that had been employed in the heavy oak doors, the splendid wide-plank floors and the marble-topped tables. Midcentury modern Danish design had been imaginatively and successfully combined with neocolonial rattan furniture. Similarly, in the (shower-only) bath, the slabs of white marble and the heavy retro fixtures gave the impression that convenience and deep comfort had been the designer's priority and that no expense had been spared in order to create the desired ambiance.
The bedroom came with a pale-wood armoire and a large bed backed by a pale-wood headboard. The living room featured a gas log fire, an oatmeal area rug, leather armchairs, a lacquered table, a sizable striped sofa and bookshelves partly filled with leather-bound volumes and two or three pieces of Chinese ceramics. I felt immediately at home. Having discovered to my irritation that I'd forgotten the adapter for my laptop, I phoned housekeeping, and an extremely polite and friendly maid arrived within minutes, bringing with her the appropriate converter.
A dining table on the terrace at Hotel Sanders - Photo by Hideaway Report editor
The Sanders offers few amenities — there is no spa, gym or pool — but the property does boast an excellent casual restaurant, Sanders Kitchen, which both extends into a serene garden courtyard to the rear and spills out onto the sidewalk at the front of the hotel. The menu changes regularly, but I enjoyed a fine early dinner of scallop crudo, followed by baked halibut with haricots verts, lemon and sunflower seeds. On another occasion, I took lunch outside on the sidewalk, treating myself to boquerones (white anchovies) on grilled sourdough, and lobster linguine with oregano. On both occasions, the young staff were charm personified. The breakfast menu offers imaginative options such as fried eggs with black truffles, and poached eggs on rye bread with avocado and tarragon. It is also possible to eat on the delightful roof terrace, with its wicker furniture, potted plants and views over the rooftops.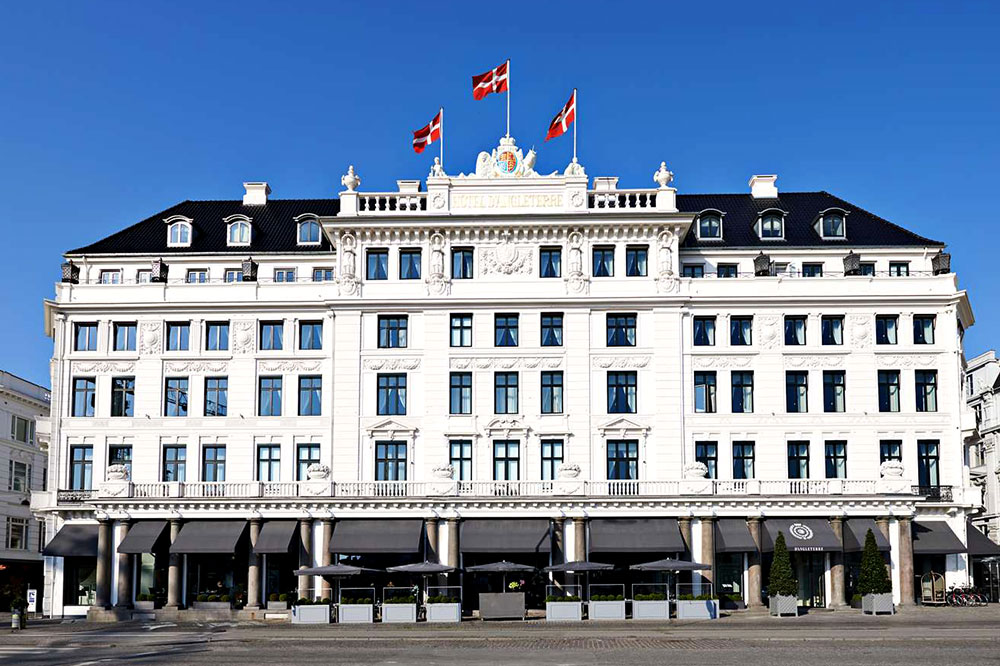 At the end of a two-night stay, I could find almost nothing to dislike about the Hotel Sanders. Some people may prefer the grandeur and range of amenities to be found at the 92-room Hotel d'Angleterre, located a five-minute walk away on Kongens Nytorv. And the Sanders is self-consciously a leisure hotel — there are no work desks in any of the rooms — so those on business may decide to look elsewhere. But if you are in search of a peaceful, hospitable and distinctive hideaway in an ideal location, then I suspect that you will like the Hotel Sanders very much indeed.
- Hotel at a Glance -
Hotel Sanders 94
Like
Peaceful atmosphere; distinctive and stylish design; friendly staff; excellent casual restaurant; ideal central location.
Dislike
The lower room categories are rather small; the lack of fitness facilities.
Good to Know
The hotel has bicycles available for guests.

Rates: Lowest Rate: Coupe Plus, $450; Editor's Choice: Master Bedroom, $1,560
Address: Tordenskjoldsgade 15
Telephone: (45) 46-40-00-40
View Hotel Sanders Hotel Listing