A Perfect Day In … Fez, Morocco
.article-cta-top
Like many first-time travelers to Morocco, I booked my trip to Fez as a bit of an afterthought. I prioritized my vacation around seeing Marrakech and the Sahara desert, and Fez fit in like the perfect puzzle piece. I spent about 48 hours in Fez, but upon leaving I yearned for more time there. Most articles and guides on Moroccan travel give Marrakech the spotlight; Fez often plays second fiddle. Yet I found this historic city — an intellectual, spiritual and artistic center — to be a first-class destination in its own right. Marrakech, as magical and vibrant as the city is, feels very touristy nowadays. Fez, on the other hand, offers glimpses of an authentic Morocco that is increasingly difficult to come by.
The medina is safe, but incredibly confusing, and a guide will know how to navigate the twisted alleys and bring you to the highest quality souks.
Fez is divided into two distinct areas, the new city (Ville Nouvelle) with grand avenues that feel quite French, and the old city called Fes el Bali, with its gated walls and narrow, mazelike alleys. In the old city especially, consider hiring a local guide. The medina is safe, but incredibly confusing, and a guide will know how to navigate the twisted alleys and bring you to the highest quality souks. In recent years, Fez has also seen the conversion of many riads (courtyard homes) into beautiful guesthouses. While you can also find standard hotels in Fez, staying at a riad offers a more authentic and intimate experience.
Now that you're ready to dive in, here's everything you need to know to have the perfect day in the mysterious city of Fez.
Morning
Wake up at the Palais Amani, an 18-room riad located off the serpentine streets of Fes El Bali. The unassuming door to this guesthouse gives little away about what lies on the other side: a beautiful Moorish-style courtyard shaded by orange trees and lined with intricate zellij mosaic tiles. The rooms are immaculately decorated with hand-carved cedar doors, light-flooded stained-glass windows and colorful Moroccan carpets.
Breakfast is a lavish feast served on the terrace, a peaceful oasis overlooking the bustling old city. Start the day with some freshly squeezed orange juice, homemade yogurt with almonds and dried apricots, and freshly baked bread served with salted butter, local berry jams, olives, wild honey and creamy goat cheese.
Make your first stop of the day at the Palais Royale, one of the king's many residences throughout the country. While the 198 acres of palatial grounds are closed to visitors, it's worth a trip just to see the opulent entryway: Seven imposing brass doors are surrounded by intricate cedar carvings and zellij tile work done in deep navy blue, burnt red and soft yellow.
Then make your way just across the road to the mellah, the walled Jewish quarter. In the late 1400s, it offered a refuge for Jews escaping from the Spanish Inquisition. Visit Aben Danan, the old synagogue-turned-museum, and see the beautiful cemetery, where a wave of white tombstones sits upon a shaded hill.
From there, it's a 20-minute drive to Poterie de Fes (16 Ain Noqbi), a cooperative of craftsmen who make Fez's iconic mosaic-tiled pottery. You can take a short tour around the studio to see the ancient methods that are still used today: shaping the clay; cutting tiny, perfect ceramic pieces with a sharp hammer; and making the beautifully colored geometric tile work.
Afternoon
A 15-minute drive will bring you back to Fes el Bali, and by now, you'll probably have worked up an appetite. The Ruined Garden at Riad Idrissy (15 Derb Idrissy) is a microcosm of what makes Fez so enchanting. Set behind a windowless door in the chaotic old city, this restored 400-year-old merchant house feels worlds away from its hurried surroundings. The restaurant, set in the riad's lush garden courtyard, is charming in its imperfections: Drooping ivy and overgrown wildflowers shade the garden, where tables are decorated with mismatched tablecloths and brightly patterned plates. The menu offers traditional Moroccan dishes made with farm-to-table ingredients. Perhaps try a tagine of kefta simmered in tomato sauce with baked eggs, and tender roasted vegetables baked inside flaky pastry dough.
Once your stomach is full, snake your way past the walls of the Ruined Garden and back into the medina, passing narrow alleyways, busy souks lined with blue-and-white ceramic plates, and donkeys trudging their way through the streets. If you have time, meander through the medina with no destination in mind, taking in the sights, sounds and smells.
While Marrakech is the Moroccan capital for fashion and design, Fez is the center for crafts, and it's where you'll find the greatest selection of Moroccan rugs. As you walk through the medina, you'll pass dozens of vibrant carpet shops. My favorite experience was at Coin Berbère (67 Talaa Kebira). Many vendors can come off as aggressive and impatient, but here the shopping is laid-back and enjoyable. You could easily spend hours browsing through the hundreds of high-quality kilim, handira and Berber rugs in one-of-a-kind patterns and every color imaginable. In addition to carpets, Coin Berbère houses some of the most beautiful antiques in the city, ranging from textiles to pottery.
If you visit Morocco, you're bound to come home with culinary souvenirs such as fragrant spices and sweet dried dates. And don't miss out on Moroccan honey. Head to Fondouk Kaat Smen, the honey souk located through an arch just past Coin Berbère, where you can sample from dozens of barrels of wild honey with hints of orange blossom, lavender and saffron.
Late afternoon
By late afternoon, the hectic midday medina gets sleepier, and the crowds begin to dwindle. Now's the best time to visit Chouara Tannery (Quartier des Tanneurs), Fez's most famous leather-making cooperative. From the balcony, you can watch men dip animal hides into giant vats of colorful dye made from indigo, saffron, turmeric and poppy seeds. Make sure to grab a sprig of mint on the way in, because the smells from the tannery are extremely pungent. You can shop for various leather goods here, from briefcases to leather jackets, and they'll custom-make just about anything.
Before you leave the old city, walk past the University of Al Qaraouyine. Founded by a woman in 859 as a mosque, it is now one of the oldest universities in the world. While you can't go inside if you aren't Muslim, you can gaze at the stunning green ceramic-tiled roofs and teal blue-tiled courtyard. If you visit during one of the five daily calls to prayer, you'll see worshippers washing themselves in the fountains getting ready to perform their acts of worship.
Evening
View from Merenid Tombs - Hannah Loewentheil
When daylight starts to fade, drive about 10 minutes outside the old city to the Merenid Tombs, which rise above Fez's northern walls and offer panoramic views of the entire cityscape. At sunset, it's incredibly peaceful here, and you'll find locals picnicking and gathering on the hill, watching the sky turn pink.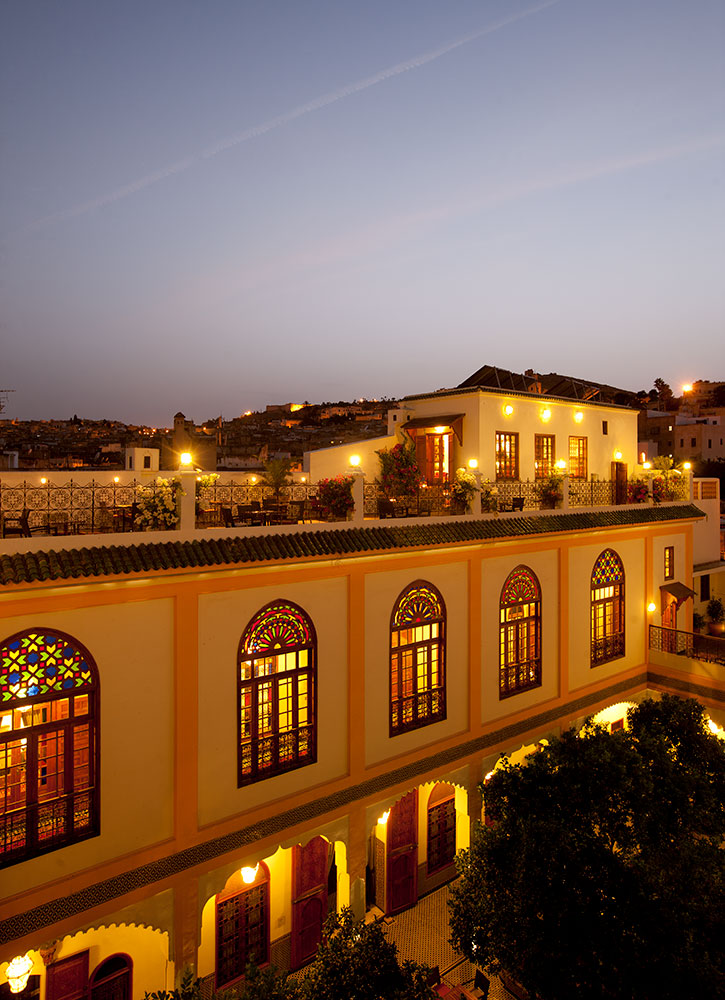 Once the sun has set, it's almost time for dinner. The best Moroccan food is home cooked, so make sure to book a table in advance at Dar Hatim (19 Derb Ezaouia Fandak, Lihoudi). This private residence-turned-restaurant is set in the courtyard and ground floor of a family home in the mellah. Finding the entrance at night in the dark and windy medina is like finding a needle in a haystack, so allow the host to pick you up at your riad and show you the way. With its complex carved wooden ceilings, hand-stitched linen tablecloths and red sofas, the interior is both comfortable and elegant. The meal begins with a spread of light Moroccan salads — roasted beets, creamy eggplant spread and olives in lemon zest — served with doughy bread, before a main course of slow-cooked lamb tagine, buttery couscous and pastilla, a packet of fried phyllo-like dough filled with chopped meat, pistachios and, in typical Moroccan fashion, lots of spices.
If you're not quite ready to call it a night, stop by the bar at the elegant Riad Fes (5 Derb Ben Slimane Zerbtana) for a cocktail or glass of vin gris, a rosé-like wine popular in Morocco (alcohol is indeed available in certain restaurants and most hotels in Morocco). Otherwise, Palais Amani is just around the corner from dinner, and a plush bed awaits you after a long day of adventure.