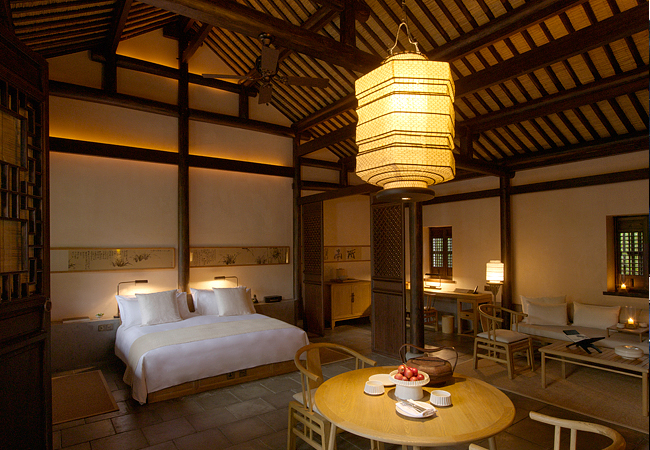 For years, we waited in vain for a new Amanresort and then, suddenly, several turned up at once. Aman at Summer Palace, Beijing, (our most recent Hideaway of the Year) opened in fall 2008; Amantaka in Laos made its debut in July 2009; and now Amanfayun in Hangzhou, China, has become the latest addition to the family.
Hangzhou itself is arguably the most attractive city in eastern China, in part because it escaped the ravages of the Cultural Revolution. Chairman Mao had a weekend villa on the city's celebrated West Lake, and the Red Guards were encouraged to wreak havoc elsewhere.
Nowadays, the city enjoys a reputation as the most affluent in the country, being much favored by the newly wealthy of Shanghai. Aside from the lake, Hangzhou offers a number of fascinating monuments such as the enormous fourth-century Lingyin Si Buddhist temple and the magnificent 10th-century Six Harmonies Pagoda.
Amanfayun is located 20 minutes from the city amid fields and bamboo groves. The hotel is housed within a former village and incorporates 47 stone courtyard dwellings, once home to tea farmers. These have been divided into 16 rooms, 21 suites and five villas. All have been comprehensively upgraded and offer a full range of 21st-century amenities, such as underfloor heating, air-conditioning and Wi-Fi. A stone pedestrian pathway, once the main street of the village, links the various areas of the resort. It is still a public thoroughfare, however, and is intended to provide a setting for colorful fairs and festivals.
Along the "Fayun Pathway," guests will find The Restaurant, serving Western cuisine; the Village Eatery for local Hangzhou specialties; and the Tea House, featuring tea grown in the surrounding fields.
Other traditional stone buildings contain a library, a cigar room and an extensive spa with dedicated rooms for reflexology, Pilates, tai chi, yoga and meditation. Andrew Harper is planning to travel to China during 2010 and will provide members with a detailed report on this spectacular new property.