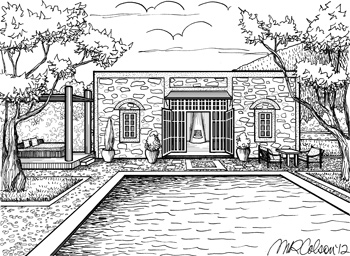 Bodrum is the primary resort town and yachting center on the Aegean coast of Turkey and lies a 75-minute flight south of Istanbul. Thirty years ago, it was a sleepy, exquisite little place. Then, around 1985, unregulated development arrived, and with it came the tourist hordes, the cheap bars and the all-night discotheques. Bodrum, it seemed, was doomed. But happily, things didn't quite turn out like that.
In 2005, a fine 173-room Kempinski resort—nowadays a Harper-recommended property—opened overlooking nearby Barbaros Bay, and progressively the strobe lights in the discos were dimmed. Soon, there was a discernible increase in the number of gulets (traditional wooden sailing craft) floating in Bodrum's harbor, and yachts began to appear that are based for the winter in St. Barths. Finally, in December of last year, Amanresorts opened a property, Amanruya, on the northern coast of the Bodrum Peninsula, 10 minutes' drive from the center of town.
The name is derived from the trademark aman, Sanskrit for "peace," and ruya, Turkish for "dream." The land on which the resort has been built belonged to a prominent Turkish architect. Concerned about its fate after he died, he decided to sell it to Aman, assured that the site would be preserved from concrete and despoliation.
A sitting area shares the studio room with a four-poster bed, and the cast of a Broadway musical could comfortably disrobe in the huge dressing area.
Sited on the hillside amid an ancient olive grove, the property is constructed on several levels, with plazas and walkways that echo the layout of regional villages. Clad in local stone, the 36 pool cottages are the essence of elegant simplicity. Spacious and high-ceilinged, they are awash with light from windows and strategically placed skylights, while light stone floors and white walls amplify the generous proportions. A sitting area shares the studio room with a four-poster bed, and the cast of a Broadway musical could comfortably disrobe in the huge dressing area. The equally expansive marble bath comes with a walk-in shower, double vanities and a large egg-shaped soaking tub. French doors open onto an irresistible garden where we spent blissful hours lounging on the pergola-shaded daybed and splashing in the blue-green private pool (which was so wonderful that we never contemplated going to the resort's main 150-foot pool, reminiscent of that at Amankila in Bali).
What did lure us away was the Beach Club, a seductive enclave nestled at the sea's edge amid old-growth pines. Wooden decks on several levels provide delightful spots for sunbathing and reading, while the crystalline water is easily accessed from ladders on an adjacent dock. A small kitchen turns out crisp salads with olives and cheese, plus skewers of grilled meats, with very good Turkish wines to accompany them.
Amanruya does not have a dining room as such, but a series of open terraces and enclosed pavilions clustered around the main pool. Initially, I found this a bit disconcerting—we were seated totally on our own one evening—but I came to appreciate the variety, and the service was in no way compromised. Menus combine the Turkish kitchen with Aman's Asian heritage. The platters of Turkish mezze were especially delicious, as were the entrées of perfectly grilled local fish, simply served with lemon and fresh vegetables.
Other amenities include two spa suites (primarily for massages) and a gymnasium containing cardio equipment. There are several water-sport options at the Beach Club, and the resort is happy to arrange yacht charters for sails along the coastline of the Bodrum Peninsula.
For those determined to be more active, Amanruya offers a variety of escorted tours by private car. Bodrum may be crowded in summer, but in spring and fall, it is still a delightful Mediterranean port city. A massive 15th-century Crusader castle dominates the harbor, but the most lustrous period of the city's existence occurred in classical times, when it was named Halicarnassus. Then, it was the birthplace of Herodotus, the "Father of History," and the site of the famous Tomb of Mausolus, one of the Seven Wonders of the Ancient World. For those interested in classical history and architecture, the surrounding region contains numerous other Greco-Roman sites such as Ephesus, Didyma, Miletus, Labranda and Euromos. (If ruins are a passion, be sure to seek out the four marvelous archaeological guides written by American professor George E. Bean, which minutely describe the classical remains of western and southern Turkey.)
Each evening, as sunset approached, it became our custom to mount the steps in the library tower to gaze out across Mandalay Bay. It was then that we fully appreciated the essence of Amanruya. A worthy addition to the Amanresorts portfolio, it is a self-contained world of deep tranquility; a place to be healed and restored.
Amanruya 96 Pool Terrace Cottage (Garden View), $985; Pool Terrace Cottage (Sea View), $1,110. Tel. (90) 252-311-1212 or (800) 477-9180.
On our recent trip, we also spent a couple of nights at The Marmara, a 96-room hotel atop a hill overlooking Bodrum and its lovely harbor. Done in a clean, contemporary style, The Marmara is built around a tranquil garden, yet is just a few minutes from the waterfront. Our Corner Sea Suite had a charming patio that overlooked the ocean, a small sitting area and a large elevated bed. The bath came with a combined tub-shower and a vanity that frankly could have used a bit of an aesthetic update.
Although thoroughly spoiled by Amanruya, I certainly did not miss the chance to dunk myself in The Marmara's wonderful infinity pool. The nearby hotel restaurant is very good, and we enjoyed a number of pleasant meals that included splendid mezze — the spicy bean dip being the best of the trip — plus entrées such as sliced beef on pita bread with grilled calamari and rocket salad, and oven-baked sea bass with grilled eggplant.
The Marmara does not compare with the lavish luxury of either Amanruya or the Kempinski Hotel Barbaros Bay, but if you prefer to be close to the center of town and the yacht harbor, this is the place I recommend.
The Marmara 90 Sea View Room, $355; Corner Sea Suite, $420. Yokusbasi Mahallesi, Suluhasan Cad. No. 18, Bodrum, Mugla. Tel. (90) 252-999-1010.