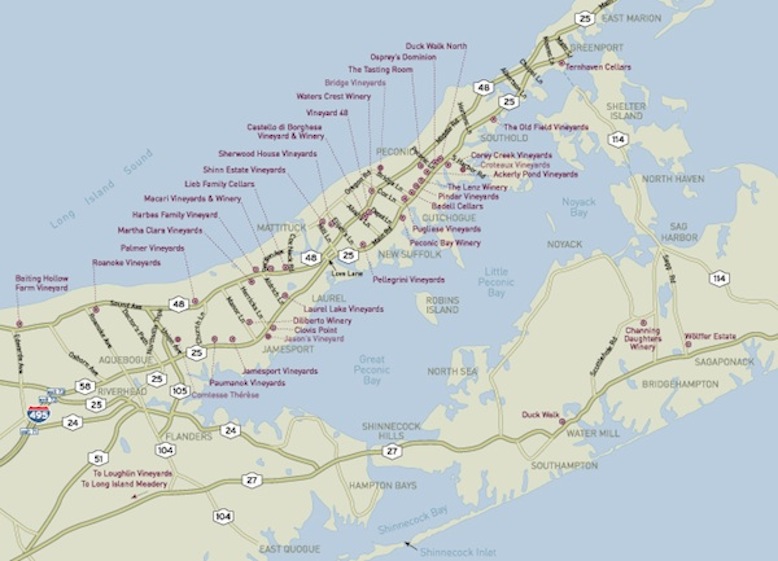 Once considered curiosities, Long Island wines now regularly take home prestigious medals from competitions around the world. Stemming from just one visionary vineyard planted in 1973 — Hargrave — there are now dozens on the East End of Long Island, most welcoming visitors with tastings as well as cuisine and entertainment events. Located primarily on the two main east-west roads on the North Fork, Routes 25 (aka Main Road) and 48 (aka Sound Avenue), they are also easy to find, thanks to excellent signage. Many have picnic areas, so if you provision yourself accordingly, you can make a very pleasant day's excursion!
Here are the wineries that we particularly enjoyed, listed from west to east.  
Shinn Estate Vineyards (2000 Oregon Road). This fascinating property is the dream-come-true of David Page and Barbara Shinn, creators one of Manhattan's most beloved restaurants, Home, in Greenwich Village. They bring a variety of elements into their viniculture process — organic fertilizers such as fish and seaweed in the soil, as well as several varieties of oak in their barrels — yielding bottles that are complex and balanced. While we enjoyed much of their portfolio, we were particularly taken with the non-vintage Red, a blend of Merlot and Cabernet Franc, which is a medium-bodied wine with hints of fresh red berries. We also very much liked the 2005 Cabernet Sauvignon, which is a lush, forward wine with abundant black-fruit appeal. And, this being a part of the world known for its seafood, the crisp and citrusy 2007 "first fruit" Sauvignon Blanc-Semillon blend would be perfect with fresh oysters.
Pellegrini Vineyards (23005 Main Road). Started in 1982 by a graphic designer, this handsome property focuses on red — Cabernet Sauvignon, Merlot and Cabernet Franc — and Chardonnay. Our favorite was the 2001 Pellegrini Vineyards Merlot, which was smooth and well-rounded with aromas of black cherry and red plums (and well-priced at $19.99). We also admired the 2006 Pellegrini Vineyards Chardonnay. This was a good year for Chardonnay on Long Island, and this wine shows that with a bright freshness and pleasant elements of pear and toasted almond. We finished our tasting with the excellent Vintner's Pride Finale Bin 1333, a dessert wine made in the ice wine style. Here, juice is pressed from frozen Gewurztraminer and Sauvignon Blanc grapes. The delicious result would go very well indeed with a rich blue cheese or foie gras.
Bedell Cellars (36225 Main Road). Many years ago, we visited Bedell with some Long Island friends. Then-owner Kip Bedell was pouring wines in the ramshackle barn in the back, and we tried his Merlot. That's when we realized that great wine could be made on Long Island. Bedell, while still involved, sold the vineyard to a Hollywood mogul, and what was once the old barn is now a very stylish tasting facility. Thankfully, what hasn't changed is the Merlot! We found the 2006 vintage to have excellent ripe fruit — think dark plums and great complementary tannins. Another favorite was the 2006 Musée, a Bordeaux blend of Cabernet Sauvignon, Merlot and Petit Verdot. This is a versatile wine that would go well with many meat dishes — including those at summer barbecues.
Wölffer Estate Vineyard (139 Sagg Road, Sagaponack). This place makes wines in the European tradition. Roman Roth, the winemaker, oversees a program that includes the production of Chardonnay, Pinot Gris, Merlot, Pinot Noir and Cabernet Franc, as well as sparkling wines, dessert wines and Rosés. We have long been an admirer of the Wölffer Estate Chardonnay, and the 2005, full-bodied and elegant, is no exception. The 2006 Wölffer Estate Reserve Merlot is also a fine wine with classic characteristics: medium-bodied with notes of plums and cranberries, and possessing a fine acidity that makes it very food-friendly.
Channing Daughters Winery (1927 Scuttlehole Road, Bridgehampton). This ambitious winery is working with grapes that no one else is using on Long Island. In addition to the more usual Chardonnay and Sauvignon Blanc, whites include Pinot Grigio, Tocai Friulano, Muscat Ottonel and Malvasia. Reds include the expected Merlot and Cabernet Sauvignon in addition to Dornfelder and Blaufränkisch. We particularly liked the 2007 Scuttlehole Chardonnay, which is fermented in stainless steel, lending it a clean, fresh acidity. We also very much enjoyed the 2007 Rosso Fresco, a red blend with deep red fruit characteristics. The blend here is fascinating: 80% Merlot, 14% Syrah, 2% Blaufränkisch, 2% Cabernet Franc and 2% Dornfelder. Not something you find every day!