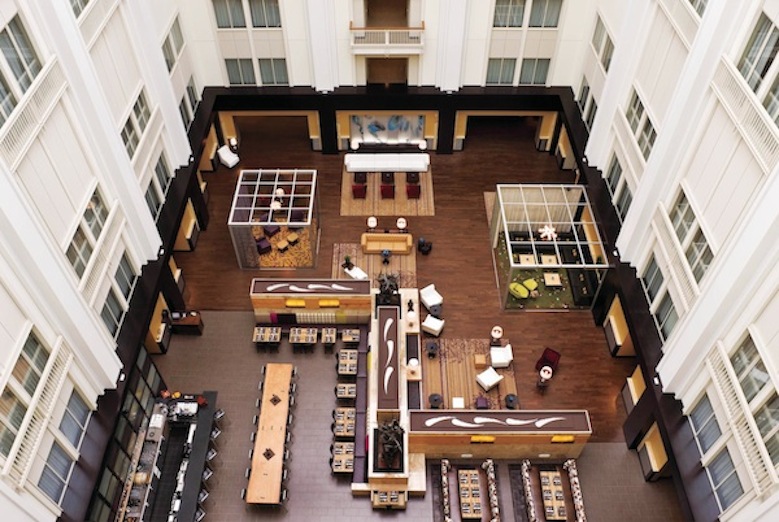 The Lobby of The Nines Hotel, Portland
Portland is the jumping-off point for Oregon wine country, as well as an attractive destination in its own right. A lovely, cultured city with a vibrant food scene, it nonetheless has lacked a hotel of distinction. The grande dame the Nines, located in a central downtown location on the upper floors of the former Meier & Frank department store, a Portland landmark. (Macy's now occupies the first five floors of the building.) Directly across from lively Pioneer Courthouse Square, the hotel is within an easy walk of the chic boutiques and galleries of the Pearl District, the Arlene Schnitzer Concert Hall and the 331-room hotel surrounds a huge seven-story atrium carved from the center of the building.
Trendy almost to a fault, with sleek contemporary décor, the hotel honors its past in the lobby and public spaces with whimsical artistic renderings of department store accoutrements. The service was excellent, beginning when we were shown to a dark room overlooking the atrium instead of the outside room with a view toward Mount Hood we had reserved. Within three minutes of pointing out the discrepancy, we were ensconced in an outside corner suite on the club floor. The suite continued the contemporary theme, with a palette of beige and ivory and the hotel's signature turquoise. It provided a comfortable sitting room with a couch, cocktail table, two chairs and a 42-inch flat-screen TV. Beyond a rather cramped and dark dressing area was an expansive, airy bedroom containing a king bed and bedside tables topped with mercury-glass lamps; an upholstered bench and chairs provided seating next to a work desk and a second TV. The marble bath was spacious but poorly lighted and curiously laid out, with twin sinks in one corner, and only a very utilitarian tub/shower occupying one wall at the far end next to an expanse of empty floor.
Just off the lobby, the soaring atrium contains the hotel's restaurant, Urban Farmer, and a spacious lounge area with banquette seating and clusters of clubby chairs, some set within glass cubicles. Along one wall, four large flat-screen TVs, framed as "art," provide colorful and changing images of iconic Portland landscapes. The restaurant's steakhouse fare, however, is less imaginative, and the city has an abundance of far better options for any meal, from breakfast to late-night pub fare. A warm and intimate library/game room off the lounge area offers a pool table and a fascinating collection of books borrowed from Portland's immense, eclectic and not-to-be-missed bookseller, James Beard grew up in Portland, and although he gained his culinary reputation in New York, it was in the Portland of his youth that he developed his passion for food. In recent years, Portland has emerged as one of the nation's outstanding restaurant towns, with several reliable standards and an ever-expanding lineup of creative newcomers who take advantage of the city's proximity to orchards, vegetable and berry farms, wild mushrooms and Northwest seafood.
A few suggestions:
Northwest favorites: Higgins Restaurant and Bar and Simpatica and Beast (carnivore with an attitude).
Asian: Silk.
Breakfast: Simpatica.
For all its proximity to wine country, Portland is arguably the Rose Festival, which has since become a monthlong annual celebration that features dozens of events. The city's rosy reputation is enhanced by its spectacular Portland Japanese Garden, said to be one of the most authentic outside Japan.