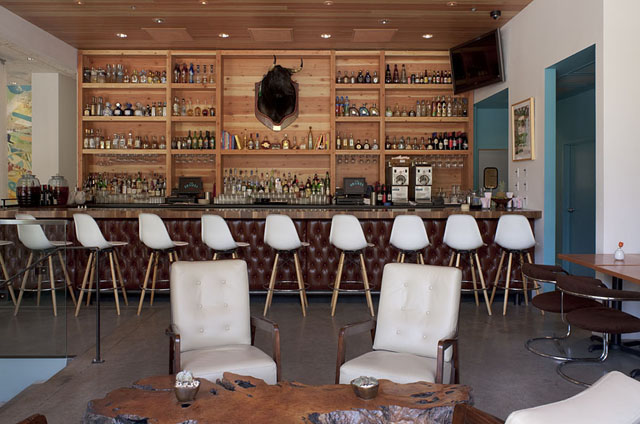 La Condesa Adjacent to picturesque Lady Bird Lake, 2nd Street has swiftly become one of Austin's most popular food and shopping districts. Officially, the district stretches from 3rd Street to Caesar Chavez, and Colorado Street to San Antonio Street. The best time to visit is during Sunday brunch, or in the evenings, when its tree-lined promenade teems with locals catching up with friends over margaritas.
Austin prides itself on being "local," and well over half of the design stores, boutiques and restaurants here are home grown. They coordinate with the district to put on art and cuisine series like Wine Down Wednesday and 2nd Sundays.
A central attraction here is the new Austin City Limits Live Studios, which sits at the intersection of Willie Nelson Boulevard and 2nd Street. Based in the W Austin Hotel and Residences, the acoustically enhanced venue is a welcome upgrade from its previous location on the University of Texas campus.
Well-known design stores in the area include Bang & Olfusen, Design within Reach, and BoConcept, while boutiques like Estilo and Eliza Page focus on unique clothing and jewelry finds.
Where to Eat and Drink: La Condesa offers sophisticated central Mexican cuisine, including small plates like Atύn Tostadas and Hamachi Ceviche. One could spend the better part of an afternoon here sipping a Classica Margarita while watching the 2nd Street strollers. 
After dinner, head upstairs from La Condesa to Mal Verde for a hand crafted specialty cocktail such as an El Cubico with tobacco-infused Sauza Hornitos Reposado or a Spicy Paloma made with fresh grapefruit-ginger juice.
Trace, a farm-to-table restaurant on the ground floor of the W Austin Hotel, has a well-regarded brunch, or you can enjoy a cocktail on the veranda here before catching a show at ACL.
Jo's, an Austin institution since it first opened on South Congress in 1997, serves iced lattes and cappuccinos in a patio setting, and Royal Blue Grocery is a friendly gourmet corner shop with outdoor seating.
Second Bar & Kitchen Sister restaurants Second Bar & Kitchen and Congress are a few streets over from the center of the district. Second Bar & Kitchen offers more casual fare like the Congress Burger with black truffle pomme frites. The sophisticated three or seven course menus at Congress include dishes such as beef tartare and seared scallops with pork belly. Reservations are key, although you can always wander down the street for a cocktail while you wait.
Complimentary parking (with validation) can be found at City Hall Monday through Friday until 5 pm. For a detailed map of the area, list of vendors and upcoming events see the 2nd Street District website.