For children between the ages of 7 and 14, Belize provides an almost unbeatable combination of a long Caribbean coral reef and extensive tracts of pristine tropical forest.
Ambergris Caye lies just 15 minutes by light aircraft from the Belize international airport (which is itself just two-and-a-half hours southeast of Houston). Its principal town, San Pedro, is a colorful and ramshackle place for which the word "funky" might well have been coined.
An impeccably maintained plantation-style hotel, it is an oasis of order and calm.
Another 15 minutes by golf cart, however, brings you to the manicured enclave of Victoria House. An impeccably maintained plantation-style hotel, it is an oasis of order and calm. Victoria House offers several kinds of accommodations, but for families, its Villas and duplex Infinity Suites are ideal. The resort's Belizean staff members are charm personified and function as willing, but unofficial and unpaid, child-minders.
The Belize Barrier Reef, a 185-mile-long section of the Mesoamerican Barrier Reef System — the second-largest in the world after the Great Barrier Reef in Australia — is about a half-mile offshore. From the hotel's clipped lawns and white-sand beach, the surf breaking on its coral ramparts is plainly visible. Victoria House has a well-equipped dive shop, and scuba instruction is available. Obviously, younger children need to learn to snorkel first, and for this, the calm turquoise water between the reef and the shore, which at times seems like a gigantic saltwater swimming pool, is close to ideal.
It is about 20 minutes by speedboat from Victoria House to the Hol Chan Marine Reserve, a three-square-mile patch of sea that varies in depth from five to 30 feet. ("Hol Chan" is Mayan for "Little Channel," and the name refers to a 75-foot-wide gap in the reef that permits the passage of fish from the lagoon to the open ocean.) More than 160 fish species have been recorded in the reserve, along with 40 types of coral. Aside from the brilliantly colored shoals, it is commonplace to see spotted eagle rays and sea turtles, while larger fish customarily include tarpon and barracuda.
At the nearby Shark Ray Alley, it is possible to snorkel with large numbers of (tame) stingrays and (harmless) nurse sharks. As long as they can swim proficiently, children as young as age 7 generally seem unfazed by the experience. Hol Chan also provides an excellent place in which to learn to scuba dive, but for proficient divers, the outside of the reef beckons. This is a decidedly more grown-up environment, however, with larger specimens of grouper and barracuda, dolphins, and the occasional passing bull shark to get the adrenaline pumping.
Aside from snorkeling and diving, Victoria House also offers guided bonefishing, either inside the reef or among the sandbanks and mangroves on the western shore of Ambergris Caye. The bonefish are numerous, and 5-pounders are not uncommon, but a degree of experience with a fly rod is necessary, as inaccurate casts are unlikely to be rewarded.
Much of Belize, a country about the size of Vermont, is covered by dense tropical forest. As you head west from Belize City, the road gently inclines toward the highlands of Guatemala. Large areas of the country lie at an elevation of around 1,500 feet, while the Maya Mountains rise to the 3,700-foot summit of Victoria Peak. This means that the "jungle" is relatively congenial, not oppressively hot or humid, and, in the dry season, surprisingly free of bugs.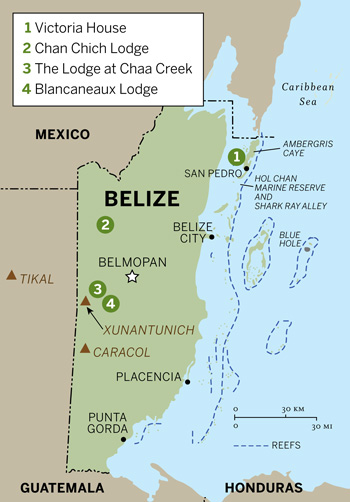 Belize possesses three Harper-recommended jungle lodges, and I am frequently asked which is the most suitable for children. Chan Chich is owned by the wealthy Bowen family, and forms part of their estate. In my view, it is a property that will find favor chiefly with enthusiastic naturalists, especially bird-watchers. However, it is the one lodge where you may see a jaguar, as the big cats are sighted once a week on average, invariably at night.
Francis Ford Coppola's Blancaneaux is the most sophisticated of the three properties and enjoys a notably beautiful setting in the Mountain Pine Ridge Forest Reserve, overlooking a gorge where the Privassion River cascades into a series of limpid pools. Although the lodge offers a wide range of activities, many of which are suitable for children, Blancaneaux is perhaps primarily a place for their parents.
Chaa Creek, on the other hand, is overtly and conspicuously child-friendly. A two-hour drive from Belize City, Chaa Creek is located on a 300-acre estate and extends along a ridge overlooking the Macal River. The property offers several types of accommodations, but those most suited to families are the Macal Cottage, the Orchard Villa or a pair of neighboring Garden Jacuzzi Suites. The grounds of the resort are frequented by troops of howler monkeys, and spectacular birds such as the Keel-billed Toucan are a frequent sight. A nature center is located a five-minute stroll from the main lodge, and an adjacent butterfly farm breeds the glorious iridescent Blue Morpho.
Activities include nature hikes, with night walks especially popular with children. These depart each evening at 7:30 and last about an hour and a half. Participants are equipped with head-mounted flashlights with which to spot nocturnal creatures that can include armadillos, ocelots and jaguarundis. Some nights, the wildlife-viewing can be a little slow, but children still seem to enjoy the experience of being in a tropical jungle after dark. The unfamiliar noises and accompanying frisson of fear seem to provide sufficient entertainment.
A family vacation combining five days on the Caribbean coast with five days at a jungle lodge is perhaps ideal.
Chaa Creek has exceptionally well-maintained stables and more than 30 horses, all in excellent condition. Trails climb and dip through the forest, and a basic level of horsemanship is sufficient. There are, however, open grasslands and dirt roads where it is possible to canter and gallop. Monkeys and birds can be observed from horseback, and Chaa Creek even has a number of enigmatic Mayan burial mounds that can be explored in the course of a three-hour ride.
It is a 10-minute walk from the lodge down to the thickly forested banks of the Macal River. The water flows down from the Maya Mountains and is clean, clear and suitable for swimming. Chaa Creek has a small fleet of two-person canoes, and guests may either paddle upstream and then drift back with the current, or alternatively, make the two-hour trip downstream to the local market town of San Ignacio, where lodge staff members pick them up. Although the river passes through wild country, the few rapids are extremely gentle, and the whole experience is wonderfully relaxing.
A family vacation combining five days on the Caribbean coast with five days at a jungle lodge is perhaps ideal. Despite the woes afflicting much of Central America, Belize feels safe and hospitable. For now, at least, careful parents should not hesitate to take their children there.