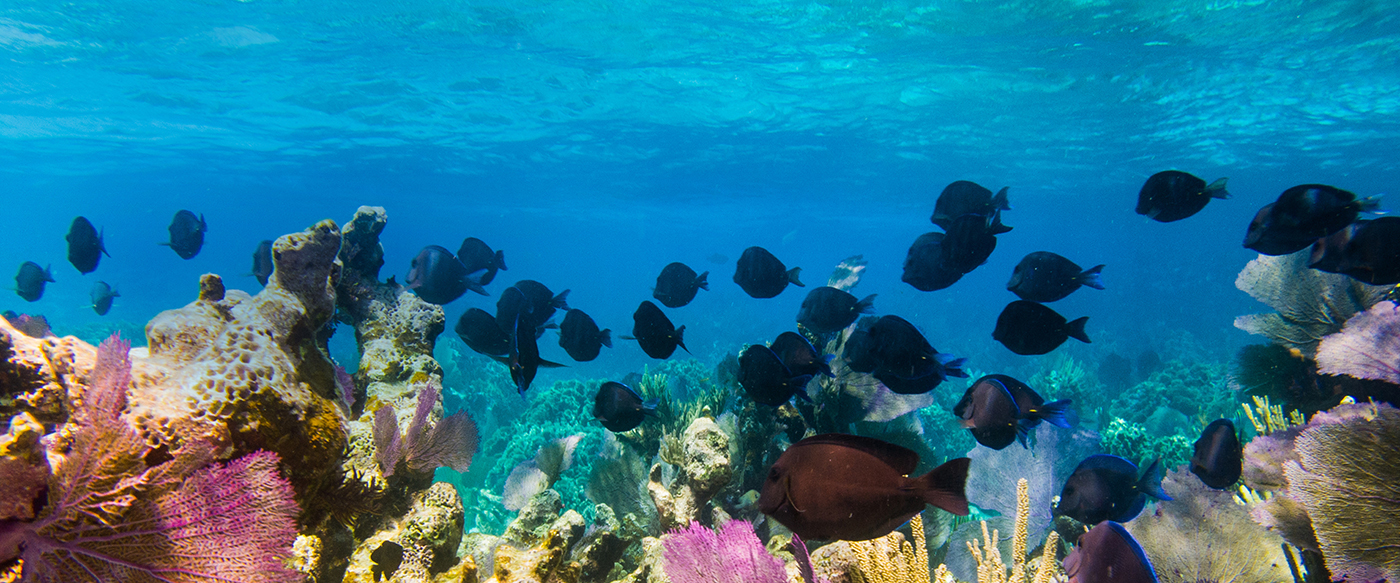 7 Favorite Caribbean Islands
By Hideaway Report Staff
December 5, 2014
"Where else in the world can you wake up to a symphony of birds, a sunrise that invites you to a day of relaxation, and warm, genuine people who make it their mission to make your vacation a memory of a lifetime? Only in the Caribbean," says Wilbert Mason, general manager of Peter Island Resort & Spa.
The Caribbean's 7,000 islands, islets, reefs and cays represent 28 countries. Best known for its clear-blue waters, temperate weather and white-sand beaches, it may very well be the people of the Caribbean that make these island destinations so special. "I think what really sets the Caribbean apart is the fun-loving, unique melting pot of cultures that now define the [region]," says Lily Carr, sales manager at Little Dix Bay. "It's created the warm, hospitable locals that call these islands their home year round." MaryAnne DeMatteo, director of sales and marketing at Antigua's Jumby Bay, agrees. "Each island that makes up the Caribbean has its own history, which has led to the evolution of different customs, languages, delicacies and music," she says. "Nowhere else in the world can one find such a unique mixture of cultures and welcoming individuals."
This best-of-the-Caribbean roundup includes seven islands and resorts most booked by the Andrew Harper Travel Office in 2013–14. Mason, Carr and DeMatteo, along with several other in-the-know islanders, give their suggestions for what to do, what to see, what to eat and what to drink in order to truly experience all that the Caribbean has to offer. "For me, there is nowhere else like the Caribbean," says Mason. "This is where a true slice of paradise awaits you."
1. Virgin Gorda, British Virgin Islands
THE DRAW: A small, friendly island that's home to The Baths, BVI's famous geological landmark.
The population of Virgin Gorda is so small that the island still doesn't have a single traffic light. Combine the small population, the small size of only eight square miles and the unparalleled relaxed charm, and it's easy to see why cocktails at sunset might be about the only thing to get in a hurry for.
DON'T MISS: "Leverick Bay's Jumbies Bar is a must. Every Friday night they throw a full-moon party with live calypso music and performances by Moko Jumbie dancers," says Carr.
2. Peter Island, British Virgin Islands
THE DRAW: 1,800 acres of unspoiled tropical island and five pristine beaches.
"The British Virgin Islands is the sailing capital of the Caribbean, so whether it's a sunset sail, a snorkel or scuba excursion or deep-sea fishing, time out on the water is a must," says Mason.
DON'T MISS: "Attending full-moon parties and hanging out at the bars on Cane Garden—a great way of getting the local vibes," adds Mason.
3. St. John, U.S. Virgin Islands
THE DRAW: Unpretentious, low-key and home to one of the Caribbean's most pristine beaches.
The least developed of the USVI, two-thirds of St. John's tropical hills are protected as national parkland. "The timelessness of St. John brings visitors back to a gentler era," says Jessica Sarkin, sales manager at Caneel Bay Resort. "The unspoiled land and waters that surround create a stunning experience."
DON'T MISS: Visiting the ruins of the Annaberg Sugar Plantation.
4. Antigua
THE DRAW: A winding coastline with a different beach for every day of the year.
"Antigua is still relatively untouched," says Stephanie Mack, sales and marketing executive with Hermitage Bay. "It's a great place to escape when all you want is rest and relaxation."
Here, like the rest of the Caribbean, water sports reign supreme, with deep-sea fishing, kite-surfing, and sailing leading the pack. For picturesque sunset views, Mack suggests visiting Shirley Heights on Sundays, when visitors can enjoy a sunset barbecue accompanied by rum punch and a steel band. For more local flavor, experience the island's vibrant music and dance scene during the Antiguan Carnival, which takes place at the end of the summer season.
DON'T MISS: Adventure Antigua's Xtreme Tour, which takes guests swimming with wild stingrays, snorkeling at the Pillars of Hercules and on a cruise through Nelson's Dockyard for a quick history of the island's former English military base.
5. Anguilla
THE DRAW: Thirty-three white-sand beaches encircling the intimate 17-by-3-mile island.
"To fully appreciate this warm, friendly and festive place, "get into the groove of island life as soon as you arrive, and appreciate the slower pace while you're here," says Cardigan Connor, director of spa and recreation at Cap Juluca. His recommendation for the perfect end to a day of snorkeling, traditional Anguillan sailboat racing or deep-sea fishing will find you at one of two places—musician Bankie Banx's Dune Preserve or The Pumphouse, both well-known musical destinations and the go-to beach bars on the island.
DON'T MISS: Anguilla's annual Summer Festival, featuring yacht races, calypso music, fairs and parties.
6. Barbados
"Barbados is spiritually alive, it vibrates with enlightenment and vitality."
THE DRAW: Beautiful and diverse beaches of finely ground coral.
"Barbados is spiritually alive, it vibrates with enlightenment and vitality," says Ruth Phillips with the Barbados Tourism Authority. "You will hear it in our music, in the laughter of [our] people."
To acquaint yourself with the lay of the land, take a 4X4 Jeep through the unbeaten tracks of the island. Make time to visit some of the country's 12,000 rum shops, and then dance the night away to live music at St. Lawrence Gap. Phillips recommends reserving Friday nights for the weekly fish fry at Oistins Bay Garden. Attracting a mix of both locals and tourists, this rustic dining experience includes copious amounts of fresh seafood, arts and crafts from local vendors, music and dancing.
DON'T MISS: Bottom Bay Beach, a secluded beach surrounded by tall coral cliffs.
7. Turks & Caicos
THE DRAW: "Water so blue it blows me away every time I see it," says Beverly Plachta, manager at The Meridian Club.
The Turks & Caicos Islands consist of six inhabited islands, each with a unique lifestyle. "In Providenciales (Provo) you can experience city life; in Grand Turk you can be a historian; in South Caicos you can be a fisherman; in Salt Cay you can escape from it all; and in North and Middle Caicos, you can live the life of a farmer," says Charrish Ferguson, marketing and design coordinator at Grace Bay Club.
Not to be outdone by the islands, however, the surrounding crystal-blue waters are home to the world's third largest barrier reef system and miles of underwater canyons, providing one of the Caribbean's most exceptional diving locations.
DON'T MISS: Thursday's weekly fish fry, where local restaurants serve traditional island cuisine at a beachside park. "The evening is filled with traditional music and dancing, and is the perfect opportunity to taste a bit of island life," says Ferguson. She also recommends taking part in a junkanoo, an island festival with energetic drums, elaborate costumes and lots of dancing.
Click here to read even more exclusive Caribbean content from the Traveler magazine.
Get Inspired for Your Next Adventure
Register to sample:
One-of-a-kind itineraries
Inspirational travel articles
Free e-newsletter from our editors