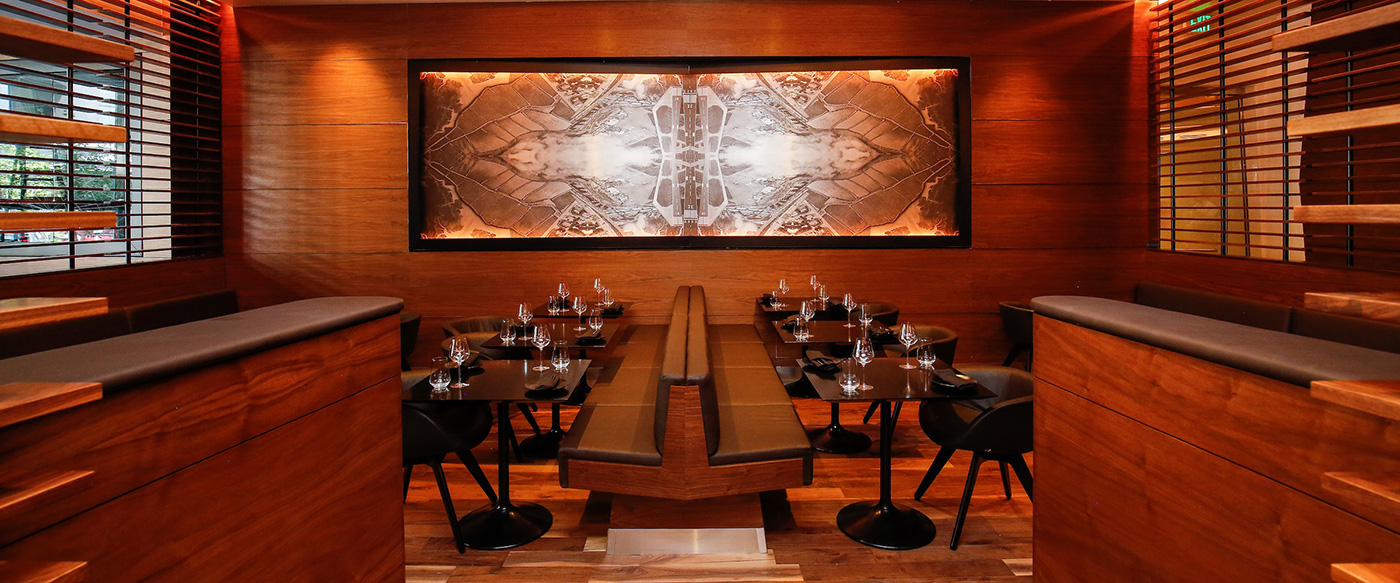 The interior of Departure in Denver, Colorado
Adam Larkey Photography
Eating Well in Denver: The Mile High City's Best Restaurants
By Hideaway Report Contributor
November 15, 2017
Denver's dining scene has taken off. Great restaurants serve everything from locavore to globalist fare. Wine lists offer adventure, and servers are having a ball. The chef-owners who launched this renaissance a decade ago are opening new places, and so are the younger chefs who cut their teeth in the kitchens of standard-bearers that continue their excellence. Here are some of Denver's best.
Acorn
In a vaulted, graffitied corner of the Source, a culinary marketplace spun from the remnants of a foundry in River North Arts District, Steven Redzikowski has his way with live fire. You'd think that wood-roasting would entail lots of meat, especially in this cattle-ranching state. But Redzikowski focuses on vegetables.
Broccolini emerges from oak flames charred and tender before it's splashed with tangy tomatillo dressing. Proteins mingle with loads of produce. Firm hunks of boudin blanc are good, but the blackened corn and Romano beans tossed with them are even better.
Best of all, though, is the market salad. In early fall, peak Palisade peaches meld with tomatoes, mozzarella and basil in a salty Kalamata "caramel" that offsets the fruit's sweetness. The salad proves that Redzikowski doesn't need fire to create an exemplary dish.
Cocktails, too, make fine use of the farmers market: Beets add earthiness and deep color to a gin and pear eau de vie elixir; a mixture of basil-and-tarragon vodka, green Chartreuse and lavender packs an herbal punch.
And desserts feature fresh fruit: peaches and cream, strawberries and profiteroles, and — the clincher — dark chocolate custard and honey yogurt topped with blackberries the size of golf balls. $75 with drinks.
Acorn
3350 Brighton Boulevard. Tel. (720) 542-3721
Barolo Grill
This Denver icon is busy but elegant, with white tablecloths, courteous service and an earth-tone decor that looks more Southwestern than Piedmontese. The wine list, however, stands firmly in The Boot. Staff flies to Italy annually to bring back bottles. Twenty-two of the list's 115 pages are devoted to the namesake red.
But you don't need to stop at Barolo. The Northern Italian cuisine marries well with white. The sommelier's suggestion, a 2015 Kaltern Pinot Grigio "Söll," tasted of vanilla-laced apple tart but with the mineral backbone to handle both creamy sauces and seafood.
There's lots of the latter. Lobster mingles with radicchio and spheres of cucumber and Rocky Ford melon in a refreshing citrus-dressed salad. Fork-tender Spanish octopus comes crowned in garlicky salsa verde atop sweet roasted carrot purée, a yin-yang treatment for the rich meat.
Barolo serves pastas in full, half or tasting portions. Crunchy pan grittata punctuates frutti di mare nestled atop squid-ink spaghetti awash in aromatic white-wine sauce. Agnolotti dal plin, those tidy Piedmontese wrappers, come filled with just enough veal to balance the fresh pasta, dressed delectably in rosemary brown butter.
Though pork ribeye, beef tenderloin and braised duck round out the secondi piatti, a "cassoulet" features not duck confit, but scallops, haddock and head-on king prawns. With Savoy cabbage and creamy Tuscan white beans, it's a seafood dish for autumn.
Afterward, one wants only a scoop of the housemade gelato. Best are the nutty ones: bacci and pistachio. If you're still indulging, nine grappas are on offer to cap off an Italophilic meal. $170 with drinks.
Barolo Grill
3030 East Sixth Avenue. Tel. (303) 393-1040
Fruition
Cozy and hushed in a cottage near the Denver Country Club, Alex Seidel's showcase for his same-named farm has stood the test of a decade. Low lighting and soft jazz keep the vibe mellow, though there's a crowd-pleasing edge to Seidel's cooking that lures diners of all kinds, in suits or sneakers.
One evening, jewel-like seasonal appetizers included foraged matsutake mushroom brushed with sweet oyster sauce, fried zucchini blossom stuffed with Fruition Farms sheep's-milk ricotta, and a tiny bouquet of baby vegetables dusted in allium powders. It came with a chile ranch dressing made with yogurt from Seidel's sheep. Hot and tart, it brought the fancy nibble down to earth.
Seidel reworks oysters Rockefeller, rolling the bivalves in thin-sliced potato and frying them to look like mini eggrolls. Use them to scoop up braised spinach and spinach-leek-Parmesan sauce, and the taste approximates the classic, while the dish behaves like a game-day snack.
Entrées are more traditional. Duck breast comes perfectly medium-rare with a barrage of braised, puréed and pickled fall vegetables, plus Black Mission fig marmalade to drive home the season. Drinks can follow suit: Sour-candy sweet with a vinegary, leathery finish, Casey Brewing's barrel-aged farmhouse ale is an autumnal Colorado quaff that goes with everything, including Fruition's lemon meringue pie. A custard baton coiffed in a bronzed braid of meringue, it is almost too pretty to eat — but too scrumptious not to finish. $150 with drinks.
Fruition
1313 East Sixth Avenue. Tel. (303) 831-1962
Guard and Grace
Troy Guard understands that steakhouses are adult playgrounds. The fun at this Downtown spot begins with the glass-walled wine cellar at the entrance, where Châteauneuf-du-Pape is on display. The light-filled dining room curves around a kitchen counter where Guard shows off his chefs at work, his raw bar and his curing locker.
Barrel-aged cocktails are gimmicky already, so the bar jacks up the gimmick, mixing genever and Szechuan peppercorns into a cask "old fashioned." It's a neo-"Mad Men" precursor to a meal served on retro dinnerware. Housemade charcuterie arrives on a midcentury-style wooden platter. A warm spinach, artichoke and goat cheese dip is a throwback blast to scoop up with warm chips.
Yellow-glazed plates that look like they came from Russell Wright's studio hold a kale, cabbage, radicchio and sunflower seed salad — serious roughage to balance the steak. Happily, Guard grills a 4-ounce strip. Just the right size to save room for other dishes, it's glossed in veal demi-glace and clarified butter. Wet-aged and juicy but with a mineral char, it's a grown-up hunk of beef, though the curly noodles in the truffle mac 'n' cheese take you back to childhood.
So, too, does dessert. The G&G Bar, a hazelnut-chocolate log covered with caramel gelée could come in a Willy Wonka wrapper. It's brought by good-humored servers who oversee the meal like the coolest of parents. $130 plus drinks.
Guard and Grace
1801 California Street. Tel. (303) 293-8500
Rioja
Even on a Monday night with the Broncos playing at home, Jennifer Jasinski's flagship Mediterranean on Larimer Square is jumping. Cooks juggle pans in the exhibition kitchen. Servers hurry about, delivering bread — goat cheese–rosemary, lavender-sourdough, raisin-oat, onion — and chatting to customers about Spanish wines.
Let them talk you into something. The suggested 2003 Viña Tondonia White Reserva has the apple-snap finish of cider but with a richness that meets the robust food. Jasinski has a way with pastas — even ones that taste like Spain. Saffron capellini nests squid and prawns in a nage infused with Calabrian chiles. White truffle brodo is hard to upstage, but artichoke takes its best shot, coming braised, crisped and puréed inside tortelloni in that aromatic broth.
The kitchen parses cucumber, too. A salad of raw and pickled heirlooms, cucumber flower, fennel and apples sit in cucumber-green apple water, tasting like a bracing riff on gazpacho. As for big plates, Jasinski's juicy free-range chicken drips with tarragon-brandy jus booming with caramelly, aniselike flavor.
Goat-cheese-and-fig beignets are justifiably popular, but if you're too full after all that, go for the corn flan. Made with sweet ears from Olathe, Colorado, and draped in mountain huckleberries, it's a light, locavore finale. $100 with drinks.
Rioja
1431 Larimer Street. Tel. (303) 820-2282
Tavernetta
At Boulder's famed Frasca Food & Wine, owner Bobby Stuckey wrote the book on gracious hosting. A fire a few days after the September opening of his new Union Square offshoot caused a temporary shutdown, but Tavernetta is back up and running now, and Denverites are lucky to have it. The laid-back rooms are decorated in "La Dolce Vita"–style vintage photographs. The smartest seats are in the lounge where a sleek gas fireplace adds sex appeal.
The gnocchi is delicious wherever you sit. The kitchen is open, so you can watch them being rolled. Dressed in a lamb ragu, they melt on your tongue. Just as terrific is ravioli alla Norma. Big cushions stuffed with roasted eggplant tucked amid creamy burrata, cracked green olives and torn basil in a fresh, garlicky tomato sauce, it's full of pungent charisma.
Some dishes deconstruct tradition. The bagna càuda could be called "bagna freddo." Piedmonte's warm anchovy oil is whipped into a tangy mousse for dipping fresh vegetables. It's a brisk party snack that can serve as an intermezzo before the mains.
The menu can be inscrutable about those mains. "Tuna, tomato and Taggiasca olives" turns out to be a seared filet in a forest of spiky punterella and endive atop a sauce gribiche, a French concoction rich in cornichons and hard-boiled egg. It's much more salade Niçoise than the description suggests, but boy, is it good.
Frasca is known for its wine list, and Stuckey brings that expertise to Denver. Paper-thin Zalto glasses hold top-notch selections, from a jammy, old-vine Vietti Barbera to Massican's minerals-meet-funk "Gaspare" white blend. The latter pairs well with pistachio mousse and a chat with Stuckey, as he works the tables, exemplifying Colorado's casual friendliness. $140 with drinks.
Tavernetta
1889 16th Street. Tel. (720) 605-1889
Get Inspired for Your Next Adventure
Register to sample:
One-of-a-kind itineraries
Inspirational travel articles
Free e-newsletter from our editors