Out on the Flats: Bonefishing on Andros, Bahamas
.article-cta-top
Not for nothing is Andros known as the "Bonefishing Capital of the World." The island's shallow surrounding waters hold a huge population of the "gray ghosts of the flats." For those unfamiliar with the sport, bonefishing is widely regarded as one of the most exciting forms of fly-fishing.
Although they are not particularly large — in the Bahamas, a 10-pound bonefish is a monster — they are shy and require a high degree of skill to catch. You must, for example, be able to cast a small fly accurately and delicately over a considerable distance to be successful. Above all, bonefish are almost unbelievably strong and fast. A 5-pounder will strip 100 yards of line and backing from your reel within seconds. Indeed, at times, it feels rather like being accidentally hooked up to a motorbike.
Many of the dedicated fishing lodges on Andros are located close to Mangrove Cay and the legendary Middle Bight, where, fishing lore maintains, huge bonefish smash up 8- and 9-weight fly rods with impunity. (Perhaps the only other Bahamian flats to rival the fishing here are the famous "Marls" of Abaco.) On my recent trip, however, I was based at Kamalame Cay on the northeast coast. The great advantage of this resort is that it is equally appealing to non-anglers, and fishing widows (or widowers) will be quite content either in the spa or poolside.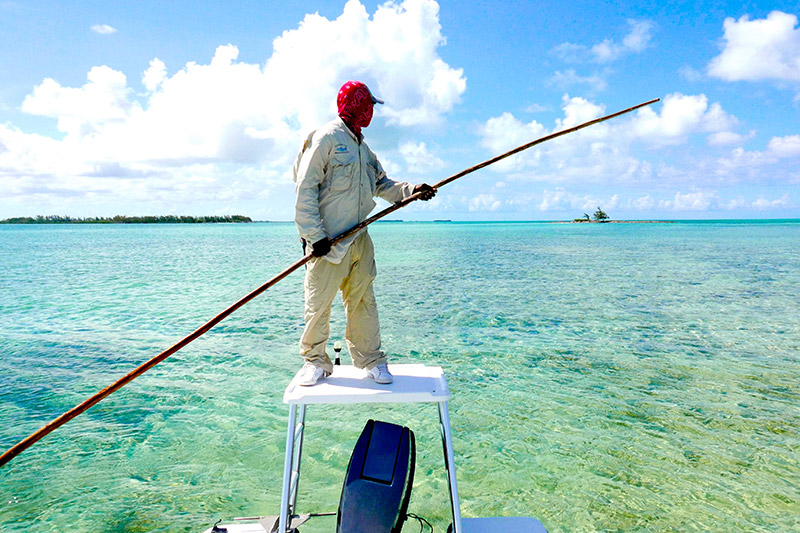 Full- or half-day guided trips aboard specialized flats skiffs enable anglers to cover large areas of water and to track down fish, even if the tides and prevailing conditions seem to be unfavorable. (The best fishing months on the east coast of Andros are generally reckoned to be October through January.) For me, the pinnacle of the sport is wading the flats knee-deep in translucent water, but an eagle-eyed professional guide perched atop an elevated platform will usually contribute to greater success. Bonefish are extremely difficult to spot — indeed, it is virtually impossible without polarizing sunglasses — not least because their thousands of silver scales act as tiny mirrors, reflecting the colors of the seabed. Further, they live in shoals that are constantly on the move, so you must be able to see a specific group of fish and to cast to where it appears to be heading. Casting randomly is pointless.
Out on the flats, the world's troubles seem infinitely remote.
My local guide at Kamalame Cay proved to be a skillful and agreeable man, and our two excursions together yielded nine bonefish, the largest of which weighed about 5 pounds. Aside from the thrill of the fishing, Andros provides a profoundly therapeutic environment of space and solitude. In addition to dolphins, we encountered rays, turtles, several sizeable lemon sharks and a 5-foot blacktip shark that cruised alongside our skiff for a while. Out on the flats, the world's troubles seem infinitely remote.