The sixth-largest country in the world, Brazil has long fascinated travelers with its enchanting Amazon rainforest, epitomic beaches, thriving coastal cities and irrepressibly vibrant and musical culture, along with its unique status as the only Portuguese-speaking nation in the Americas. Now, too, Brazil welcomes the luxury traveler with several fine options for accommodations across the country; over the past year, our editor recommended five new properties in Brazil, including two winners of 2015 Grand Awards. Hideaway Report travelers have taken note as well, doubling their bookings to Brazil in that same span. Here, our editor-in-chief shares his expert advice for getting the most out of your visit to this colorful and diverse South American destination.
Compared with other South American countries such as Peru and Argentina, Brazil is not well known to American travelers. Why do you think this is?
Brazil is blessed with immense natural resources, and in recent years has also developed a successful industrial economy. So there is not the same imperative to foster tourism. The national language, Portuguese, is also a factor. The rest of Latin America is united by its Spanish heritage. Many Americans can speak a few words of Spanish, but few know any Portuguese.
Brazil is a huge country, nearly as large as the continental U.S. When is the best season to travel there?
Unlike the United States, most of Brazil falls within the tropics, so the climate has greater uniformity and is chiefly defined by wet and dry seasons. I suspect that many Americans will travel south to escape the northern winter. This is the warm, wet season in much of the country. It is also the time of the Rio Carnival. Personally, I enjoy Rio most when it is humid, tropical and in a festive mood, but that weather can be capricious. However, you should try to visit the Amazon Rainforest during its dry season from August to October; at other times the rain can be incessant and the humidity asphyxiating.
Which area of Rio do you suggest for a first-time stay?
On their first trip, most people want to stay close to the beach. To stroll among the soccer players and the sun-worshippers is a quintessential Rio experience. The most fashionable of the city's beaches is Leblon, closely followed by Ipanema. Rio's wealthier residents seldom venture onto the sands, however, but stroll or jog along the promenade, especially on Sunday mornings. The beaches are considered to be the playgrounds of the working and middle classes. On subsequent visits, some foreign visitors opt to stay in an older, quieter neighborhood such as Santa Teresa, from where there are spectacular panoramic views.
What are the sights not to be missed in Rio de Janeiro?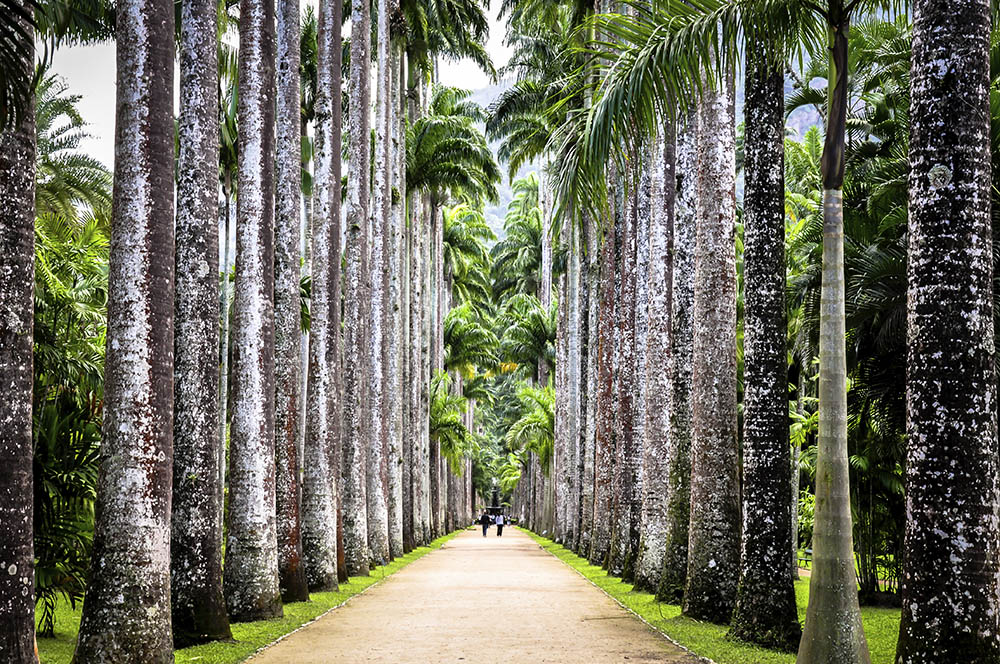 Rio does not have a wealth of sights, monuments or museums. Its culture is a unique way of life; its chief glory is the natural splendor of its setting. From the 2,316-foot summit of the Corcovado, the panorama is truly amazing. I like to stroll around the Lagoa Rodrigo de Freitas—a lake five miles in circumference—and to make excursions into the adjacent 8,000-acre Tijuca National Park, the largest urban forest in the world. There, Rio's Botanical Garden is incomparable. Founded in 1808, it comprises 134 cultivated acres, plus 205 acres of tropical rain forest. Upon seeing it in 1832, a young Charles Darwin was moved to raptures. From the entrance, a pathway extends down a 765-yard avenue of 134 imperial palms. Numerous glasshouses are dedicated to bromeliads, orchids, succulents and carnivorous plants.
Does São Paulo have much to offer leisure travelers?
São Paulo is primarily a business city, though its partisans make great claims for both its art galleries and its food. (D.O.M., where chef Alex Atala serves a contemporary version of Brazilian cuisine, is widely regarded as the best restaurant in South America.) Boutiques in the streets off the grand Avenida Paulista have a comprehensive selection of the leading international designer brands. Air services from the United States to São Paolo are much better than those to Rio, so you will likely find this to be the more convenient gateway city.
What Amazon cruises do you recommend?
Strangely, Brazil offers no equivalents to the sophisticated riverboats on the Peruvian Amazon operated by Aqua Expeditions. But, of course, most of the Amazon ecosystem is in Brazil. If you wish to venture into this extraordinary environment, I recommend signing up for a cruise with the specialist Brazilian company Matueté. It can offer a variety of vessels, including private yachts for as few as eight people, staffed by talented chefs and knowledgeable naturalist guides. Amazonia is full of surprises. For example, the Rio Tapajós tributary has translucent water and white-sand beaches off of which it is possible to swim. The region's large animals are often hidden by the dense forest, but resplendent birds, huge butterflies and river creatures such as caimans and pink dolphins are commonly encountered. Such trips will appeal to more adventurous travelers who are genuinely fascinated by wildlife and ecology.
Which beach resorts do you prefer?
Despite the fame of Rio's hedonistic culture and the country's more than 4,500 miles of mostly tropical coastline, Brazil has surprisingly few beach resorts of an international caliber. When the wealthy citizens of Rio vacation by the sea, they generally head to the Angra dos Reis archipelago, a local version of the Hamptons, three hours' drive (30 minutes by helicopter) south of the city. To the south, Florianopolis is a popular summer beach destination. However, many of the country's upscale resorts are to be found in the northern state of Bahia, especially around the laid-back village of Trancoso. The climate is warm year-round and rainfall is also fairly consistent, with modest spikes in precipitation during November, December, March and April.
What are the up-and-coming areas of the country for visitors?
The Pantanal is one of the world's great wildlife areas. Alas, at present there are no lodges equivalent to those I recommend in Africa and India. But on my next trip to Brazil, I intend to search out the best that are available. Located mostly within the state of Mato Grosso do Sul, the Pantanal is the world's largest tropical wetland, and extends over nearly 75,000 square miles. Eighty percent of the region's floodplains are submerged during the rainy season, an inundation that nurtures an astonishing range of aquatic plants and animal species. Here you will find spectacular rare birds like the hyacinth macaw and the crowned solitary eagle, plus mammals such as the giant river otter, maned wolf, giant anteater, tapir and capybara. The Pantanal is home to one of the world's largest jaguar populations and it is frequently possible to see the big cats in daylight. One day, I suspect that the Pantanal will be as familiar to American travelers as Botswana's majestic Okavango Delta.
What advice would you give to travelers making their first visit to Brazil?
Don't try to rush, or to see the whole country in one visit.
Don't underestimate the distances involved. Brazil is 3,000 miles west to east and more than 2,000 miles north to south. The air network is restricted compared to that in the U.S. and there are a limited number of non-stop flights. So don't try to rush, or to see the whole country in one visit. Brazilians tend to be friendly and hospitable to Americans, but few people speak much English, so travelers should make an effort with a few words of Portuguese. Brazilian cuisine, often paired with cachaça (cane spirit) cocktails, is of one of the principal pleasures of a trip and it invariably pays to be adventurous. Although it is based in Portuguese cooking—the national dish, feijoada, comes from the provinces of Beira and Estremadura in northern/central Portugal—there are strong influences from Italy, Germany, Lebanon, Africa and Japan. Brazilian fish and seafood are routinely outstanding.