Arriving in Phnom Penh for boarding, I had little trouble spotting the Aqua Mekong out on the river.
The Aqua Mekong follows itineraries of varying durations. When water levels are high — usually July through November — you can take a seven-night "Expedition Cruise" (in either direction) between My Tho in Vietnam's Mekong Delta to Siem Reap in Cambodia, home of Angkor Wat. Alternatively, you can opt for a four-night "Explorer Cruise" or a three-night "Discovery Cruise." When the water is low, (chiefly December to June) choices are limited to trips between My Tho and Phnom Penh, the Cambodian capital.
Having long wished to visit Tonle Sap, the largest body of fresh water in Southeast Asia with its floating villages and famous Prek Toal bird sanctuary, I opted for a three-night upriver voyage from Phnom Penh to Siem Reap. Alas, shortly before departure, Aqua emailed to inform us that seasonal water levels had not risen sufficiently to allow the ship — which draws 5 feet — to navigate the lake. However, we were assured that a full program of excursions would be more than adequate compensation.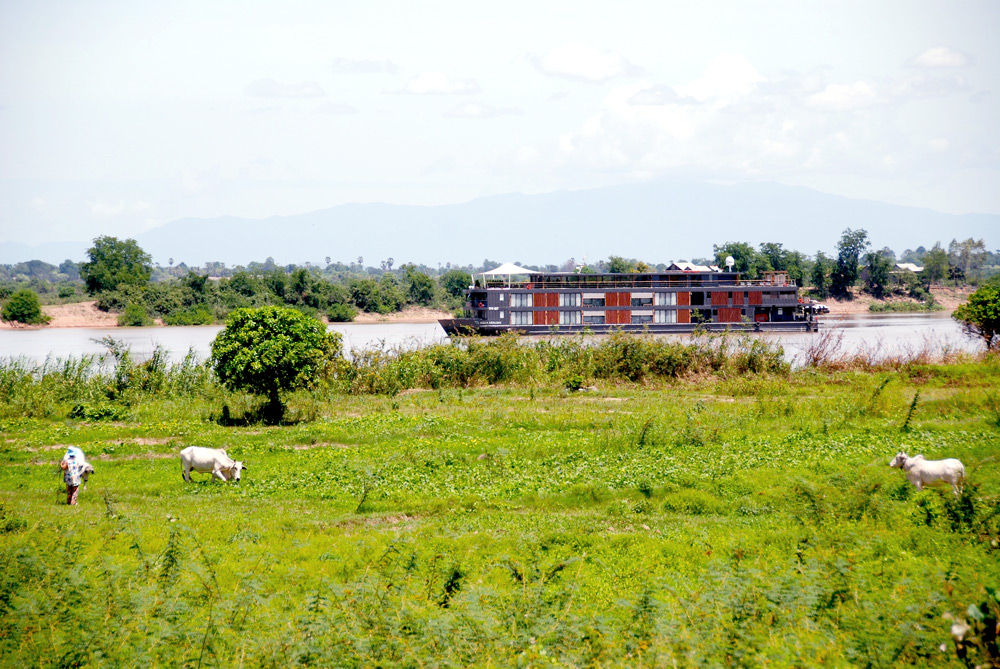 Arriving in Phnom Penh for boarding, I had little trouble spotting the Aqua Mekong out on the river. Given its wood siding and huge cabin windows, its relationship to the Aqua Amazon was unmistakable. (I published a review of my Peruvian journey in the November 2010 Hideaway Report.) However, the new vessel is bigger than its sister ships. The 130-foot Amazon accommodates 24 passengers in 12 suites, whereas the 205-foot Mekong carries 40 passengers in 20 suites (attended by 40 crew). As with its siblings, it comprises three decks, the first two devoted primarily to guest cabins, with the rear of the second taken up by a lovely dining room. On the top deck, the Mekong has a spacious lounge-bar with seating areas along floor-to-ceiling windows, a media room with a large screen and comfortable Eames chairs, and a small library. At the stern, a gym provides a selection of aerobic machines, while in the bow, a shaded plunge pool offers an idyllic place to relax or to sip a glass of wine.
At 322 square feet, the cabins are larger than those on the first two boats. We booked one of the eight suites with an outside balcony furnished with a small table, two chairs and a luxurious daybed. Handsomely appointed with grass-cloth wallcoverings and wood accents, the cabin came with ample closet space, well-considered lighting, polished wood floors and raw-silk throws. The bath was equipped with twin sinks and a walk-in shower with a rainfall head. Four sets of two interconnecting suites are suitable for families. Passengers also have the option of booking adjoining suites, with one configured as a private living room.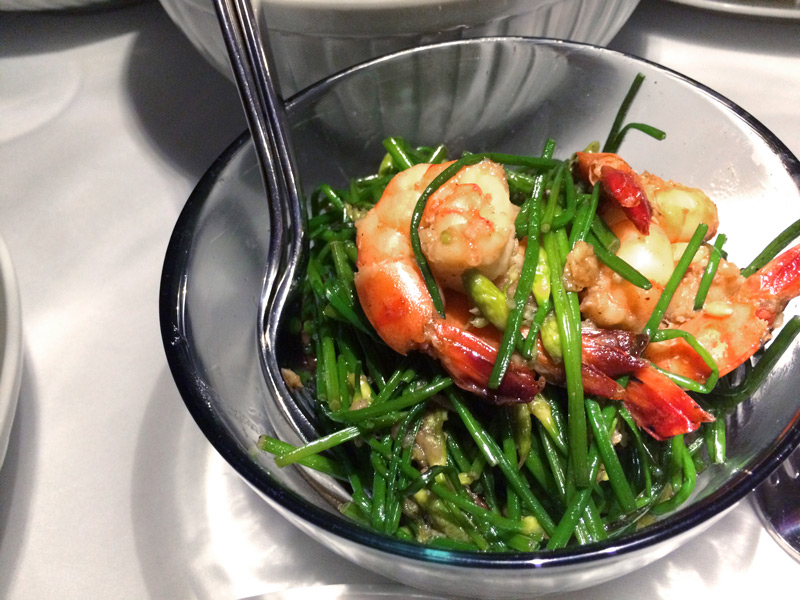 Prior to the trip, I had noted with anticipation that the cuisine aboard the Mekong is under the supervision of Michelin-starred chef David Thompson, whose restaurant nahm in Bangkok is justly regarded as one of the finest in Asia. (His seminal work, "Thai Food," sits well-thumbed on the Harper kitchen bookshelf.) Under his guidance, the kitchen turned out a series of superb meals with dishes such as Cambodian rice noodles with chicken and wild ginger sauce, a green curry of catfish with a lemon-basil-cashew nut pudding and coconut cream, and prawns braised with white wine and herbs accompanied by pea and prosciutto risotto. During our entire voyage, the waitstaff could not have been more pleasant or engaging. Indeed, throughout the ship, we found the staff to be exceptionally courteous and helpful; whoever provides their training deserves enormous credit.
Our fellow passengers formed an eclectic group of six nationalities, with ages ranging from preteen to late 60s. Everyone seemed enthused by the trip, and willing to be adventurous. The Mekong has four auxiliary aluminum launches with capacity for 10 passengers, crewed by English-speaking guides. These head off two or three times a day and are in radio communication with the main vessel. Ten bicycles are also available for either guided or independent shore excursions.
On our first morning, we embarked on a short hike to the village of Koh Chen, known for its silversmiths. There, on a visit to a workshop, we saw firsthand the painstaking craft of hammering the metal onto wooden templates and the magical application of a silver plate to copper pieces. Later, we stopped at a small Buddhist temple with graceful lines, bright saffron-orange wooden supports and impressive gilding. Several of the young monks had gathered under a tree for lunch. Although shy, they were nonetheless extremely welcoming. Nearby, we also spotted two intricately carved and painted dragon boats, entered by the local people in races held every November at the end of the annual monsoon.
Another morning began with a trip through the picturesque floating village of Kampong Chhnang on the Tonle Sap River. Ashore, we mounted bicycles and set off to the village of Andong Russei to meet a well-known potter who crafts cooking vessels of simple beauty and durability. On a second stop, we conversed with a farmer famous for his palm sugar and potent palm wine. Other activities during our eventful three days included oxcart rides, kayaking and an impromptu soccer match with local children in a fallow rice paddy.
Of course, much of the pleasure of a Mekong cruise comes from lounging on deck as Southeast Asia slides gracefully past, observing the painted storks and pied kingfishers, the rice barges and the huge drifting rafts of purple water hyacinth. The life of the great river is an endlessly diverting spectacle of which it is almost impossible to tire. Our life of languor and indulgence was further enhanced by trips to the boat's small spa for a Khmer massage or Vietnamese aromatherapy.
At the end of our voyage, one of our fellow passengers, an experienced traveler, ventured the opinion that this was one of the most enjoyable trips he and his wife had ever taken. I replied that I entirely agreed with him.
Aqua Mekong 3-night Discovery Cruise, Second Deck Design Suite, $3,465; 4-night Explorer Cruise, $4,620; 7-night Expedition Cruise, $8,085. Rates include all meals, house wines and shore excursions. Aqua Expeditions, Tel. (866) 603-3687.