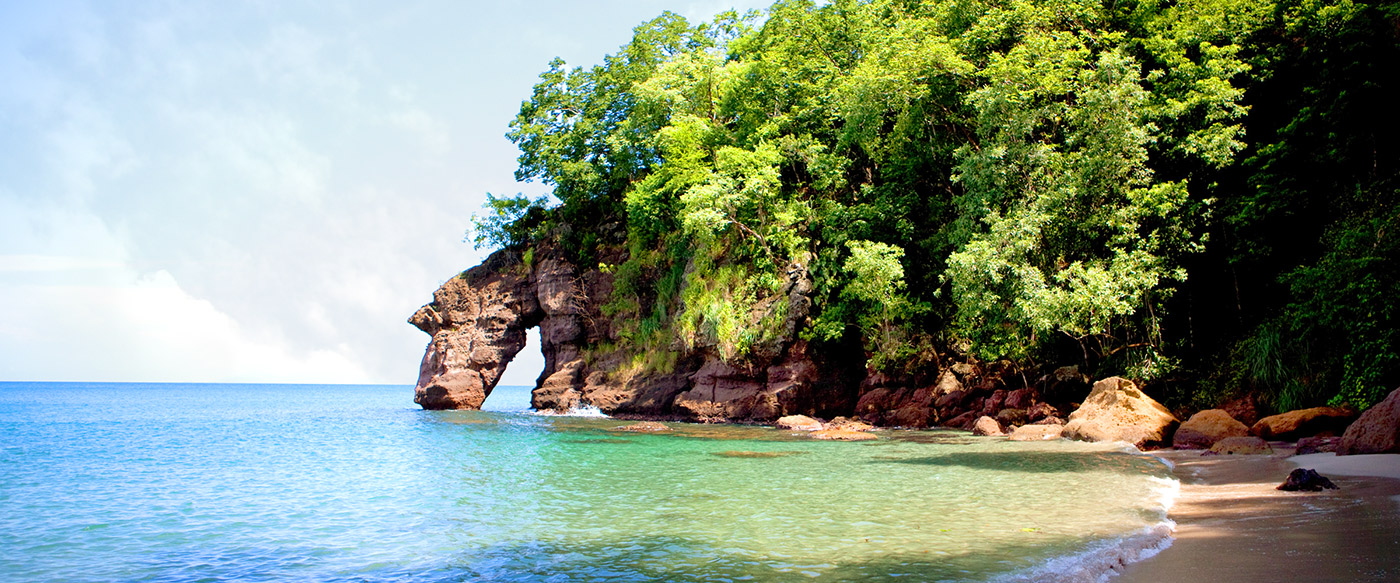 St. Lucia's New Capella Marigot Bay
The Rain Forest of Dominica | Morne Trois Pitons National Park
Beach at Secret Bay
© Paul Huynh
Caribbean Island-Hopping | Dominica, British Virgin Islands, Anguilla and Dominican Republic
By Hideaway Report Editor
November 1, 2014
The word 'Caribbean' conveys a promise of white sand, azure waters, cooling cocktails and spicy island cooking. But of course, the Caribbean Sea contains dozens of islands, which offer a wide variety of landscapes and attractions. The trick is choosing the right one. I've recommended places to friends who assured me that all they wanted was a quiet getaway — solitary beaches, long novels, simple food — only to discover later that they had decamped to somewhere with bright lights, jumping bars and ample shopping.
Our recent trip took us from the green, mountainous and unspoiled island of Dominica to the dazzling sands of the Dominican Republic by way of the British Virgin Islands and Anguilla. Few travelers will hop around as we did, but doing so was a reminder of the shortcomings of the inter-island airlines: Flights were canceled and departure times changed, often with no advance warning. Dominica has no direct service from the United States, so we were obliged to go via the hub of San Juan, bracing ourselves for whatever LIAT had in store.
Dominica
Almost one-third of the island has been set aside as nature reserves.
We arrived in the late afternoon, with sufficient daylight to see why Dominica styles itself the "Nature Island." Volcanic in origin, it does not have the white beaches to be found elsewhere in the region. This has spared it the heedless development that has marred some of its neighbors. What Dominica does have are impressive peaks, some of them 5,000 feet high; a dozen spectacular waterfalls; and dense tropical rain forests that allow more than 1,000 species of plants and 172 species of birds to flourish. Almost one-third of the island has been set aside as nature reserves.
Because of the challenging terrain, roads pretty much have to run around the coast. From a map, I would have thought that the ride from the airport to our hotel would have been about 20 minutes, but given all the twists and turns, it took well over an hour. This gave us the chance to chat with our driver, who exhibited both considerable satisfaction that we had made our way to his homeland and optimism about its future.
Secret Bay
Part of that bright future will doubtless include the debuts of more adventure hotels, as well as luxurious eco-resorts. We had come to stay at Secret Bay, the first truly upscale property on the island. Gregor Nassief, a man with strong roots on Dominica and an appreciation of its potential (backed by a successful business career in Latin America), discovered an ideal spot for development — a dramatic promontory on the island's northwest coast situated between two beaches. To realize his vision, he turned to the distinguished Venezuelan architect Fruto Vivas, who also happens to be his father-in-law. The results are stunning: three one-bedroom clifftop villas; one two-bedroom villa; and two hillside villas. All have been executed with superb craftsmanship that brings to mind the best resorts in Southeast Asia.
Without question, the most desirable are the clifftop Zabuco Villas. At 110 feet above the sea, their location alone would set them apart, but the architecture is breathtaking. Supported by four concrete pedestals of sculptural grace, the upper level seems to defy gravity and to float above the ground. Open and pavilion-like, with floor-to-ceiling windows in the living room, the 1,400-square-foot space includes a sea-facing deck, a kitchen fully equipped with German appliances (including a wine fridge), and a combined bed and bath, the latter with Italian fixtures, a freestanding tub and a shower with six heads. On the ground level, there is a plunge pool and a hammock. The beauty of the materials impressed me greatly — warm Guyana greenheart and glowing furniture crafted from Dominican red cedar.
Part of that bright future will doubtless include the debuts of more adventure hotels, as well as luxurious eco-resorts.
"Zing-Zing," the two-bedroom villa, is done in much the same style, although the view is less impressive and there is a hot tub instead of a pool. The hillside villas are duplexes, each with a kitchen, living area and deck downstairs, and a bedroom and separate bath upstairs, reached via a spiral staircase. Lovely as they are, they suffer in comparison with the Zabuco Villas.
Well in advance of our arrival, the hotel had sent a questionnaire asking about culinary preferences, drink choices and groceries we might want stocked in the kitchen. All were waiting for us. There is no dining room or restaurant at Secret Bay; instead, there is a dedicated cooking facility, where meals are prepared at your direction and brought to your villa by a staff member. For both lunch and dinner, we were given an array of choices. The food was delicious, among the best we've had in the Caribbean, and the knock at the door at mealtimes triggered a Pavlovian response of happy anticipation. Among the memorable dishes were grilled tuna steaks with a rich Creole sauce; crisp, puffy vegetable samosas; and an island favorite of mine, goat curry over rice.
The unfailingly helpful staff advised us on hiking, snorkeling and kayaking. We especially enjoyed a visit to the double cascade of Trafalgar Falls, followed by snorkeling at Champagne Beach, so named for the geothermal gas that bubbles up from the reef.
Dominica is an intriguing alternative to the more developed islands. Beach options are limited, but if you are energetic, there are innumerable activities and excursions. And for the more sedentary, there is always a plunge pool and a sublime view.
AT A GLANCE
LIKE: Superb accommodations; excellent food; the sense of being in a world of your own.
DISLIKE: The most accessible beach is rocky and uninviting.
GOOD TO KNOW: Private chefs can be engaged to cook in your villa, and cookery classes that showcase traditional Dominican cuisine are offered.
Secret Bay 92 Two-bedroom Villa, $930 (winter high season); Zabuco villa, $1,057. Ross Boulevard, Dominica. Tel. (767) 445-4444.
British Virgin Islands
There is a way to improve the phrase "Caribbean island," which is to preface it with the word "private." Following our exceptionally peaceful and relaxing stay on Dominica, we headed for two such places, both in the British Virgin Islands, an idyllic archipelago that lies approximately 70 miles to the east of Puerto Rico.
Peter Island
There is a way to improve the phrase "Caribbean island," which is to preface it with the word "private."
I have long recommended Peter Island. With five dazzling beaches and just 55 accommodations, this is a romantic, unhurried getaway. Of late, however, I had received some complaints about the service and the intrusion of sailors from visiting yachts, so a return visit seemed in order.
The 32 original chalets by the marina and the main restaurant are comfortable, but my strong preference remains for the 20 Beach Front Junior Suites. These were refreshed not long ago, and I love the interplay of stone walls, mahogany accents, bright fabrics and colorful prints. Baths come with walk-in showers and whirlpool tubs. Lower-level rooms have outdoor terraces and hammocks, while upper-level rooms feature cathedral ceilings and large balconies. Families would find the three villas attractive: "Hawk's Nest," with three bedrooms; "Crow's Nest," with four; and "Falcon's Nest," with six.
At the resort's casual restaurant, Deadman's Beach Bar & Grill, we relished exemplary fish tacos, made of grilled mahi mahi and accompanied by chunky guacamole, tangy red cabbage and mango slaw; as well as a first-class shrimp curry. We also enjoyed the food at the more formal restaurant, Tradewinds, but to be frank, the setting isn't up to the cuisine. The décor is bland and the lighting uninspiring. The place could use some livening up.
In response to the specific complaints, I watched and listened carefully. Nothing I saw or heard gave me cause for concern. We found the staff friendly, helpful and professional, and the overall tenor of the resort seemed to be happy. As for boaters, there were private craft anchored in Deadman's Bay, but when the yachting folk came ashore on the resort's principal beach, they were immediately directed elsewhere for swimming.
AT A GLANCE
LIKE: The resort never seems crowded, as it spreads over a wide area; fine white-sand beaches.
DISLIKE: The slightly inconvenient walk from the beach to the main restaurant and pool. 
GOOD TO KNOW:  If you are traveling via St. Thomas (as opposed to Beef Island, Tortola), arrive before 2:30 p.m. on Tuesday, Friday, Saturday or Sunday and you can ride the 90-minute Peter Island ferry.
Peter Island 94 Beach Front Junior Suite, $1,325 (winter high season; meal plan options available). Road Town, Tortola, BVI. 
Tel. (284) 495-2000.
Guana Island
Guana Island lies 20 minutes north of Tortola. Like Peter Island, it is mostly undeveloped. In the 18th century, two Quaker families settled here to cultivate cotton and sugar cane, evidence of which can be seen in the ruined sugar mill. In 1935, a couple from Massachusetts bought the island and started building cottages. They attracted a varied crowd who were looking for somewhere different. As one guest recalled, "There was no electricity, no hot water, but we all dressed for dinner."
Forty years later, Henry and Gloria Jarecki from New York purchased the island and upgraded the accommodations and facilities while striving to preserve its character and to restore its wildlife. (Guana has more varieties of flora and fauna than any island of its size yet studied in the Caribbean. The restoration program has brought back extirpated species such as the stout iguana, the red-footed tortoise, the white-crowned pigeon and the Caribbean flamingo. Scientists still come to the island to record animal and bird populations, and to check on the health of the waters and reefs.)
Whitewashed with blue doors, the seaview lodgings bring to mind the Greek islands. The choice of accommodations varies from the 15 cottage rooms — all with private terraces, some with air conditioning — to the recently refurbished Anegada House Villa, which can sleep up to eight people; the one-bedroom North Beach Villa, with a saltwater pool; the two-bedroom Harbour House Villa, with Jacuzzi and pool; and the most sumptuous, Jost House Villa, with three bedroom suites, a large infinity pool and dedicated staff (this is the Jareckis' home when they are in residence).
The comfortable and unfussy rooms, the well-tended gardens and the gracious staff are all delightful.
Our comfortable cottage reminded me of the Caribbean of bygone days: simple whitewashed walls decorated with old prints; dark wood furniture (including a desk); a large walk-in closet; a small bath with a separate shower; and a spacious covered terrace with 180-degree views. We also found the main house, The Club, a congenial spot. The homey living room came with white walls, a beamed ceiling and rattan furniture. Just off the lounge, a small library was filled with old books, left-behind novels and a stack of games. In the evenings, the staff set out trays of nibbles as guests congregated to recap the day. Several dining areas made possible a variety of configurations, either for groups of newfound friends or couples who wished to dine alone. Breakfast and lunch are buffet 
style — I particularly recall a delicious ballotine 
of chicken — and at lunch, a staff member presents 
a menu of dinner selections. All of the food 
was well-prepared and simple in the best way.
Several well-marked hiking trails thread across the island. After one excursion, we headed to the beach, which epitomized all that I want on a Caribbean trip: fine white sand; an overarching pine for relief from the sun; azure waters with snorkeling reefs just offshore; and a beach house with changing rooms, a shower and a bar. There, an attendant was on hand to arrange water skiing, fishing and boating. A tennis court and croquet lawn are nearby.
I thoroughly enjoyed Guana Island, but it is not in any modern sense luxurious. However, the comfortable and unfussy rooms, the well-tended gardens and the gracious staff are all delightful.
AT A GLANCE
LIKE: Low-key charm; traditional Caribbean atmosphere; utter tranquility.
DISLIKE: Some rooms lack air-conditioning.
GOOD TO KNOW: If you are in search of luxurious accommodations and lavish baths, this property will not appeal to you.
Guana Island 91 Seaview Cottage, $1,250 (winter high season); Villa, from $2,350; Entire island (36 guests), from $22,150. Muskmelon Bay, BVI. Tel. (284) 494-2354.
Anguilla
Viceroy Anguilla
Those in search of luxury will find it on Anguilla.
Those in search of luxury will find it on Anguilla. This low-lying limestone island is famous for some of the best beaches in the Caribbean. Development has been controlled, and there are no mega-resorts. True, hotels have spread across once-empty shores, but in many ways, the island is as low-key as it was when we first went to stay at its original luxury property, Malliouhana, not long after it opened in 1984. (This distinguished resort has been closed for a comprehensive redesign and was to reopen on November 1 under the Auberge Resorts banner). Malliouhana anchors the east end of Meads Bay; at the west end is the new 166-room Viceroy Anguilla.
There, the modern white buildings feature interiors by acclaimed designer Kelly Wearstler. Along breezeways and hallways, gray-and-white striated marble is so omnipresent that the Anguillans refer to the resort as "Marble City." As we accompanied a staff member to our suite, the angular structures made us feel as though we were in an upscale South Beach complex rather than in the Caribbean.
Our accommodations provided a four-poster bed, a living room filled with comfortable modern couches, a kitchenette and small dining area. The bath felt very much like part of a luxurious spa. The color palette featured subdued earth tones, which seemed antithetical to the Caribbean aesthetic. An expansive terrace with a plunge pool overlooked the ocean beyond.
Thanks to an elevated location, the Viceroy's Sunset Lounge offers one of the best views on Anguilla. Nearby, Cobà, the resort's main restaurant, has coffered ceilings, dark walls and extraordinary lighting fixtures that look like enormous sea urchins. The service was crisp and confident. Anguilla is known for its shellfish, and I enjoyed a perfectly cooked risotto filled with shrimp and generous chunks of lobster.
The perfect white sands of Meads Bay are just a short walk from the main resort complex. 
En route, we passed a pool dedicated to families, while on the beach, we found banks of towel-draped chaises longues, big umbrellas and a friendly 
beach attendant with ice buckets of cold bottled water. The electric-hued water could not have 
been more inviting.
I admired the Viceroy for its attention to detail, excellent service and dramatic location. The international design is done in the best of taste, but at times, I felt that I could have been anywhere. I'm not advocating that every property in the Caribbean be decorated with indigenous colors and materials, but a greater sense of place would make the Viceroy that much more enjoyable. Overall, it struck me as a fine resort for families — there is a kids' club with programs for children and teens — but couples may feel more at home at either the new 44-room Malliouhana or the 69-room Cap Juluca, a longtime favorite of Harper subscribers.
AT A GLANCE
LIKE: Delicious food; excellent service; fine beach.
DISLIKE: Large size (166 rooms) on a small, low-key island; international design and resulting lack of a sense of place. 
GOOD TO KNOW: The staff have encyclopedic local knowledge, which they are only too happy to share.
Viceroy Anguilla 91 Viceroy King, $800 (winter high season); Viceroy Studio Ocean View, $1,050. Barnes Bay, West End, Anguilla. Tel. (264) 497-7000.
Dominican Republic
Eden Roc at Cap Cana
The new Eden Roc at Cap Cana opened in December 2012. A 34-suite resort, it is tucked away in a 30,000-acre development at the east end of the island. With a mix of residences, a beach club, a marina and the Punta Espada Jack Nicklaus golf course, Cap Cana is a tranquil and upscale enclave within the wider Punta Cana resort area.
Located 20 minutes south of the international airport, Eden Roc is an enclave of brightly painted cottages with up to four bedrooms. Done in shades of pistachio, shell pink, canary and marine blue, they affirm their Caribbean setting. Arrayed in an oval around a central lagoon-like pool, each is set on its own landscaped plot to ensure privacy, with a back terrace and small private pool. From the outside, they do not appear as large as they actually are, so we were surprised when we walked into our Junior Suite to find a vaulted ceiling and a wall of windows. We loved the playful décor, with tables, dressers and chairs accented in the prevailing pistachio of the exterior. A four-poster bed, light cream walls and polished coral stone floors with intricate inlays all helped to create an exceptionally attractive and congenial environment. Sophisticated lighting and temperature controls could be handled manually or by a wall-mounted iPad. We found the bath to be one of the most appealing we've seen in some time, with facing vanities, a soaking tub next to a window, a large walk-in shower and an additional outdoor shower area.
Although it is small, the resort's beach is a perfect semicircular cove flanked by rocky outcroppings.
At check-in, efficiently handled by attractive staff, we were presented with keys to our own golf cart. This we used primarily to get to the Caletón Beach Club, a splendid facility with a large pool and a smaller children's pool located just steps from the powdery sands and crystalline water. Although it is small, the resort's beach is a perfect semicircular cove flanked by rocky outcroppings. Multiple palapas and chaises longues provided idyllic venues for reading, resting and sipping the drinks brought to us by waiters.
The seaside restaurant, La Palapa, is a breezy pavilion that serves superb seafood. We especially enjoyed grilled octopus, a spicy tuna roll, a well-balanced pasta dish with local Sanchez prawns in a yellow curry sauce, and grilled grouper with a lemon/white wine/caper sauce. Mediterraneo, the resort's principal restaurant, provides a fine setting for delicious food. We could not resist the lasagnetta of spider crab and leeks served with seafood ragout, and I also enjoyed grilled snapper with truffles and mashed potatoes.
In addition to the beach facilities, Eden Roc has a spa with six treatment cabanas, whirlpools, saunas, steam rooms and rainfall showers. There is a well-equipped gym and a children's club. This lovely, tranquil place is a notable addition to the roster of the Caribbean's leading resorts.
AT A GLANCE
LIKE: Privacy of the cottage suites; solicitous staff.
DISLIKE: Although the road to the beach club isn't crowded, you do have to be wary of regular cars while driving your golf cart. 
GOOD TO KNOW: The property is only 20 minutes from the airport, which has direct service to the United States.
Eden Roc at Cap Cana 95 Junior Suite, from $1,105 (winter high season). Cap Cana, Juanillo, Punta Cana, Provincia la Altagracia, Dominican Republic. Tel. (809) 469-7469.
This article appeared in the November 2014 print edition of Andrew Harper's Hideaway Report under the headline "Island-Hopping in the Caribbean."
Sneak Peek
This article appeared in The Hideaway Report, a monthly newsletters exclusively for members.
Learn About Membership