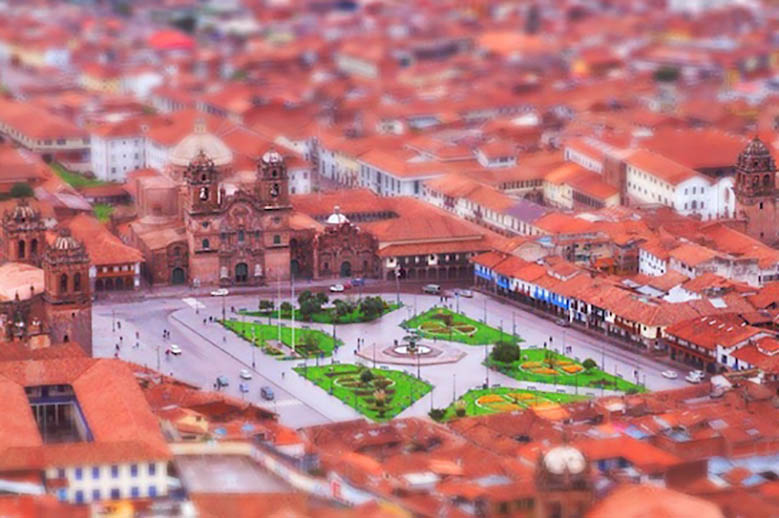 © Gary Daly
Overlooking Cusco's charming Plaza Regocijo, the excellent and very popular new restaurant Chicha (Calle Plaza Regocijo 261, second floor, Cusco; Tel. 084-240-520.) is the latest venture of Astrid & Gastón, Peru's best and most intriguing restaurant group, founded by chef Gastón Acurio and his German wife, Astrid, in 1994. (The only son of an old Peruvian family, Acurio was sent to Spain to study law, but eventually discovered his real vocation as a cook and met his wife while doing a course at the Cordon Bleu cooking school in Paris).
We stopped by for lunch recently, and immediately liked the airy loftlike setting on the second floor of an old colonial house, with high ceilings and an open kitchen. The very appealing and reasonably priced menu offers a choice between Acurio's reinterpretation of traditional Andean dishes — Peruvian cuisine is in fact very regional — and a selection of contemporary Peruvian dishes served at the group's many restaurants in Lima. We chose to start with pastel de choclo al horno de lentildea, or Andean corn pie baked in a woodburning oven, a delicious savory dish reminiscent of a Peruvian take on shepherd's pie with cornmeal instead of potato, and a causa escabeche, or pickled swordfish with onions and yellow peppers on a bed of seared mashed yellow potatoes, a first-rate dish from coastal Peru. Next, we sampled a terrific grilled marinated pork loin served on a bed of fava beans in a sauce of molle (Cusquenian black pepper), honey and mustard seeds and aji de gallina, a tasty dish of shredded chicken breast in a garlicky cheese sauce on top of sliced potatoes. We drank an excellent Peruvian Petit Verdot with our meal — Peru's small wine industry is now producing some truly excellent wines — and finished up with an unusual but delicious purple corn crème brulée and suspiro traditional, or egg yolk jam topped with Port wine-flavored meringue.
Passing through Lima on our way to Cusco, we also enjoyed an excellent dinner at La Mar (Avenida la Mar 770, Lima; Tel. 421-3365), which specializes in ceviche and other Peruvian seafood dishes, and would note that another Astrid & Gastón restaurant, Madam Tusan, a Peruvian-Chinese restaurant, will be opening soon in the capital. In addition to restaurants in many Latin American capitals, Madrid and San Francisco, Astrid & Gastón plan to open in New York in 2011.