It is impossible not to be enthralled by the choices that New York sets before you. There is virtually no cuisine you cannot find here. Plus, the options reflect every price imaginable, from a humble streetside hot dog to haute cuisine in a skyscraper sanctum. The Theater District does not rank among New York's top dining destinations. Nevertheless, it is possible to have a perfectly satisfying meal within walking distance of a Broadway show.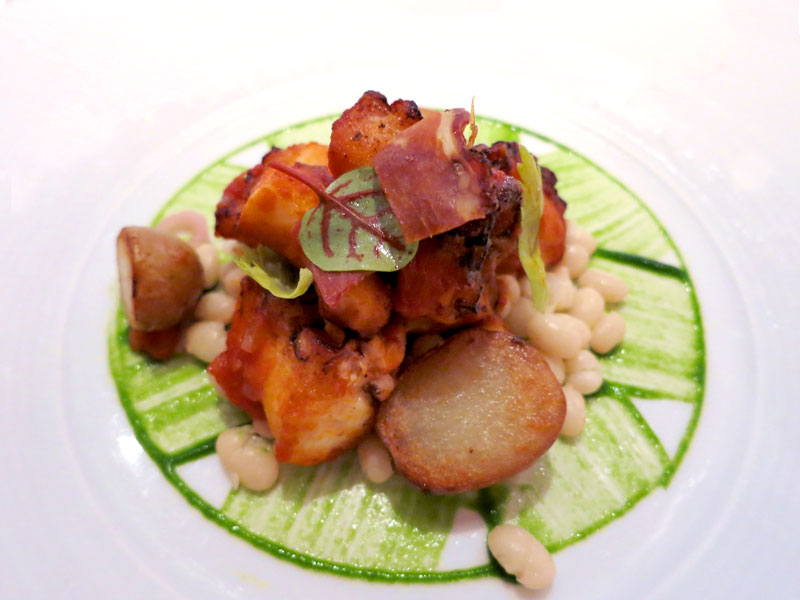 In 2009, Charlie Palmer moved his flagship restaurant from an Upper East Side townhouse to its current flashy space across the street from The Knickerbocker (hotel guests have signing privileges). Considering the restaurant's proximity to Times Square, I was pleasantly surprised by the fine lunch we enjoyed. Mrs. Harper found her kale salad with peekytoe crab, blood orange and crème fraîche light and refreshing, if a tad overdressed, and I enjoyed my appetizer of tender, meaty octopus with sofrito, white beans and Serrano ham. Main courses of black bass with asparagus and edamame, and salmon with roe, morels and hazelnuts each came flawlessly prepared, with crispy skin and moist flesh.
135 West 42nd Street. Tel. (212) 319-1660.
If you are seeing a show in the West 40s, give serious consideration to this outpost of Daniel Boulud's culinary empire. It is a comfortable and stylish place where the menu includes a tempting lobster salad with Bibb lettuce, hearts of palm and coriander yogurt as a starter; delicious salmon with sorrel; and the notorious db burger — a sirloin patty stuffed with braised short ribs, foie gras and black truffles.
55 West 44th Street. Tel. (212) 391-2400.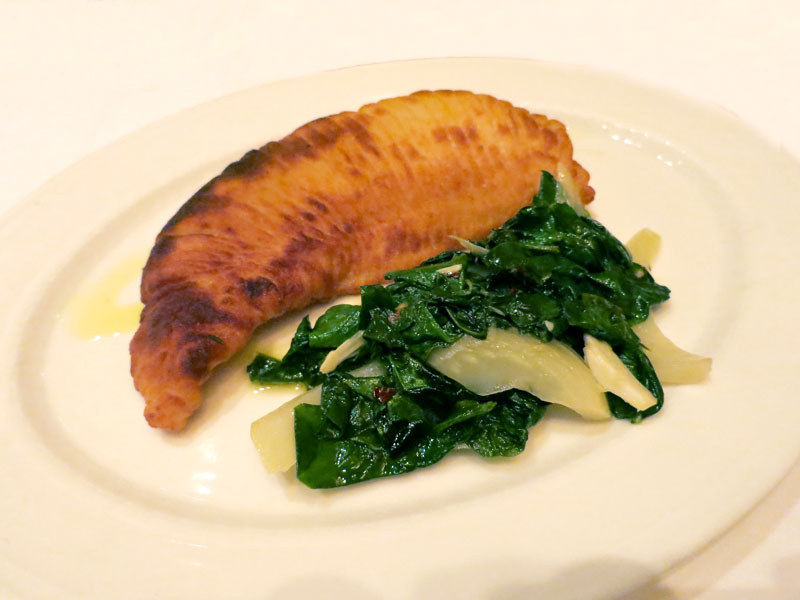 Although this seafood-focused restaurant has culinary celebrities Mario Batali, Joe Bastianich and Dave Pasternack behind it, it feels surprisingly intimate. It's an ideal pre-theater dinner choice if you're attending a show on the southern end of the Theater District. Focus on fish dishes such as the gray snapper crudo or the sensational skate wing with spinach and onions. Other menu items, such as the slightly chewy baked local clams and the overcooked chickpea fettuccini with shrimp and mussels, were less successful.
402 West 43rd Street. Tel. (212) 564-7272.
Those seeing a show farther north should consider this popular Theater District stalwart, where the food preparations are competent if not dazzling. With 22 wines by the glass and a menu including everything from sushi to burgers to pasta, Thalia has something for everyone. I especially enjoyed the spicy tuna and scallop tartare topped with microgreens, and the flavorful scallops with Brussels sprouts, bacon, cauliflower and polenta. A glass of Finger Lakes Riesling paired beautifully.
828 Eighth Avenue. Tel. (212) 399-4444.
A relatively new discovery for me, this smart, contemporary Italian restaurant with an engaging staff impressed me on a recent visit. The salumi platter with toasted garlic ciabatta and marinated olives was excellent, as was the unusual casoncelli pasta stuffed with a delicious mix of veal, raisins and crushed amaretto cookies and dressed with sage butter and pancetta. The roasted suckling pig was impeccable.
325 West 51st Street. Tel. (212) 399-9291.
>>Click here for a full list of Andrew Harper's New York dining recommendations.
---
Things to Do: Sightseeing in New York