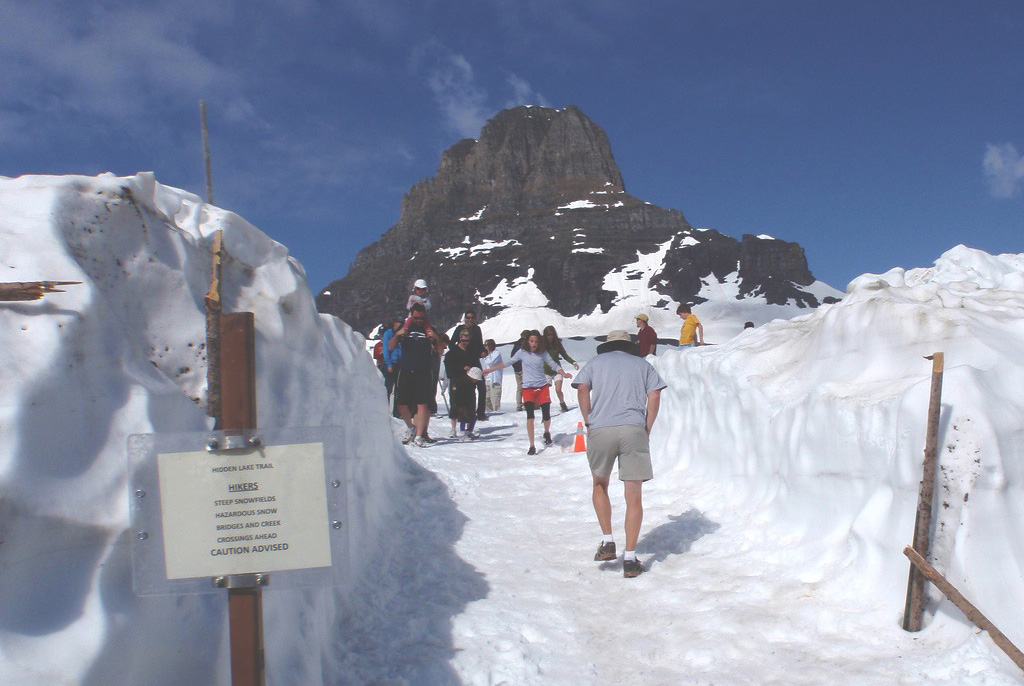 ©Sarah Grieb, National Park Service
While a heat wave blankets much of the nation, snow still covers higher elevations of scenic national parks in the northern Rockies, where temperatures are moderate even on sunny days, and nights are brisk enough to make a campfire and a pullover feel welcome.
Snowbanks still tower over cars along portions of Glacier National Park's spectacular Going-to-the-Sun Road, for example, which opened to traffic over 6,646-foot Logan Pass just a week ago after crews cut through an 80-foot drift. And while many Americans can expect triple-digit temperatures in the next week to 10 days, Glacier's forecast is for sunny days with highs in the mid-60s and low 70s, with overnight lows dipping into the 30s.
In Yellowstone, the nation's oldest national park, and neighboring Grand Teton, the outlook is much the same: sunshine, with highs in the 60s to mid-70s, nighttime lows in the 30s and 40s. Although visitors flock to all three parks in July and August, anyone can still find elbow room and even solitude in these majestic places. Together, they encompass more than 3.5 million acres, an area about the size of the state of Connecticut, and you can easily escape the throngs by venturing just a little way down one of many trails. Just a few steps off the highways, the traffic noise fades and welcome silence surrounds you. The winter's record-setting snowfall and late spring rains have left the rivers running full and deep, the waterfalls spectacular and the wildflower displays especially glorious.
July and August are busy seasons, too, for Hideaway Report-recommended inns and lodges near the parks, but ask about openings or late cancellations at Montana's 37,000-acre Resort at Paws Up along the Blackfoot River, about two hours from Glacier National Park; stylish Amangani in Jackson, Wyo., just south of Grand Teton National Park, which connects to Yellowstone; or Jenny Lake Lodge, about 45 minutes north of Jackson.
Another type of experience awaits at 8,700-foot-elevation Dunton Hot Springs, a meticulously restored ghost town about an hour's drive from the busy resort town of Telluride in the Colorado Rockies. Again, expect sunny days with highs in the mid-70s and cool nights with lows in the 50s.