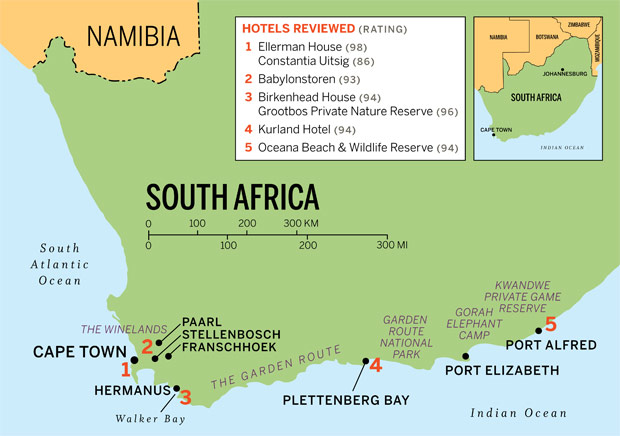 ELLERMAN HOUSE
My favorite hotel in the center of Cape Town is the 120-room Cape Grace, set on a private quay in the Victoria & Alfred Waterfront. Although the Cape Grace is calm and dignified, there is still something to be said for choosing a hotel away from the tourist crowds. So, on my recent trip, I decided to do exactly that, and made a reservation at Ellerman House in Bantry Bay, a 10-minute drive from downtown. Once a shipping magnate's mansion, the hotel comprises 11 rooms and two suites and is a showcase for remarkable collections of art and antiques.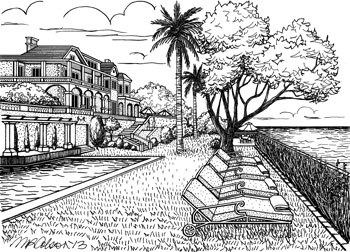 I first stayed at Ellerman House nearly 20 years ago, and superficially, little has changed. The Deluxe House Rooms still boast wonderful private verandas surveying the ocean; the public areas are just as elegant and patrician as before; the long and distinctive lap pool remains a turquoise slash in the immaculate emerald green of the lawn; and the dining room still serves delicious Cape and European cuisine backed by an extraordinary cellar containing more than 7,500 South African wines.
The most obvious addition is the adjacent Ellerman House Villa, a spectacular three-story, five-bedroom building with its own pool and private chef. On the lower level of the villa complex, a spa now offers three treatment rooms, sauna and steam. Toward the end of 2013, a second villa is scheduled to debut. Also constructed on three levels, owing to the precipitous terrain, it will have its own wine cellar, three bedrooms (two of which have full ocean views) and, on the upper level, a lounge, dining area, kitchen, two expansive terraces and a private pool.
AT A GLANCE
LIKE: The hypnotic sea views; convenient location just 10 minutes from central Cape Town.
DISLIKE: The expense.
GOOD TO KNOW: A new three-bedroom villa will open this year. Children under 14 are not permitted in the main hotel, but are welcome in the villas.
ELLERMAN HOUSE, Rating 98. Superior House Room, $1,055; Deluxe House Room, $1,550; Villa (Three Bedrooms), $5,500. 180 Kloof Road, Bantry Bay, Cape Town. Tel. (27) 21-430-3200.
CONSTANTIA UITSIG
Located on the southern flank of Table Mountain about 25 minutes from the Waterfront, Constantia is one of Cape Town's most desirable residential areas. There, I have dined at La Colombe, the gourmet restaurant at Constantia Uitsig ("Constantia View") on many happy occasions, but for some reason, I had never stayed at the hotel itself. When planning my recent trip, I decided it was time to correct the omission.
In 1675, Cape Town's Dutch governor created a 1,853-acre wine estate on a promising hillside south of the new settlement. Constantia Uitsig was part of that original vineyard, along with Groot ("Great") Constantia, today also a producer of fine wine, and Klein ("Little") Constantia, which, in 1980, successfully revived the legendary Vin de Constance, a sweet wine that Napoleon reportedly called for on his deathbed.
Tucked into the gardens of the estate, the hotel's 15 suites all come with their own verandas. Our bedroom featured dark-wood furniture, a sitting area and a spacious bath with a separate shower and tub. The overall effect was one of low-key country house elegance. Alas, further examination undermined my favorable impression: The cream-colored fabric on both sitting chairs was stained; a section of carpet had suffered water damage; and in the bath, the towel holder threatened to come loose from the wall.
This poor maintenance was doubly disappointing because the food in the property's three restaurants was predictably outstanding. Occupying a small cottage, La Colombe wins accolades from every quarter and is often cited as the best restaurant in South Africa. Intimate and attractive, with a gracious staff, it offers a menu that, on this occasion, included some of the most inventive and delicious food I've enjoyed in recent memory. Dishes such as Champagne-poached oysters, ostrich tataki and tartare, and quail and langoustines in an Asian-inflected sauce were unforgettable. Constantia Uitsig, in the estate's original homestead, features Mediterranean cuisine, and the River Café, at the main entrance to the estate, houses both the tasting room for the vineyards and a casual restaurant.
Constantia Uitsig is an inherently charming property, but in its current less-than-perfect condition, the hotel cannot be recommended.
AT A GLANCE
LIKE: Charming location amid a vineyard.
DISLIKE: Rooms in need of refurbishment and repair.
GOOD TO KNOW: La Colombe is arguably the best restaurant in South Africa.
CONSTANTIA UITSIG, Rating 86. Garden Twin (High Season), $430; Suite, $865. Spaanschemat Rive Road, Constantia, Cape Town. Tel. (27) 21-794-6500.  
BABYLONSTOREN
The chief wine-producing area of the Cape, centered on the towns of Paarl, Stellenbosch and Franschhoek, lies less than an hour by car east of Cape Town. These are among the most beautiful winelands in the world, backed by jagged mountains and, from November to March, reliably bathed in sunshine. I already recommend several properties in the Cape Winelands. On this trip, however, I decided to try a new resort that has generated much recent publicity and praise. Babylonstoren opened in 2011 and is set midway between Stellenbosch and Paarl. Having turned off the highway, we drove through vineyards, above which rose the white curved gables characteristic of Cape Dutch architecture. The estate dates to the late 1600s, and Babylonstoren is one of the best-preserved 17th-century houses in the country. In 2009, it was purchased by media magnate Koos Bekker and his wife, Karen Roos, former editor of Elle Decoration. Their intention was to make it a personal retreat, but they soon decided to create a hotel instead.
Guests stay in 14 Cape Dutch cottages arrayed along an allée of pepper trees that runs through an eight-acre garden containing more than 300 varieties of fruits and vegetables. Our cottage, once the farm's laundry, had white walls, creamy fabrics, a honey- hued wood floor, a woodburning fireplace and a dramatic raftered ceiling. The large marble bath came with a walk-in shower and an extraordinary tub in the form of a watering trough with a gently curved wooden backrest. Tempering my admiration were the absence of lights around the vanities and a lack of shelf space for toiletries. An attached kitchen was contained within a sleek glass cube and equipped with an up-to-the-moment array of appliances, plus a judicious batterie of utensils and cookware.
The Babylonstoren gardens draw visitors from far and wide. Roos commissioned landscape designer Patrice Taravella — who created the monastery gardens at the Prieuré Notre-Dame d'Orsan in the Loire Valley — to make the centerpiece. This is a re-creation of the so-called "Company's Garden," established by the Dutch to provide fresh produce for sailing ships plying the route between Europe and the Spice Islands. Comprising 15 zones devoted to plantings such as olive and citrus trees, stone fruits, almond trees with beehives, and a prickly pear maze, it is an idyllic place for an evening stroll.
The garden's fruits and vegetables fill the larder of Babel, the resort's bright and airy restaurant. There, at breakfast, I enjoyed the house take on French toast: a thick slice of ciabatta topped with Serrano ham and local Huguenot cheese, drizzled with honey. As might be expected, the lunchtime salads are superb, and I feasted on the freshest of greens served to accompany locally smoked trout. Dinner, however, was a disappointment. Only on Friday and Saturday evenings is a traditional three-course meal served in Babel. Given the kitchen's creativity at breakfast and lunch, I would have liked to experience the chefs' prowess more frequently. Aside from this drawback and the shortcomings of the bath, I found Babylonstoren truly distinctive.
AT A GLANCE
LIKE: Glorious setting on an authentic old farm estate.
DISLIKE: Lack of dinner options. 
GOOD TO KNOW: There is an informative daily tour of the extraordinary garden and the winery.
BABYLONSTOREN, Rating 93. Suite, $375; Cottage (One Bedroom), $500. Klapmuts-Simondium Road, Paarl. Tel. (27) 21-863-3852. 
BIRKENHEAD HOUSE
From Paarl, it is a 73-mile drive south to Hermanus on the Indian Ocean. The town is located on Walker Bay, a great semicircular bowl of sapphire blue tinged turquoise at the shore, a setting vaguely reminiscent of Monterey. Ideally situated on a rocky promontory and flanked by two beaches, Birkenhead House is part of a portfolio of hotels owned by Liz and Phil Biden that includes the lavish Royal Malewane safari lodge — long a favorite of Andrew Harper subscribers — as well as La Residence in the Winelands.
The 11 studio suites are contained within three houses, and all have splendid views of the ocean, the nearby mountains, or both. I found our room to be on the small side, but the décor was exceptionally attractive. Colorful paintings enlivened the walls, a shagreen-covered chest served as home to a coffeemaker and small fridge, and bright orange curtains framed the French doors leading out to a small sea-facing terrace. The large bath was accessible through a pair of pocket doors and contained a walk- in shower and a huge freestanding Victorian tub — at the end of which stood a small circular table with inviting decanters of whiskey and sherry! There was ample space for toiletries, plus two roomy armoires.
In the hotel's lounge, a wall of glass windows looked out toward the bay. Lively paintings covered the walls; mismatched furniture combined seamlessly; coffee tables were piled with large-format books; and inviting couches provided ideal spots in which to enjoy a drink from the complimentary bar. Just outside, a dramatic clifftop deck had an unobstructed ocean view, best enjoyed from one of the well-positioned chaises longues, or from the infinity-edge plunge pool.
The dining room offered excellent food and obliging service, my favorite dish being slow-braised springbok shank served with potato wedges and al dente vegetables. Amenities include a small spa and a gymnasium. However, we preferred to take our exercise on a path leading down to the beach (which is a precursor to a longer trail). Hermanus is famous for its whale-watching, but as the creatures arrive during the South African winter, we opted for vineyard visits in the nearby Hemel-en-Aarde Valley, home to celebrated wineries such as Hamilton Russell, Southern Right and Bouchard Finlayson.
AT A GLANCE
LIKE: Imaginative beach-chic design.
DISLIKE: Standard rooms are on the small side.
GOOD TO KNOW: Alas, if you come to look at whales, you will have to come in winter.
BIRKENHEAD HOUSE, Rating 94. Luxury Room, $825; Superior Room, $985. 119 11th Street, Voelklip, Hermanus. Tel. (27) 28-314-8000.
GROOTBOS PRIVATE NATURE RESERVE
In South Africa, the phrase "private nature reserves" usually implies big game. At Grootbos, however, the botanical world is the object of quest and curiosity. The southwestern part of South Africa encompasses the so-called "Cape Floral Region," a global hot spot for plant diversity. Although the smallest of the world's six recognized floral kingdoms, the Cape boasts the greatest concentration of plants outside the tropics, with 9,250 species, 70 percent of which are endemic to the region. Locally called fynbos ("fine bush"), this wealth of plant life includes the spectacular protea flower, the national emblem of South Africa.
Located on a hillside 23 miles southeast of Hermanus, the Grootbos reserve grew from the passion of owner Michael Lutzeyer, who purchased the property in 1991. Soon thereafter, he built five guest quarters. Today, Grootbos comprises two lodges with 27 accommodations, as well as a six-bedroom villa with its own pool and staff. The more traditional Garden Lodge is dedicated to families, while the contemporary Forest Lodge is reserved for adults.
A handsome structure of local wood and stone with a dramatically sloping roof, the main building has an exceptionally striking interior. A sweep of floor-to-ceiling windows reveals a breathtaking view of the fynbos, which leads down to the massive white sand dunes of Walker Bay. Running the length of the lodge, a pavilion encompasses the reception, a sitting area (with telescope), a meeting area for convening with the guides, a bar and a congenial dining room with an expansive terrace.
Arrayed about the main lodge, the 16 suites are reached by well-designated (and at night, well-illuminated) pathways. In fact, the suites are really cottages, with full living rooms and small kitchenettes. Large bedrooms provide ample desks, four-poster beds, walk-in closets and spacious baths with soaking tubs and stall showers. The overall aesthetic is of contemporary comfort. The bedrooms are air-conditioned, but the living rooms are not.
The food is exceptional. Menus change daily but always present a choice of appetizers and main courses, plus a vegetarian option. Among the dishes I most enjoyed were calamari with a basil mayonnaise, and a fillet of kingklip, a local fish, with a red pepper coulis. The preparations are not elaborate, nor need they be, with such fresh ingredients. Our package came with an impressive list of activities. Although it sounded a bit tame, the 4WD safari tour of the reserve turned out to be utterly fascinating. We spent three hours exploring the remarkable landscape in the company of our exceptional guide, Jo, whose knowledge and enthusiasm proved inexhaustible. All of the guides seemed to be in love with the land and made each activity a delight. Horseback riding is available, as are escorted beach walks, aerial tours of Walker Bay, and boat tours to view penguins, seals, dolphins and, in season, whales.
Grootbos was a real discovery. It is well worth a trip from Cape Town and should be part of any Garden Route itinerary.
AT A GLANCE
LIKE: Beautiful setting; the staff's enthusiasm for the land.
DISLIKE: Very little.
GOOD TO KNOW: Grootbos has excellent relationships with respected outfitters for off-premise excursions.
GROOTBOS PRIVATE NATURE RESERVE, Rating 96. Luxury Suite (High Season), $655 (Including meals, house wines and most on-property activities). Near Stanford. Tel. (27) 28-384-8000.
KURLAND HOTEL
We headed east from Grootbos along the Garden Route to Plettenberg Bay, an easy four-and-a-half-hour drive. I had been looking forward to a stay at a favorite hotel, The Plettenberg, but shortly after arriving in South Africa, I learned that owner Liz McGrath had decided to close the hotel at the end of the season and, perhaps, to reconfigure it specifically for families.
An alternative in the area is provided by Kurland, a country house hotel set on a 1,500-acre estate 20 minutes east of Plettenberg Bay. There, the 12 suites are decorated with antiques and original artwork, and feature lavish baths and large fireplaces; some have private plunge pools and loft bedrooms for children. The hotel's celebrated rose gardens are tended by a leading horticulturalist, and its polo grounds host top international matches during the December to May season. Its notable restaurant serves a contemporary menu, backed by an encyclopedic list of South African wines, in an atmospheric paneled dining room.
AT A GLANCE
LIKE: Country house style; the Luxury Suites, with lofts for children and private plunge pools; glamorous and immaculately maintained polo fields.
DISLIKE: Some road noise resulting from proximity to the N2 highway.
GOOD TO KNOW: There are numerous restau- rants in Plettenberg Bay, a 20-minute drive away.
KURLAND HOTEL, Rating 94. Luxury Suite, $540; Superior Suite, $780. The Crags, N2, Plettenberg Bay. Tel. (27) 44-534-8082. 
OCEANA BEACH & WILDLIFE RESERVE
From Kurland, we drove to the Garden Route National Park, and, from there, continued our journey to Port Alfred. Oceana Beach & Wildlife Reserve is located seven miles east of the town, overlooking a magnificent stretch of golden sand. This unusual property is the realization of a dream held by Texan owner Rip Miller. It comprises three Lodge Suites in the main building, four separate Ocean Suites, and the three-bedroom Ocean House, which is ideal for families.
At reception, I was immediately impressed by the attractive blend of stonework, stucco, wooden decking and undulating gray thatch, as well as by the way the various structures merged harmoniously with the landscape. Our Ocean Suite was a further pleasant surprise. Beneath a soaring thatched roof, we found a four-poster bed, a spacious sitting area and two full baths. Everywhere, the attention to detail was commendable: the writing desk came with a full complement of plugs and connections, and a vast array of lighting controls greatly enhanced the room's aesthetics. Intersecting walls of sliding glass doors opened onto a large deck that provided panoramic views of the beach and the ocean.
After a long drive, it was a pleasure to relax with a glass of wine and subsequently to enjoy an excellent dinner. I opted for a Thai green curry soup with mussels, followed by braised oxtail served with vanilla-and-chive mashed potatoes, cumin-spiced carrots and a rosemary red wine jus. (On another occasion, a bacon-wrapped ostrich fillet was as good, if not better, than most filet mignons.) The dining room staff were well-trained and exceptionally polite, as were all of the property's employees.
The Oceana reserve, while large, is not big enough to sustain a complete ecosystem of animals. Hence, there are no predators or elephants. However, our numerous sightings included white rhino, giraffe, zebra, wildebeest and a variety of graceful antelope. I was also very pleased to add more than half a dozen species of birds to my life list. (For a more conventional safari experience, as well as the opportunity to see big cats, you may wish to consider either Kwandwe Private Game Reserve or Gorah Elephant Camp, both situated within a two-hour drive.) At Oceana, in addition to safari drives, you can hike along four miles of private shoreline, or just luxuriate in the spa.
Oceana impressed me on every level. It provides a memorable and distinctive experience in a singularly beautiful setting.
AT A GLANCE
LIKE: Exceptionally spacious and comfortable suites; skillful integration of the lodge and accommodations into the landscape.
DISLIKE: Limited selection at the bar; some steep steps, owing to the nature of the terrain.
GOOD TO KNOW: The lodge can arrange convenient transfers to the Port Elizabeth airport, 90 minutes away, from where you can fly to both Cape Town and Johannesburg in less than two hours.
OCEANA BEACH & WILDLIFE RESERVE, Rating 97. Lodge Suite, $955 (Including meals, house wines and on-site activities for two); Ocean Suite, $1,065. Port Alfred. Tel. (27) 83-616-0605.