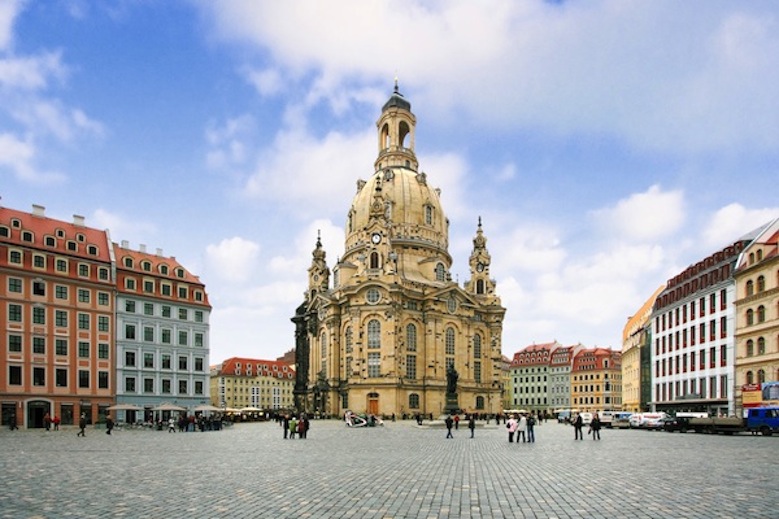 Dresden Frauenkirche - Creative Commons
For the last half-century, Dresden has been associated mostly with destruction, its once-glorious baroque architecture mostly a memory. Like many East German cities, it languished under communism, with many key landmarks left to molder as bombed-out shells. After German reunification, Dresden embarked on a massive reconstruction program, rebuilding major palaces and churches and requiring new construction (of which there is much) to conform to the 17th- and 18th-century architectural styles for which Dresden was famous. Curiously, most of this activity seems to have escaped the notice of foreigners. On our most recent visit to the city, it was almost exclusively German tourists who were enjoying the stunning architecture and world-class museums.
The celebrated Frauenkirche (Church of Our Lady - pictured above) crowns Dresden with its beautifully rebuilt, honey-colored stone dome, the interior of which resembles a giant pastel Fabergé egg. The opulently restored Grünes Gewölbe (Green Vault) houses a mind-boggling display of gems, ivory and precious metals worked into fabulously intricate jewelry, sculptures and objets d'art. So extensive and bewilderingly beautiful are the collections, we recommend visiting the old and new vaults on separate days (make an appointment for the old vault when you confirm your hotel reservation to avoid disappointment). Other famous sights include the museums in the Zwinger, a former pleasure palace housing a world-class art collection, and the carefully restored Semper Opera House, a neo-Renaissance beauty boasting fine acoustics and top-notch performances (order tickets well in advance). Vaulted beer cellars, refined restaurants and charming wine bars specializing in excellent Saxon wines provide further diversion. We particularly enjoyed the Winzerstube "Zum Rebstock," a cozy local wine bar tucked into an atmospheric courtyard across the river from the old city. Two restaurants, Caroussel and Bean & Beluga, claim Michelin stars.
The finest lodgings in the city remain at the elegant and perfectly located 214-room Taschenbergpalais Kempinski, painstakingly reconstructed from the remains of a 300-year-old baroque palace. Guests disperse among numerous airy public spaces, including attractive bar/lounges, an expansive central courtyard and several tempting restaurants, making this rather large hotel feel remarkably tranquil. Spacious accommodations feature high ceilings, traditional molding and stylish Asian/art deco-inspired furnishings. Our favorite quarters are the Junior Suites, offering especially high ceilings and often spectacular views of the Zwinger Palace and the Semper Opera. The view of the central courtyard, which serves as an outdoor café in summer and an ice rink in winter, makes a pleasant alternative.
Dresden itself can easily fill three nights, but fascinating day trips reward those who can spend additional time. The renowned porcelain works of Meissen are within easy reach, as are fine wineries such as Schloss Wackerbarth, crafting positively delightful wines difficult to find outside the region. The surprising Sächsische Schweiz (Saxon Switzerland) further beckons with sharp sandstone peaks, unspoiled forests and romantic hilltop fortresses and castles. Despite its charms and myriad attractions, Dresden remains undiscovered by Americans, making now a perfect time to visit. Surely a city and region with so much to offer visitors will not remain a secret for long.