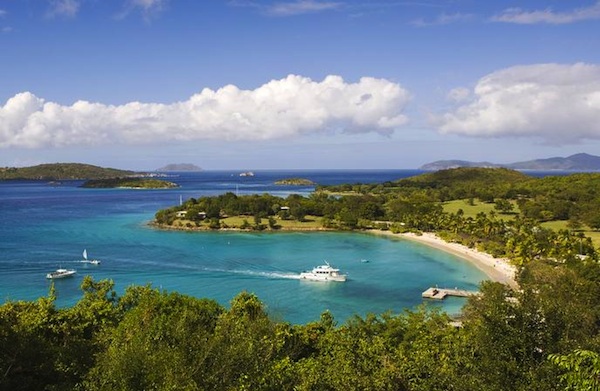 © Caneel Bay
The cliched view of the U.S. Virgin Islands is that they are overbuilt and overrun with tourists. This is not entirely true, especially in the case of St. John, which, thanks to the foresight of Laurance Rockefeller, is mostly preserved as a national park. Although it is just a few miles east of St. Thomas, which is a popular cruise ship destination because of its extensive duty-free shopping, St. John is a quiet island with pristine beaches and very little in the way of commercial enterprise. We were especially interested in the island's premier resort, Caneel Bay, because of its reputation as being particularly family-friendly. Indeed, as our launch from St. Thomas approached the resort's dock, we saw a beach filled with children and parents, all having a rollicking good time. This is not to say that we'd landed in the midst of a glorified children's camp: This beach was reserved for family use, just as others on the property were set aside for adults.
Built in 1956 by Laurance Rockefeller, Caneel Bay is set on 170 choice acres within the national park, with six prime beaches available to guests. Sweeping lawns are bordered by well-tended gardens and are traversed by a few roadways on which shuttle buses ferry guests from place to place. The 166 accommodations are evenly distributed throughout the property, with a wide choice of settings. From the outside, the structures are mid-century plain; they were purposely designed to blend in with the environment. The rooms, which are a tad on the small size, also reflect the taste of the times in which they were built: not elaborate but with handsome tiled floors, handmade furniture, fine views, plantation shutters to let in the almost-constant breezes, and no TVs or other digital diversions. Baths are colorfully tiled and have walk-in showers. The overall effect is of comfort and somewhat old-style understatement, which we found refreshing.
Shortly before our departure to the Caribbean, a friend who had just been to Caneel Bay complained about the lack of Internet and television: "The kids had nothing to do." Hmmm. Activities in which parents and children can partake abound, and include (at no additional charge) use of kayaks, Sunfish sailboats, snorkeling equipment and tennis on the resort's 11 excellent courts. When parents need a little down time, "Turtle Town" can be a relief. This is an area at the north end of the property that is devoted to children 3 to 12 with a full program that includes arts and crafts and outdoor activities. Three of the restaurants have children's menus: Caneel Beach Bar and Grill, Caneel Beach Terrace and The Equator. Babysitters ("Caneel Companions") are available throughout the day and evening, arrangements that have to be made in advance. Accommodations south of the Cottage Point section of the property, available at all levels, are specifically designated for families with children under 7.
At no point during our stay did we ever feel that the presence of children detracted from our experience. In fact, we particularly liked The Equator restaurant for its lively atmosphere and tables filled with very happy families. Handsomely set at the top of what had been a sugar mill, it is open a full 360 degrees and carefully illuminated at night, which creates a convivial feel. The (grown-up) menu is creative, with a Caribbean inflection. Our favorite meal began with excellent conch fritters, a classic dish served with a spicy dipping sauce. Grouper, served as a thick steak, was cooked just right and came with a wonderful array of curried vegetables. Dessert was a flawless mango crisp with a dollop of vanilla ice cream. The service was fully professional and attentive.
While our age disqualified us from the fun of Turtle Town, we still found our days full. The concierge provides every guest with a weekly schedule of activities that includes tennis, scuba lessons, guided snorkeling tours of the many coral reefs in the area, sunset sails, trips to outlying islands, nightly movies and tours of St. John. We highly recommend the guided snorkeling tours, which are also open to children. On our venture, not six steps into the water, we saw four sea turtles contentedly munching on sea grass while countless queen conchs (not to be disturbed or taken) roamed the seabed. Farther out, we saw the stunning sight of a large eagle ray, gracefully propelling itself through the soft blue waters trailing its elegantly long, thin tail. And close by the rocks at one end of the beach, we found a vast variety of colorful little fish and the beautiful-but-to-be-avoided black needle sea urchins. It was a magnificent morning in a wonderfully peaceable underwater kingdom. We very much liked what we found at Caneel Bay. Its very lack of modern slickness added to the overall feel of genuine tranquility and restfulness (and yes, there were computer terminals for those who just couldn't break their email addictions).
Beach Front room, $725 to $995, depending on time of year. Tel. (340) 776-6111. Fax (340) 693-8280.