Favorite Restaurants in the Yucatán
.article-cta-top
The Yucatán has one of Mexico's most delicious and distinctive regional cuisines. It is based on traditional Mayan cooking, with Spanish, French, Caribbean and other influences. Seafood, including shrimp, rock lobster, snapper and other fish, is popular along the coast, while turkey, chicken and pork are appreciated staples everywhere.
Three of the signature seasonings in Yucatán cooking are achiote, a sweet, slightly peppery red paste made from the seed of the tropical annatto plant; sour orange, which was brought to Mexico by the Spanish (along with saffron and spices); and lima dulce (sweet lime). Many dishes are cooked in an earthen pit oven, notably cochinita pibil, banana leaf-wrapped pork marinated in achiote and sour-orange juice, and then slow-baked and served with slices of pickled red onion.
Other common dishes include ceviche; chilaquiles, a breakfast dish made from fried tortilla strips simmered in a red or green salsa and topped with beans, eggs, cheese or meat; papadzules, tortillas filled with chopped hard-boiled egg and served in a tomato-and-pumpkin-seed sauce; pavo relleno, turkey in a dark sauce made from charred chiles and spices; poc chuc, pork marinated in a sauce of sour-orange juice and achiote; and sopa de lima, made from chicken stock and sweet lime along with chunks of chicken and pieces of fried tortilla.
Roots
The rock lobster pizza from Roots on Isla Holbox - Photo by Hideaway Report editor
This popular pizzeria is located in a garden furnished with tree-stump chairs set around large tables. Go for the specialty — rock lobster pizza cooked in a wood-fired oven — accompanying it with a bottle of Argentine rosé or an excellent Mexican red wine.
Calle Porfirio Díaz, Holbox. Tel. (52) 984-241-5953
El Sushi de Holbox
A dish at El Sushi de Holbox on Isla Holbox - El Sushi de Holbox
Outstanding sushi from freshly landed local fish and shellfish is the draw at this friendly restaurant, which is a good choice for those in need of a change from Mexican cooking. Don't miss the roll of tempura lobster and asparagus with a soy-ginger dipping sauce, and the banana roll, a creative maki of shrimp, avocado, plantain and cream cheese.
Calle Carrito, Holbox. Tel. (52) 984-132-9507
Big Fish Holbox
Outstanding seafood dishes have made this casual table one of the most popular restaurants on Isla Holbox. Try the ceviche, freshly shucked local clams with chile and lime, shrimp tacos, and grilled shrimp. The margaritas are excellent. Closed Tuesday.
Calle Esmedregal, Holbox. Tel. (52) 331-358-6287
Ix Cat Ik
Outdoor dining at Ix Cat Ik in Valladolid - Ix Cat Ik
Located just outside Valladolid, this rustic restaurant offers a fascinating and authentic experience of traditional Mayan cooking, as the cooks are local women who use traditional methods and indigenous produce. Try dishes like chaya (tree spinach) soup with pumpkin seeds and tomatoes, and kaax píibil (chicken marinated in achiote and sour-orange juice, wrapped in banana leaves and baked in an earthenware oven).
Ix Cat Ik
Calle 39, Colonia Militar, Valladolid. Tel. (52) 985-104-1605
Los Almendros
Cochinita pibil from Los Almendros in Mérida
Popular with local families and office workers, this long-running tavern with a colonial décor serves excellent Yucatán classics, including cochinita pibil and longaniza asada (grilled pork sausage). A good choice for lunch.
Los Almendros
Calle 50-A 493, Parque de la Mejorada, Mérida. Tel. (52) 999-928-5459
K'u'uk
Black grouper with black garlic, guacachile purée and avocado soup from K'u'uk in Mérida - K'u'uk
Perhaps the most avant-garde restaurant in Mérida, K'u'uk, which means "sprout" in Mayan, serves tasting menus of molecular gastronomy dishes, as well as Mayan specialties like suckling pig with lentil stew, and grouper with black garlic, guacachile purée and avocado soup. It also offers a vegetarian tasting menu. Closed Monday.
K'u'uk
Avenida Romulo Rozo 488, Mérida. Tel. (52) 999-944-3377
Apoala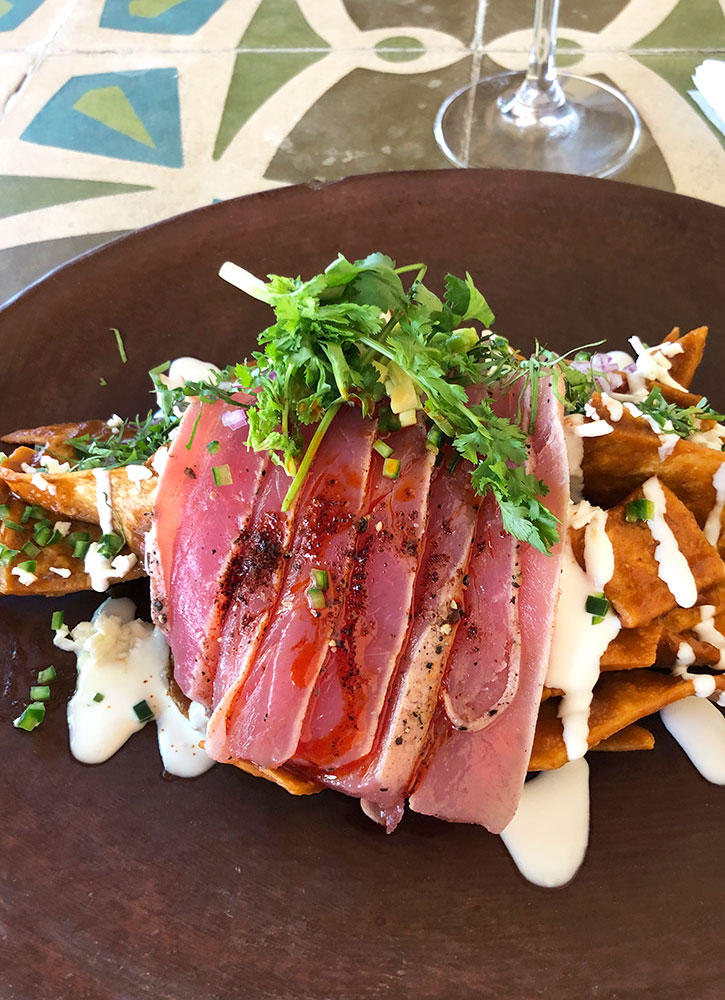 Sitting outside under the ceiling fans in the arcade of this restaurant overlooking the lovely Parque de Santa Lucía and enjoying dishes like seared tuna tiradito, enmoladas (stuffed tortillas in mole sauce), and tlayudas (a large tortilla with sliced beef, black beans and Oaxaca cheese) is one of the best culinary experiences in Mérida. The talented young chef, Sara María Gómez, is from Oaxaca, and her cooking is a mixture of dishes from her home province and the Yucatán.
Apoala
Calle 60 471 Local 2 X 55, Parque de Santa Lucía, Mérida. Tel. (52) 999-923-1979
Ixi'im
Crab salbut with habanero from Ixi'im at Chablé Resort in Chocholá - Photo by Hideaway Report editor
The name of this restaurant means "corn" in Mayan. Brilliant young chef Jorge Vallejo uses the finest local produce to create superb dishes like crab with habanero mayonnaise and charred-onion powder, black sea bass with butter beans and grasshopper mojo, and turkey with mole poblano and pumpkin. Closed Monday.
Ixi'im
Chablé Resort, Tablaje 642, Chocholá. Tel. (52) 554-170-7666
Read more about our editor's trip to Yucatán