I planned my recent trip to China to revisit the country's principal cities and cultural highlights, as well as to experience its new generation of upscale hotels and resorts. My journey lasted 20 days, so the following two-week itinerary is an abbreviated version. And, obviously, it omits the places I didn't like!
China is a vast country, slightly larger than the Lower 48, so any such itinerary is going to be little more than a snapshot. However, the number of places that provide accommodations of a Harper standard is limited, so a "greatest hits" itinerary is partly a necessity. And if you are going to visit China just once, then this is the trip you should take.
Nowadays, travel in China is generally comfortable and hassle-free: Most airports are efficient; the planes are modern Boeing and Airbus jets; there are thousands of miles of multi-lane highways; and my recommended hotels are of an international standard.
In the following itinerary, I outline numerous sightseeing possibilities. Prior to departure, travelers would choose those that seemed most appealing, and the necessary arrangements would then be made. Obviously, an English-speaking guide and a private car with a driver would be provided. Right now is a particularly fascinating moment in Chinese history. The country is changing with scarcely believable speed, and it is a privilege to witness this transformation.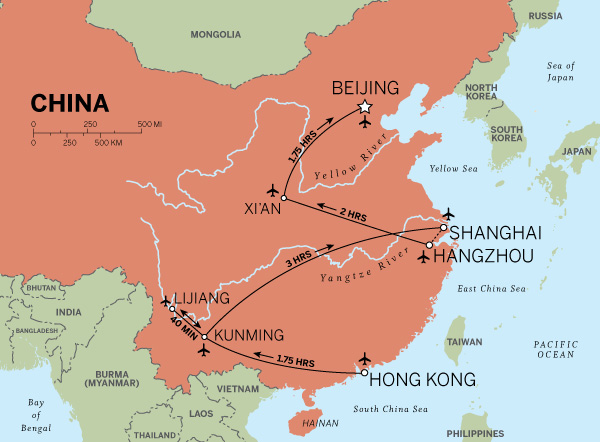 Hong Kong
Day 1
It hardly needs to be said, but China is a long way away: nonstop flights take more than 16 hours from New York and close to 15 from LA. The so-called "Elite Service" at the Hong Kong airport is therefore a wonderful indulgence. A golf cart picks you up at the door of the plane and takes you to the immigration desk. Once you are through customs, the driver entrusts you to the care of a chauffeur from The Peninsula, and you head into town in one of the hotel's trademark Rolls-Royce limousines.
To enter the incomparable lobby of The Peninsula after a flight halfway around the world is one of the great experiences of travel. I certainly never tire of it. Hong Kong has several fine hotels, but none has a view to rival that from a Grand Deluxe Harbour View Room in the Tower. For the first 15 minutes, I invariably ignore my suitcase and stand at the window gazing at I.M. Pei's Bank of China building, the Star Ferry making its way over to Central, the merchant ships heading up to the Pearl River Delta.
Day 2
Although I have been to Hong Kong at least 20 times, I always begin by taking the wonderful old Star Ferry over to Hong Kong Island from Kowloon. The view from the upper deck is incomparable, and the world provides no better way to spend 35 cents. If I have time, I then take the Peak Tram up to Victoria Peak for the panoramic view. Afterward, first-time visitors may wish to take a sampan ride through the floating village in Aberdeen, or to visit the Man Mo temple on Hollywood Road.
A dim sum lunch is a mandatory part of the Hong Kong experience. The afternoon could be spent exploring Kowloon on the Chinese mainland. Notable sights include its flower and jade markets, famous Bird Garden and Wong Tai Sin Taoist temple.
On the first evening, feeling the effects of a 12-hour time difference, I always eat at the hotel, perhaps just a light meal in the lobby of The Peninsula, or Cantonese food in Spring Moon. But I always find time for a cocktail at Felix, on the roof of the Tower, with its extraordinary nighttime view of the Hong Kong skyline.
Day 3
First-time visitors will wish to continue their exploration of Hong Kong itself, but those familiar with the city may like to make a day trip to nearby Lantau Island to visit its old fishing villages, plus the Po Lin Monastery, with its giant Buddha statue. Lunch might be in a local vegetarian restaurant. The transfer back to Hong Kong is aboard the spectacular Ngong Ping gondola cable car. The extraordinary three-and-a-half-mile ride takes 25 minutes.
Dinner could be at one of my recommended restaurants. However, on every Hong Kong trip I invariably dine at least once at Man Wah on the roof of the Mandarin Oriental hotel, which arguably serves the best Cantonese food in the world against an unforgettable backdrop of Hong Kong Harbour.
Lijiang
Day 4
A midmorning transfer to the Hong Kong airport enables you to catch a one-hour, 45-minute flight to Kunming in southwestern China. This connects with a 40-minute flight to Lijiang. Much of eastern China is industrialized and, in parts, severely polluted. The mountainous province of Yunnan, however, offers tracts of unspoiled alpine scenery, as well as the dramatic upper reaches of the Yangtze River. It is home to many "minority people," including Tibetans.
The Old Town of Lijiang is a UNESCO World Heritage site, and today it remains a labyrinth of wooden houses—their upturned pagoda roofs hung with scarlet lanterns — and cobbled streets laced by a network of tiny streams and canals.
The Banyan Tree Lijiang is located a short drive from the center of town beneath dramatic 18,000-foot mountains. It is a fine example of a new breed of resorts in China that provides international standards of accommodations and amenities. Deluxe Garden Villas are spacious pavilions of traditional design, protected by high walls of rugged gray stone, which open onto private gardens with jet or plunge pools. Dinner can be taken at the resort's excellent Bai Yun restaurant, which serves delicious Chinese cuisine in a memorable setting.
Day 5
The first morning in Yunnan can be spent exploring Lijiang town, plus the local villages of Baisha and Longquan, followed by lunch at a local restaurant. However, there is always a temptation to try to include too much sightseeing. In Lijiang, I prefer to take time out and to read in the tranquility of my villa, glancing up occasionally to admire the snowy mountain scenery.
For dinner, the Banyan Tree's second restaurant, Ming Yue, serves both international and Asian cuisine.
Day 6
In this region of China, it is a pleasure just to drive through the fertile and unspoiled countryside. The most famous local attraction is Tiger Leaping Gorge, where 6,000-foot cliffs compress the Yangtze River to a width of just 75 feet. Upstream from the gorge, at the so-called First Bend of the Yangtze, the river makes a dramatic 90-degree turn from south to east. As well as being scenic, the area is a famous crossing point where both Kublai Khan in the 13th century and the Red Army on its Long March in 1936 forded this formidable natural barrier.
The area around Tiger Leaping Gorge is famous for its hiking trails, and for those keen on vigorous exercise, a mountain walk could be a virtuous alternative to sightseeing.
Shanghai
Day 7
An early-morning flight from Lijiang via Kunming brings you to Shanghai by lunchtime, in a total of four-and-a-half hours.The Peninsula Shanghai opened in September 2009. For a full description of the property, please see my review in this issue. Grand Deluxe River Rooms overlook the busy Huangpu River and the towers of Pudong, the city's financial district.
Like Hong Kong, Shanghai has an extraordinary urban skyline, and if the weather is fair, Sir Elly's Restaurant with its 14th-floor terrace is an ideal venue for dinner on your first evening. The French/Mediterranean cuisine is delicious and the panorama is breathtaking.
Day 8
Nowadays, Shanghai is a colorful and compelling city, and I enjoy walking along the Bund beside the river or strolling up Nanjing Road East, the principal shopping street. At the top of Nanjing Road East, on People's Square, the Shanghai Museum contains a remarkable collection of ancient sculptures and bronzes.
First-time visitors to Shanghai will wish to take a tour of the French Concession, which still contains a number of fine old buildings, and possibly the restored shopping district of Xintiandi, with its numerous boutiques and small restaurants. (Most itineraries contain visits to the Yuyuan Garden and so-called Old Town, but in my view, these are egregious tourist traps and can safely be omitted.)
If you are beginning to tire of Chinese food, the concierge at The Peninsula can secure a reservation at M on the Bund, a restaurant serving delicious modern European cuisine just a few minutes' walk from the hotel.
Hangzhou
Day 9
Hangzhou lies 110 miles south-east of Shanghai. The best way to reach this lovely city is by train. The main highway is choked with traffic, and a trip by road is likely to take at least three hours. The train journey is just 40 minutes, though the station is at Hongqiao, Shanghai's domestic air terminal, to which you must transfer by road (30 minutes). The bullet train reaches speeds of 220 mph, and the seating in First Class is similar to that in Business Class on an airplane.
Hangzhou is a bustling modern city, but the old districts around West Lake are green and tranquil. The streets are clean, the citizens are prosperous, and it is altogether a delightful place. I enthusiastically recommend the city's two newest resorts: Amanfayun (Village Suite) and the Four Seasons Hotel Hangzhou at West Lake (Premier Room). For detailed descriptions of both properties, see my reviews in this issue.
After settling into your chosen hotel, I suggest a sunset cruise on West Lake by private boat. Bear in mind, however, that Hangzhou has a seasonal climate, and winters can be cold and sometimes snowy. In general, the weather is not unlike that of Washington, D.C.
Day 10
Perhaps nowhere else in China has such a wealth of sightseeing possibilities. There are numerous pagodas, Buddhist temples, lakeside gardens, tea plantations and pearl farms. However, both Amanfayun and the Four Seasons are exceptional resorts, each with superb amenities, so be sure to set aside sufficient time to enjoy them.
Xi'an
Day 11
After a morning's relaxation, and possibly a visit to the spa, there is a midafternoon transfer to the airport for the two-hour flight to Xi'an. From Xi'an airport, it is a one-hour drive to the Shangri-La, Xian hotel. This is a superior business property, with comfortable accommodations (Premier Room) and a choice of four restaurants.
Day 12
The Terracotta Army, located an hour's drive east of the city center, is one of the most extraordinary archaeological sites in the world. For a description of the experience, see the article in this issue.
I opted to pay for a special permit enabling my car to park adjacent to the main public entrance; I also secured permission to photograph the warriors from a private viewing area, Level 2, in Pit No. 1. A leisurely visit to all three of the pits that have so far been excavated, plus the adjoining museum, takes about two hours.
I then returned to Xi'an for a dumpling lunch at De Fa Chang restaurant. Xi'an is famous for its dumplings, and these are claimed to be the city's best.
Although Xi'an is a sprawling modern city, at its center are several historic monuments of great interest, notably the Giant Wild Goose Pagoda (A.D. 652) and the Small Wild Goose Pagoda (A.D. 707), both of which were used to store Buddhist monuments brought from India during the Tang Dynasty.
Adjacent to the Small Wild Goose Pagoda and surrounded by a tranquil park is the Xi'an Museum, which contains fine sculptures, bronzes and ceramics.
Beijing
Day 13
A one-hour, 45-minute flight from Xi'an brings you to the Chinese capital by lunchtime. The choice of hotel in Beijing is between a central location (suitable for first-time visitors to the city) and the tranquility of the Aman at Summer Palace resort, located adjacent to Kunming Lake, 40 minutes' drive northwest of Tiananmen Square.
In the city center, I continue to recommend Raffles Beijing Hotel, principally because of its location on Chang'an Avenue, just 10 minutes' walk from Tiananmen Square and the entrance to the Forbidden City. The so-called "Personality Suites" are spacious and comfortable. The competing central option is The Peninsula, which offers superior service and exceptional Cantonese cuisine at Huang Ting.
On my recent trip, however, I opted to revisit Aman at Summer Palace (Courtyard Guestroom), the 2010 Hideaway of the Year. The resort's historic buildings were originally constructed to accommodate visitors and supplicants to the Empress Dowager Cixi, who was effectively the ruler of China during the final third of the 19th century. (Today, a gate in the resort's grounds still gives guests private access to the Summer Palace, a UNESCO World Heritage site.) The 18 rooms and 33 suites feature polished clay tile floors, exposed sandalwood-beamed ceilings, lacquered tables and Ming Dynasty-style armoires.
Dining options include a Cantonese restaurant, a Western grill and Naoki, which serves French kaiseki cuisine. Other resort facilities include a nine-room spa with an 80-foot infinity pool. Aman at Summer Palace is one of the most atmospheric and remarkable small hotels in the world.
First-time visitors to Beijing may wish to spend an afternoon sightseeing in the Forbidden City and, if time permits, at the spectacular 15th-century Temple of Heaven, also a World Heritage site.
Dinner could be at the hotel, though those with an urge to sample Peking duck may wish to dine out at Beijing Da Dong Kaoya Dian or Xiao Wang Fu.
Day 14
Those who have not visited Beijing before will doubtless want to make a visit to the Great Wall of China at Mutianyu, one of its best-preserved sections, about 40 miles northeast of the city. Having made this trip on more than one occasion, I opted instead to tour the principal venues of the of 2008 Olympic Games, including the remarkable Bird's Nest stadium.
Day 15
A morning's relaxation is followed by an early lunch, then a transfer to Beijing Capital International Airport for the afternoon flight back to the United States.
Price
Based on a party of two people traveling together, the above itinerary costs an estimated $14,365 per person, staying at Amanfayun in Hangzhou, Aman at Summer Palace in Beijing and flying Business Class on domestic flights. Flying Coach, the same itinerary costs $12,500. The international flight is extra.
Price includes: accommodations as indicated; sightseeing; some meals at local restaurants; transfers and transportation by private vehicle; services of a driver and English-speaking guide; internal flights and domestic airport taxes.
Should you wish to find out more about this "Footsteps Itinerary," consultants in our Travel Office would be more than delighted to assist you. (Tel. 800-375-4685 or email [email protected])