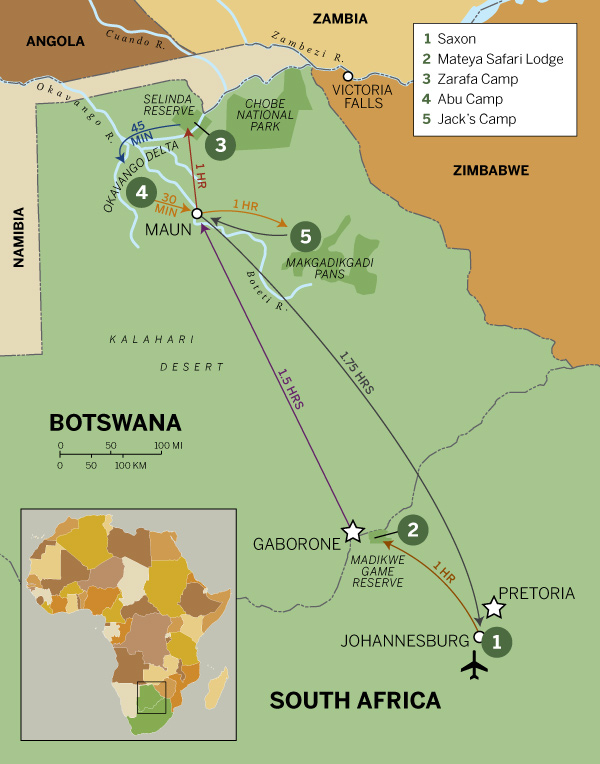 Day 1: Johannesburg
Johannesburg is the commercial and cultural capital of South Africa, and for its devotees, a fascinating and dynamic place, despite its notorious problem with violent crime. I do not number among the city's admirers, however, and it is always a relief to leave the airport and to find myself in a limousine heading northwest to the Saxon, an exceptional boutique hotel in the tranquil suburb of Sandhurst. Flights from the United States (or London) to South Africa tend to arrive in the early morning, so having unpacked and taken breakfast, I head for the shade of an umbrella beside the property's wonderful horizon pool.
The Saxon is an idyllic enclave with luxuriant gardens, imaginative interior design, delicious food and obliging staff. There are few more delightful places in which to recuperate from the rigors of a long transatlantic flight.
Days 2-4: Madikwe Reserve
It is an easy one-hour flight from Johannesburg to the airstrip at Madikwe Game Reserve, close to the Botswana border. Nowadays the fifth-largest reserve in South Africa, Madikwe was reclaimed from unprofitable farmland, and since 1991, it has seen the biggest program of wildlife translocation in history, "Operation Phoenix," with the reintroduction of more than 8,000 animals belonging to 28 species. The reserve now hosts numerous lodges, of which Mateya Safari Lodge is by far the most opulent.
Mateya is so comfortable, it provides a gentle and gradual introduction to the African wild. On my first afternoon, I relaxed for two or three hours beside my plunge pool before heading out for a game drive at 5 p.m., a two-hour excursion that culminated in the customary sun-downer.
The landscape of the reserve is hilly and attractive, and while the wildlife is not overwhelmingly prolific, I saw lion on consecutive days. However, the highlight of my three-night stay was an hour spent with a pack of wild dog as they set out to hunt at dusk. Wild dog are extremely rare, with fewer than 5,000 in the whole of Africa, and the sighting at Madikwe was the most exciting and prolonged I have experienced in more than three decades of safari travel.
Three nights is the ideal length for a stay at Mateya, providing enough time to unwind and acclimatize, to enjoy the exceptional cuisine, to explore the fine library and to visit the small spa.
Days 5-7: Selinda Reserve
Madikwe is just 40 miles from Botswana's capital, Gaborone. The border crossing is uncomplicated, and it is an easy drive to the airport, from where you can catch an Air Botswana jet to Maun, the gateway to the country's northern game areas, including the Okavango Delta. (The flight takes 90 minutes and, alas, there is no Business Class.)
I always get a thrill coming in to land at the dusty desert outpost of Maun, a town of some 40,000 people that still seems close to the end of the world. On this occasion, having retrieved my bag, I boarded a light aircraft for the 60-minute flight to the Selinda Reserve, close to Botswana's northern border with Namibia.
Remote airstrips in Southern Africa are invariably constructed from graded dirt, but the quality of the surfaces and the length of the runways have improved greatly in recent years, and takeoffs and landings seldom give cause for alarm.
Selinda, Linyanti and Savuti are legendary game areas that lie to the northeast of the Okavango. All are focused on marshes or swamps and are connected by seasonal channels. The great appeal of this part of Africa is that it feels (and is) extremely wild, with huge herds free to wander over long distances. There are no crowds, and it is unusual to encounter another vehicle.
Zarafa Camp has brought a new level of luxury to the wilderness, and over the course of three days, it established itself firmly among my 10 favorite safari camps in Africa. (For a full description of the property, see my review.) One of its great pleasures is the deck overlooking a lagoon, where I spent many happy hours with binoculars. Here, you just sit back and wait for the wildlife to arrive. Elephant and hippo invariably wander past; there are hundreds of birds; and, apparently, a leopard sometimes snoozes during the heat of the day in one of the massive ebony trees nearby.
The wildlife at Selinda is prolific, and on any game drive, you will see numerous large species such as elephant and giraffe. The local lion, leopard and wild dog are free to roam, and generally have to be tracked down by your safari guide, who is skilled at recognizing recent prints in the dust and following them, for miles if need be. More adventurous travelers can walk in the bush accompanied by a guide with a rifle, or canoe down the Selinda Spillway, a stretch of tranquil water that connects the Zibadianja Lagoon to the Okavango Delta.
Again, I recommend a three-night stay: You need time to attune to the wildness and remoteness of the region.
Days 7-9: Okavango Delta
The Okavango is arguably the greatest wildlife area in the world. About 150 miles long by 100 miles wide, it teems with both animal and bird life. At its heart is Chief's Island and the Moremi Game Reserve, home to large lion and leopard populations, as well as a full range of herbivore species. The annual flood reaches its height from May to July, attracting still more animals from the arid surrounding regions. (Paradoxically, this is the dry season; the floodwater originates in the highlands of Angola, 750 miles to the northwest.) Although there are distinct wet and dry seasons, it is possible to visit the Okavango year-round, though I would avoid October and November, when it can be excessively hot and humid. During the flood, much of the game-viewing is by makoro, or dugout canoe, and sometimes it is possible to come quite close to grazing elephant, or to watch from a safe distance as the herds surge through the water from island to island.
Just southwest of Chief's Island, Abu Camp has recently been entirely reconstructed. To walk with, or ride on, the camp's herd of trained African elephant is an extraordinary and unforgettable experience. Abu Camp provides a full range of wildlife-viewing opportunities, so it is unnecessary to move elsewhere. However, some travelers will wish to spend a few additional days on Chief's island, perhaps at Mombo Camp, where the lion and leopard sightings are unequaled.
Days 10-12: Northern Kalahari
From Abu Camp, via Maun, it is a 90-minute flight to Jack's Camp, located at the edge of the Makgadikgadi salt pans in the northern Kalahari. The Kalahari is not a desert of sand dunes like the Sahara, but a vast expanse of arid land that the annual rains briefly transform into a grassy savanna. At its heart lies the 20,400-square-mile Central Kalahari Game Reserve, second-largest in the world. For much of the year, wildlife is thinly scattered, but during the rains from January to March, large herds of zebra and wildebeest arrive, accompanied by predators, to feast on the new grasses.
The main reason to travel to the Kalahari, however, is to experience its awe-inspiring silence and immensity. Here, you will find an untouched wilderness, 800 miles across, still populated by the San Bushmen hunter-gatherers, the original human inhabitants of Southern Africa. From Jack's Camp, I walked with the Bushmen one morning — one of whom spoke English— across the bleached grasslands beneath a cloudless sky. After a short while, chatting with a man carrying a bow and arrow and clad only in a loincloth made of impala hide began to seem like a perfectly normal occurrence. It was one of those extraordinary and transforming experiences that travel can provide.
At night, the sky above the Makgadikgadi pans is ablaze with stars. The four largest moons of Jupiter are usually visible with the naked eye, and the Magellanic Clouds, nearby galaxies invisible from much of the Northern Hemisphere, appear almost close enough to touch.
Jack's Camp and the Kalahari are suited to slightly more adventurous travelers and are best visited toward the end of a safari, when you have completed your wildlife checklist and are ready for a different experience. The contrast with the watery world of the Okavango Delta is astonishing, and the fact that two such utterly different places should be little more than 100 miles apart is sometimes hard to comprehend.
Days 13-14: Johannesburg
Rather than going straight from the middle of the Kalahari to the Departures lounge at Johannesburg's airport, I prefer to unwind for a day or so and to ease myself back into civilization. I like to have a brief interlude to recall the trip and for its narrative to take shape before I find myself importuned by the demands of everyday life. For me, the Saxonis an ideal place to reconnect with reality— except perhaps in the middle of winter (June and July), when Johannesburg, at an altitude of 5,700 feet, can be a little chilly.
SAFARI TRAVEL TIPS
Travel in Southern Africa can be tiring, not least because of the heat at certain times of year. The principal safari areas are best visited during the cool, dry season from April to August (though, of course, this period straddles the winter in Cape Town, more than 1,000 miles to the south). Obviously, the levels of comfort and convenience (and expense) will greatly increase if you opt for private charters when transferring between lodges. Most flights in Botswana are aboard roomy Cessna Caravans (typically configured for 12 people), but sometimes couples and small groups will find themselves squeezed into a cramped five-passenger Cessna 206 or a Beechcraft Baron, unless a larger plane has been specifically requested in advance.
Although you will wish to consult your physician prior to departure, the areas of Southern Africa on this itinerary are generally healthy places in which to travel, and providing that you take all sensible precautions — such as drinking only the water specifically provided — you will be extremely unfortunate to fall sick. Malaria is present in the Okavango Delta, chiefly on its periphery near human settlements, but it is not a chronic problem as in some other African wildlife areas.
PRICE—Based on a party of two passengers traveling together, the above itinerary would cost an estimated $19,975 per person, excluding international flights. Price includes all accommodations on a shared basis, most meals as specified, two game activities per day at the safari camps, relevant park and entrance fees, drinks as specified at the various camps/lodges, internal air, applicable taxes and tourism levies.
Should you wish to find out more about this "Footsteps Itinerary," consultants in our Travel Office would be more than delighted to assist you. Tel. (800) 375-4685 or email [email protected]