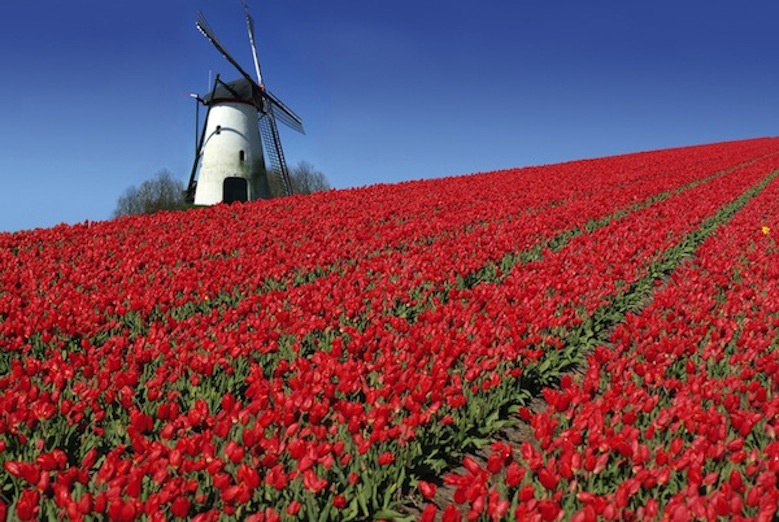 One of the world's most enchanting regions in the springtime is Europe's "Low Countries," Belgium and the Netherlands. Tulip fields near Amsterdam burst with color, and golden daffodils grace the tranquil Begijnhof of canal-laced Bruges. But the Low Countries aren't just pretty flowers. Belgium and the Netherlands offer something for everyone, from the riches of Brussels and Amsterdam to unspoiled medieval towns alive with local culture. Here is a sample itinerary to get you thinking:
Day 1: Arrive in Brussels and check into the Hotel Amigo, set in a superbly restyled historic building near the Grand Place, one of Europe's greatest squares. Highlight – Take a private tour of the family-owned Cantillon Brewery.
Day 2: Highlight – The unequaled art nouveau architecture of Brussels.
Day 3: Take the fast train to magical Bruges, where medieval and Renaissance architecture fronts picturesquely meandering canals. Check into the Hotel de Tuileriëen, housed in an intimate 15th-century residence.
Day 4-5: Highlights – A private sunset cocktail cruise through the canals of Bruges, and a private master class with one of Belgium's best chocolatiers.
Day 6: Transfer with a car and driver to Amsterdam, passing through vibrant tulip fields and the elegant city of Antwerp en route.
Day 7-10: Highlights – An insider's look at Amsterdam, a private tour of a diamond factory, a visit to the world's largest flower auction, porcelain hunting in Delft, and a privately guided tour of the Keukenhof Gardens, a 70-acre expanse where up to 6 million flowers bloom in the spring. To take advantage of peak availability, contact the Travel Office at (800) 375-4685, (630) 734-4610 or [email protected]