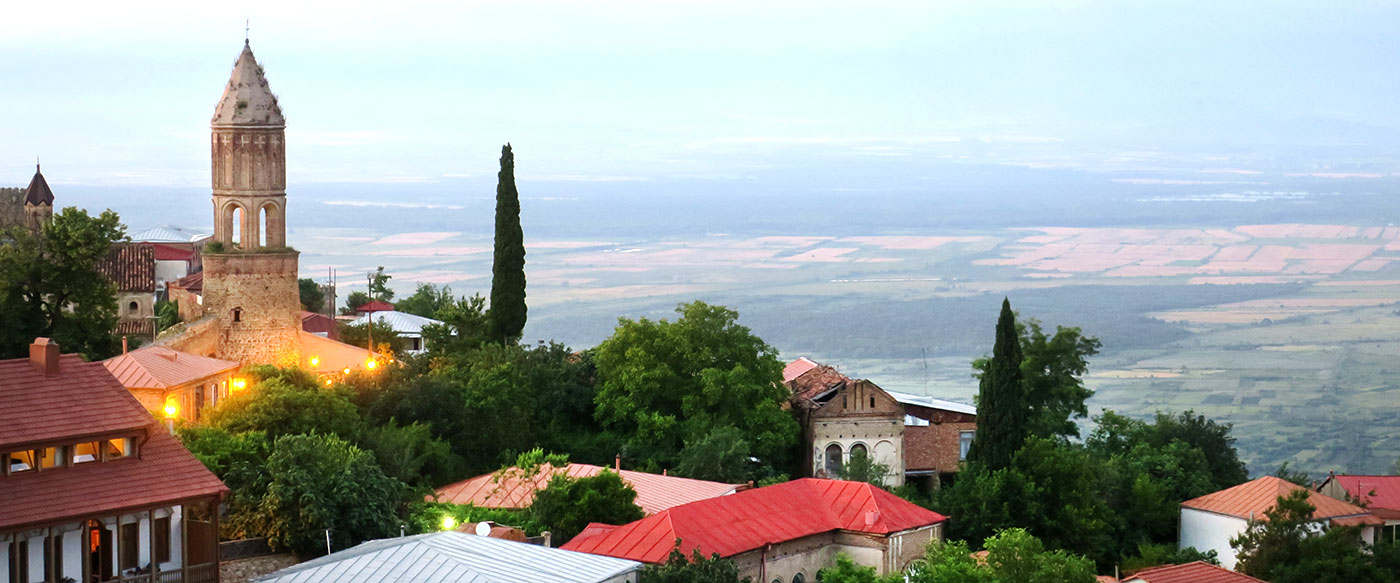 The view from our King Erekle Suite at Hotel Kabadoni in Sighnaghi, Georgia
Hideaway Report Editor
Georgia: An Unpredictable but Exhilarating New Frontier in Travel
By Hideaway Report Editor
September 10, 2018
There is a certain kind of experienced traveler who will revel in the unpredictability of Georgia. Exploring this spectacular little country bounded by the Caucasus Mountains and the Black Sea can be frustrating, baffling, awe-inspiring and exhilarating, but it is rarely dull. In a world that is increasingly homogeneous, Georgia has not yet been polished smooth, a quality I found refreshing and grew to love. Of course, a little roughness goes a long way, and I couldn't recommend traveling to Georgia if there weren't comfortable hotels and good restaurants. I am pleased to say that I discovered several of both.
Strategically located on the Silk Road, Georgia has had a rough and complicated history. Mongols, Ottomans, Persians and Russians have all invaded and Russia still occupies the Georgian territories of Abkhazia and South Ossetia. Fortunately, the past decade has been peaceful, and the necessary infrastructure is now in place for travelers who wish to investigate the country's extravagantly scenic landscapes and fascinating history.
Ancient Colchis in western Georgia was the home of Greek mythology's Golden Fleece, and farther east, archaeologists have discovered evidence of winemaking as early as 8,000 years ago.
Wineries are everywhere, as are centuries-old Orthodox churches and hilltop monasteries. During my two-week visit, I could only scratch the surface, missing attractions such as the troglodyte monastery of Davit Gareja, the cave city of Vardzia and mountainous Svaneti, known for its numerous ancient towers. But the capital of Tbilisi, the rugged wine region of Kakheti and the breathtaking Caucasus Mountains in Kazbegi provided ample compensation. I found stylish hotels in each of these locations, and when combined they make for a compelling itinerary. Do not expect to have major sites to yourself, however; Russian and Chinese, as well as European, tourists are found everywhere in the summer high season.
Most Georgian journeys start and finish in Tbilisi. According to legend, King Vakhtang I founded the city in the fifth century, because he was so impressed by the local sulfur hot springs. Today this city of 1.5 million is a collision of medieval churches, moldering mansions, repurposed Soviet-era factories and futuristic architecture of curvaceous glass. Certain streets, like pedestrianized Erekle II in the old center and the grand 19th-century boulevard of Rustaveli, have been spiffed up for tourists, but the turn of a corner reveals a place that, though obviously wealthy at one time, is still suffering the aftereffects of 70 years of communism. Wine bars, restaurants and shops mingle with abandoned historic buildings that scream out for renovation. The city's mix of the stylish and the half-ruined gives it an edge reminiscent of Budapest in the 1990s.
Rooms Hotel Tbilisi