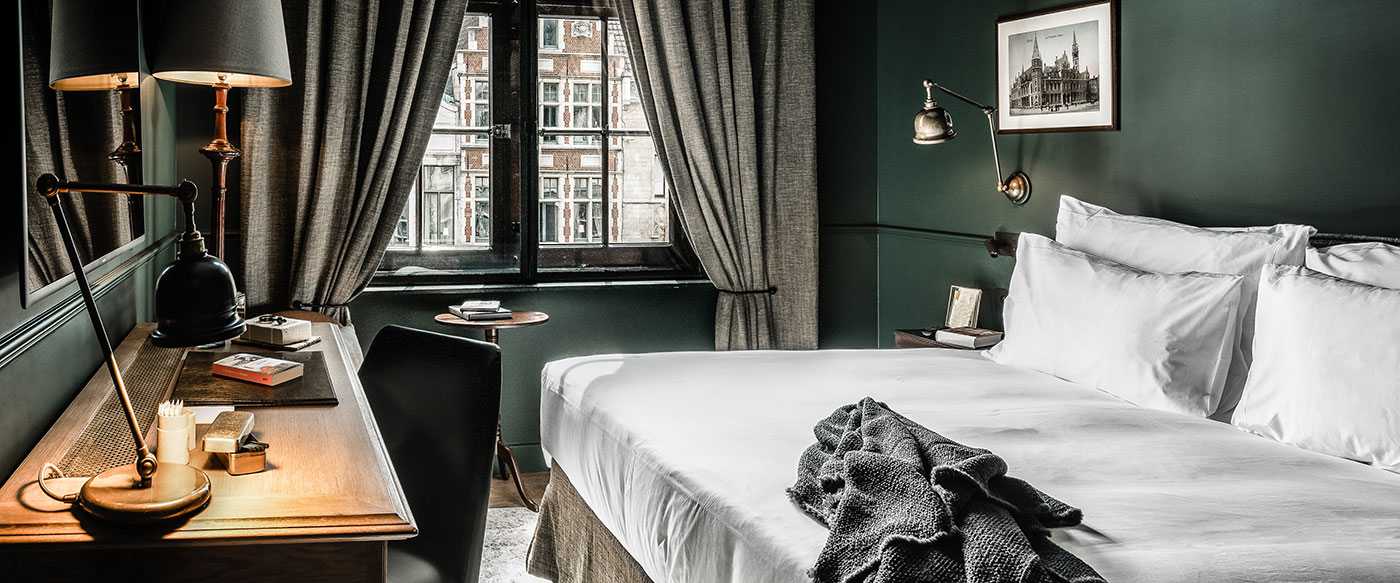 Five Favorite Paintings in the MSK Ghent
Ghent Restaurant Discoveries
The Letter room at 1898 The Post
Alex Teuscher
Newly Recommended Hotels in Ghent
By Hideaway Report Editor
April 16, 2018
It is still possible to visit Belgium and avoid the crowds that have taken over other cities like Brussels and Bruges. As part of the April 2018 Hideaway Report we traveled to the charming city of Ghent in northwest Belgium. Besides wonderful contemporary art, neo-Gothic architecture and unique shopping opportunities, we discovered two notable but very different hotels to recommend.
1898 The Post
This new 37-room property is housed within the upper floors of the former post office, a neo-Gothic stone structure with two stone towers that flank a central gable. Reimagined by Geraldine Dohogne, public areas are chic, with vintage lighting, earth tones and a stylish décor. To learn more about this Zannier Hotel addition, including which rooms to stay in and how to find the front door, read our 1898 The Post review.
Set within a magnificently restored 18th-century mansion, this romantic bed-and-breakfast has only five guest rooms. The elegant Grand Salon area, ideal for lounging, features a woodburning fireplace, herringbone oak parquet floors, powder-blue walls, a collection of antique Delft pottery and 250-year-old rococo murals. Read more about how the sophisticated B & B Hôtel Verhaegen encapsulates the charm of Ghent.