Hawaii Island Retreat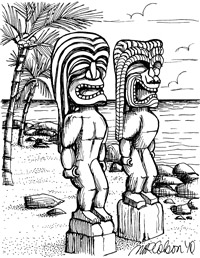 Tucked away on a 50-acre estate, the Hawaii Island Retreat caught my attention in part because of its small size — 10 rooms and suites, plus seven yurt bungalows. The main building has a lovely marble breezeway leading to a pleasant courtyard, but the reception area is cramped. Our room was spacious, however, and French doors led out to a lanai overlooking adjacent forest and the sea beyond. The large, functional bath included a walk-in shower and whirlpool tub.
Open to the courtyard, the first-floor dining room provided ample breakfasts featuring fruit from the retreat's own gardens and eggs from its flock of chickens. Alas, dinner was more haphazard, and indeed, one day we made a reservation at breakfast only to be told later that the service had been canceled. The resort has received adulatory write-ups in guidebooks and the general press, but for discerning travelers, it does not meet the required standards.
AT A GLANCE
LIKE: The setting, which embodies serenity.
DISLIKE: The dining room policy was unclear; few staff were on hand.
GOOD TO KNOW: The adjacent valley is a historic sight and has a stone circle where Kamehameha the Great held council.
Hawaii Island Retreat 86 Ocean View Room, $485; Penthouse Suite, $490. 250 Lokahi Road, Kapaau. Tel. (808) 889-6336.
Puakea Ranch
My expectations were not as high for Puakea Ranch, on the northwest coast of North Kohala a 45-minute drive north of the Kona airport, but in this case, they were exceeded. This part of the Big Island is known for its cattle, and the 250,000-acre Parker Ranch, which dates from 1847, is one of largest cattle spreads in the United States. Puakea, a smaller operation, began in 1870. In the 1930s, an immigrant Japanese family, the Kawamotos, arrived to manage the ranch, serving as paniolos — Hawaiian cowboys — through several generations until 2002, when the land was sold. The Kawamotos moved on, and new owners have renovated the four former ranch houses that now make up the property.
A large lava-rock pool with inlaid mosaics became our favorite spot for a morning dip, as well as a vantage point from which to watch the sun slide into the Pacific at day's end.
Puakea offers a completely different experience from that at nearby resorts. There is no formal check-in, no restaurant, no spa and no staff, except for a resident manager. We stayed in Yoshi's House, reached via an allée of Java plum trees. Set on two acres, Yoshi's is a charming 1940s plantation cottage with a big wraparound lanai. Painted blue-gray with white trim, the house has an open plan with a large modern kitchen flowing into a living-dining area with a daybed and bookcase. The cozy master bedroom leads out to a private lanai with views of Maui, and shares a small bath with a claw-foot tub with the second, twin-bedded bedroom. White beadboard walls and wood floors are complemented by club chairs, a couch, a dining table for six and a large daybed. The kitchen offers a full complement of modern appliances, utensils and cookware, plus a comfortable breakfast bar. Well-placed lights added to the atmosphere in the evening, and an array of ceiling fans kept us cool during the day.
A detached building at the front of the house contains an extraordinary bath with wood paneling, stone floors, a ceiling-mounted shower, a stone washbasin and a magnificent old hammered copper tub fed by a rustic wood sluice. It impressed me as a perfect fusion of Japanese and Western sensibilities. Just steps away, a large lava-rock pool with inlaid mosaics became our favorite spot for a morning dip, as well as a vantage point from which to watch the sun slide into the Pacific at day's end. We felt instantly at home. An old friend, a local veterinarian who often tended to the ranch's livestock, came for dinner one night with his family and remarked, "They couldn't have done this more perfectly; this is a real piece of old Hawaii."
With advance notice, Puakea Ranch will stock the kitchen, and a chef can be engaged. However, we preferred to drive into Waimea, about 30 minutes away, for provisions. Maid service can be arranged, and a concierge is available by phone or email. Lovely beaches are within easy driving distance, as are several resorts with restaurants and numerous other facilities.
AT A GLANCE
LIKE: Atmosphere of calm and seclusion; wonderful attention to detail.
DISLIKE: The resident manager and concierge had to be reminded about things they had promised to do.
GOOD TO KNOW: Cell service is weak, but local and long-distance domestic calls are free, and the Wi-Fi is fast and strong.
Puakea Ranch 89 James Cottage, $289-$389, three- to five-night minimum stay, depending on season; Yoshi's House, $599-$899, five- to seven-night minimum stay. 56-2864 Akoni Pule Highway, Hawi. Tel. (808) 315-0805.