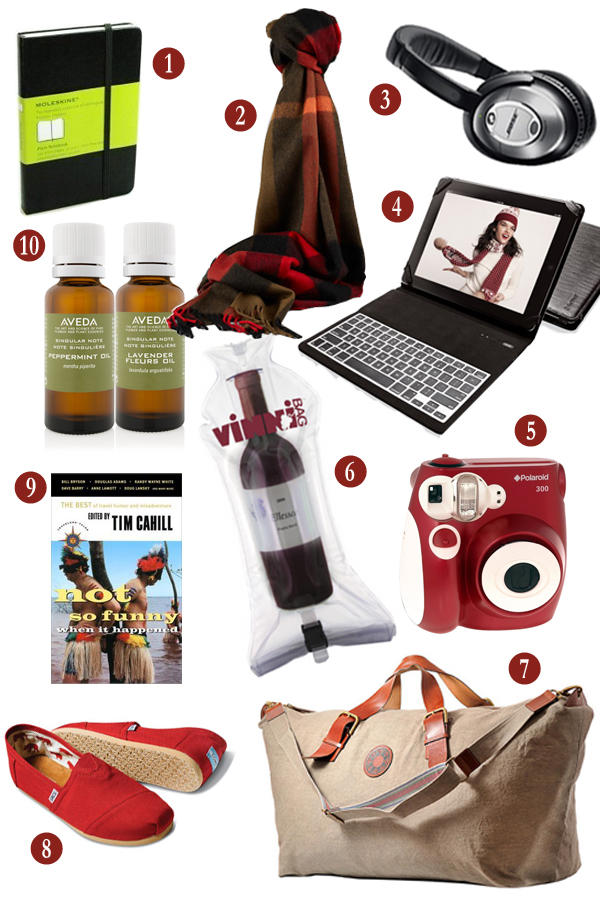 We've polled our team of seasoned experts for travel accessories they simply cannot do without. They suggested 10 items that would make welcome gifts — or that would make your own travels more enjoyable. From footwear to neck scarves to headphones, there's something on our list that will help you or a loved one travel in style.
An unlined pocket journal, 3 ½" x 5 ½"
What our experts say: "Great for doodles, notes, ticket stubs and stickers, with a convenient strap that holds it closed.  It has a hard cover for travel wear, unlined pages for drawing, plus, it is a handy traveling size, while still bigger than the mini-size they offer."
A generously sized scarf in soft cashmere, 66.1" x 11.8"
What our experts say: "I always fly with a light cashmere scarf. Usually planes are too chilly, and keeping your neck warm helps avoid catching a cold. You can also wrap the scarf over your eyes to work as cozy eye mask."  
What our experts say: "I can't travel without my Bose Noise Cancelling Headphones. Best investment ever."
What our experts say: "On most trips it makes more sense to travel with my iPad and leave my computer at home. It's lightweight in my carry-on and I don't have to ever worry about the person in front of me reclining their seat into my laptop screen. Having a versatile case that doubles as a stand and a keyboard makes keeping in touch while traveling so much easier."  
What our experts say: "Great for trading instant photos with locals and new friends in new places.  The camera has a wrist strap so it's easy to carry around, and credit card-sized photos are easy to tuck into a travel journal for safekeeping."
Versatile travel bag for wine, other liquids and fragile items
What our experts say: "A great idea if you purchase wine while traveling and don't want to bother with shipping it home. And, it can double as a neck pillow on the trip over."
What our experts say "I am always searching for the perfect travel bag that will work for any occasion.  This bag is perfect for weekend trips or longer travels, and because it looks rugged yet refined, you can basically use it anywhere.  To make it the perfect gift, you can have the bag personalized with a stamped monogram."
What our experts say: "I can't live without my TOM's Shoes — easy to take off in security at the airport and comfortable — plus, they support a great cause!"
What our experts say: "A good book is absolutely essential. Ideally, it would be a travelogue or novel about the place you're heading. But if you are looking for something just plain enjoyable, Tim Cahill's "Not So Funny When It Happened" is a really fun anthology."  
What our experts say: "I really like traveling with essential oils, especially lavender, eucalyptus and tea tree. Lavender is soothing and relaxing, eucalyptus opens breathing, and tea tree is great for rashes, scrapes and other things that accompany adventurous travel. And, they each make for a nice bath after a long day of sightseeing."