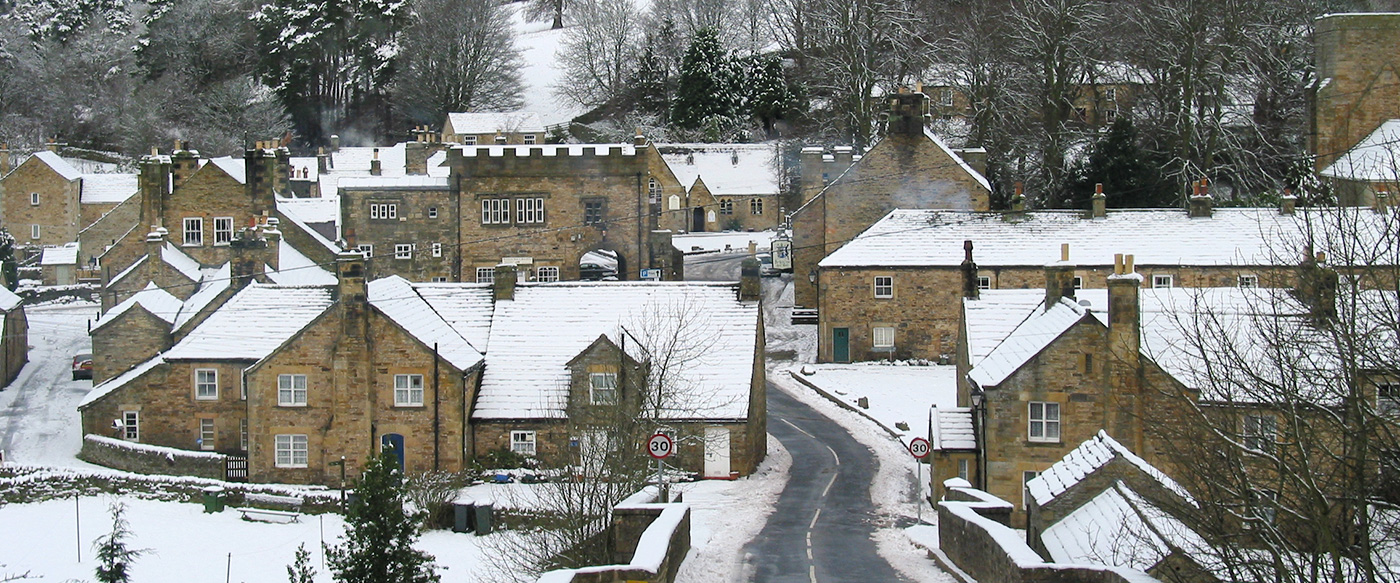 The snow-covered Lord Crewe Arms and surrounding town of Blanchland, England
Lord Crewe Arms
Hotel Standouts: Unique Properties We Visited This Year
By Hideaway Report Editors
January 4, 2018
---
Grand Awards 2018
Andrew Harper's Favorites from the Past Year of Travel
---
Spas are now almost mandatory at top-notch resorts, but we have encountered few as special as the one at the Weissenhaus Grand Village Resort on Germany's Baltic coast. Over the years, baths have become ever more spacious and luxurious, but our suite at the newly refurbished Hotel Eden in Rome provided a triumph of marble and mosaic fit for the most indulgent of Roman emperors. And few swimming pools have left a more lasting impression than the one at the Alila Jabal Akhdar resort in Oman, where peacock-blue water seems to merge seamlessly with the crags and precipices of a stupendous 5,000-foot gorge.
Best City Hotel
The Whitby Hotel
New York, New York, United States
The first overseas venture of the London-based Firmdale Hotels group was the Crosby Street Hotel in SoHo, which opened in 2009. In 2017 it was joined by a sister property in Midtown, The Whitby, just off Fifth Avenue on West 56th Street. Firmdale hotels are distinguished by the joyful and carefree design of co-owner Kit Kemp, and The Whitby is no exception. The 86 rooms all feature floor-to-ceiling mullioned windows, which look out onto the cityscape and flood the room with light. Each is individually decorated, and the baths are large and luxurious. The ground-floor bar and restaurant are especially inviting, with playful décor as well as crisp, friendly service. The Whitby is very much its own place, but it has all the attributes that make staying at a Firmdale hotel such a consistent pleasure.
Most Charming Country Hotel
Lord Crewe Arms
Blanchland, England
Blanchland Abbey was founded in 1165 for a white-robed order of monks, who had come to this remote corner of northern England to live in prayer and contemplation. Today the former abbot's lodge is the Lord Crewe Arms, a 21-room hotel that also incorporates the village pub. The main hotel building comprises a succession of medieval rooms, with beamed ceilings, stone-flagged floors, cavernous fireplaces and stone walls hung with bloodcurdling displays of axes, swords and spears. The accommodations are located in a number of adjacent cottages as well as the main house. In The Bishops Dining Room, chef Simon Hicks serves sustaining traditional fare. It being the appropriate season, I opted for the roasted grouse with spiced red cabbage, which was truly memorable.
Hotel We Most Hated to Leave
The Inn at Newport Ranch
Fort Bragg, California, United States
Will Jackson, a self-described "Connecticut Yankee," first built a vacation home and then began to dream of constructing an inn. He bought up adjacent land as it became available, creating a magnificent property with three miles of contiguous ridgetops and redwood forests. The Inn at Newport Ranch is entirely the result of his personal vision. In our suite, four triangular gables came together in a tour de force of carpentry, and thick, bark-covered redwood columns rose through the floor. The inn is neither bed-and-breakfast, nor resort, nor hotel. But it is one of the most distinctive, interesting and comfortable places we have stayed at in a very long while.
Most Romantic
The Swag
Waynesville, North Carolina, United States
Located at an elevation of 5,000 feet, The Swag is a mountaintop refuge that sits on 250 secluded acres and shares a boundary line with Great Smoky Mountains National Park. The 14 cozy and lovingly decorated accommodations are hard to leave. And after a hiking excursion, it is always a pleasure to return and lounge in front of a roaring fire. The wonderfully homey lounge-library in the Chestnut Lodge, the porch swings positioned for ideal sunset viewings and the candlelit tables for two in the dining room all make this property ideal for a romantic getaway. The Swag's exceptional staff are consistently charming and unfailingly attentive.
Most Family-Friendly
San Clemente Palace Kempinski
Venice, Italy
The San Clemente Palace is located on a 17-acre private island in the Venetian Lagoon, 15 minutes by speedboat from San Marco. The property has recently been transformed by the Geneva-based Kempinski group. Nowadays the gardens are immaculate and the public areas sumptuous. Here, family groups will find space and tranquility, a world away from the madding tourist crowds. Aside from a glamorous 65-foot pool, the resort offers tennis courts, pitch-and-putt golf, a three-mile-long jogging trail and a kids' club for children between the ages of 4 and 11. At the San Clemente Palace, children are actively welcome, not merely tolerated.
Sneak Peek
This article appeared in The Hideaway Report, a monthly newsletters exclusively for members.
Learn About Membership