Bülow Palais
Because this was my third trip to Dresden, I wanted to try staying in a different part of town. The 58-room Bülow Palais stands on a leafy square in Neustadt, a gentrifying neighborhood just across the historic Augustus Bridge from the old center. A shopping avenue cuts through the middle of Neustadt, lined with bohemian cafés, wine bars and boutiques. Although the baroque-style exterior of the hotel looks historic, a Stuttgart-based couple, Horst and Monika Bülow, constructed the building from scratch starting in 2008.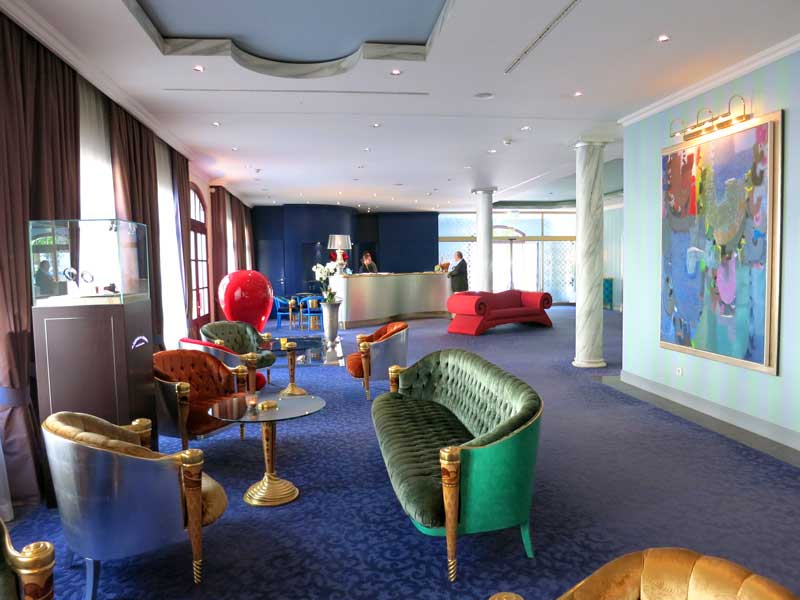 While waiting to check into our room, we surveyed the colorful décor of the lobby lounge. Postmodern armchairs and sofas upholstered in jewel-toned velvet and sideboards with checkerboard paintwork were not really to my taste. Our third-floor Junior Suite exhibited a more subdued version of the same style, with a lavender-and-yellow love seat, orange silk drapes and blue abstract paintings. The bed was much more comfortable than that at the Taschenbergpalais, but in deference to the mostly German guests, it had two twin-size duvets, instead of a single king. We had trouble getting the heated floor in the bath to work, but otherwise, I liked its spacious walk-in shower, marble counter and good lighting.
The Bülow Palais has a spa with saunas and a steam room, but the hotel's real draw is its Michelin-starred restaurant, Caroussel, a pretty room of green and gold illuminated by candles and chandeliers. Aside from one course in which the sweetbreads were undercooked, our meal was delicious and beautifully presented on Meissen china. I especially enjoyed an asparagus salad with char roe and a savory Parmesan cracker, goose-liver terrine with cashew ice cream and rhubarb, and flavorful lamb with white bean purée. The wine list offered an excellent selection of local and foreign vintages, as well as a reasonably priced assortment of Grosses Gewächs (Great Growth) Rieslings. Caroussel serves an appealing breakfast buffet as well, but we preferred to sit in the airy Wintergarten restaurant next door.
Despite some minor service issues — the lack of a bellman to help with bags and incomplete turndown service one evening — I would be happy to return to the cheerful Bülow Palais, not least because of its location in vibrant Neustadt.
HOTELS AT A GLANCE
LIKE: The superb restaurant; the comfortably furnished room; the reasonable price.
DISLIKE: The over-the-top postmodern décor; the unreliable Internet connection.
GOOD TO KNOW: The clubby Cigar Lounge adjacent to the bar offers 30 varieties of cigars, including various Davidoff options.
Bülow Palais 89 Deluxe Room, $230; Junior Suite, $275. Königstrasse 14, Dresden. Tel. (49) 3518-0030.