The Knickerbocker
New York's Times Square was for years an unsavory part of the city that no one called "family-friendly" except in jest. Adult theaters appeared to be outcompeting the old Broadway houses, and the neighborhood felt generally unsafe in the evening. That began to change in the mid-1990s, and now Times Square ranks among New York's most popular family attractions. Much of the area, originally just an elongated intersection, has been pedestrianized; Broadway has tables and chairs instead of traffic; and many billboards have been replaced by massive screens flooding the square with light.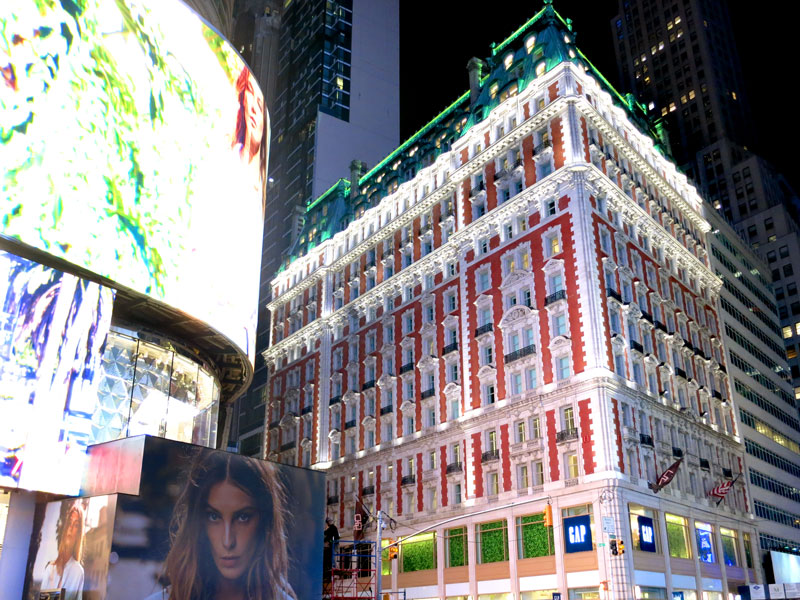 Despite this renaissance, luxury hotels have tended to avoid the area. Recently, however, The Knickerbocker opened on Times Square at 42nd and Broadway. I decided to visit, not only to determine its merits, but also to see what the Times Square neighborhood currently has to offer the sophisticated traveler, aside from quick access to the theaters.
John Jacob Astor IV built The Knickerbocker as a luxury hotel in the early 20th century, but the property was converted into offices in 1920. After a thorough reconstruction of the interior, the landmark Beaux Arts red-brick building, decorated with elaborate cornices, quoins and a green mansard roof, reopened as a 330-room hotel in March. Staying in a hotel six weeks after its debut requires a willingness to overlook a few unpolished edges and occasional service hiccups. My ability to do so was tested as soon as we exited the car and looked up at the glass awning festooned with wires and open electrical sockets. A friendly bellman greeted us, wearing a gray newsboy cap, gray sport coat with black trim, gray knickers and brightly polished black Dr. Martens boots. I later learned that the outfits were intended to evoke the "history and elegance" of the hotel in its heyday, but the only feeling evoked in me was pity for the bellmen.
Alas, matters did not improve in the sterile marble lobby. More suited to an office building than to a luxury hotel, its relentless grayness was relieved only by some black-lacquer art deco-style panels on one wall. The lack of chairs and sofas felt unwelcoming. Initially, the front desk staff could not find our reservation, and we went up to the fourth-floor bar and lounge while they sorted the matter out. Fifteen minutes later, with reservation apparently found and room ready, the front desk informed us we had received a double upgrade. Looking forward to a suite, we walked through our door to find a smallish room with one window, a king bed, a love seat and a writing desk. "What category of room is this?" I asked our escort, wondering how a double upgrade could look so much like the Premier Room I'd reserved.
Never once, in all my decades of traveling the world, has a hotel "upgraded" me to the room category I had booked.
"It's a Premier Room, with the view of 42nd Street and Times Square," she replied. This was something new. Never once, in all my decades of traveling the world, has a hotel "upgraded" me to the room category I had booked. I expressed my confusion about the upgrade, and our escort seemed as baffled as I was. A short while later, an embarrassed front desk manager, to her credit, did give us a double upgrade from a Premier Room to a Corner Junior Suite with direct Times Square views.
The much-touted views were memorable when we stood against the windows, but they were hindered by the architecture and the arrangement of the furniture. It wasn't possible to see out the window from the sofa without twisting at least 90 degrees. The black writing desk and gray wood desk chair had a slightly better aspect, as did the comfortable king bed, from which it was almost possible to look up Broadway. I did appreciate thoughtful touches such as master light switches by the door and bed, the complimentary soft drinks in the minibar and the welcome bottle of wine we received. The white-and-gray bath had excellent lighting, ample counter space and an expansive walk-in shower. Still, considering the price of a Corner Junior Suite and the fact that it ranks among the top accommodation categories at the hotel, the absence of a tub and a second sink was disappointing.
Because Times Square has a dearth of upscale dining options, I was eager to try the hotel's restaurant, Charlie Palmer at The Knick. The restaurant looks lovely, with lustrous gray banquettes and red calla lilies strikingly illuminated by small lamps on each table. Because of its location on the fourth floor, the restaurant receives little foot traffic. Even on a Friday evening at 7, a prime time for pre-theater dining, it remained quiet, though this may change as more people become aware of it. My companion and I had a pleasant dinner, but I couldn't help comparing it unfavorably to other Charlie Palmer meals I've enjoyed. I liked my seasonal main course of delicate halibut with fresh fava beans, carrots and lemon-chive butter, but my appetizer of Scotch quail eggs with Dijon aioli and pancetta — highly recommended by our server — was uninteresting, as was my gazpacho. Worse, in a trifecta of banality, the dessert list offered only crème brûlée, chocolate lava cake and apple crumble.
Other small problems that arose, such as malfunctioning elevators, a missing bathrobe and an incorrect newspaper delivered to our room one morning, can be chalked up to teething issues. Throughout our stay, the accommodating and perceptive staff worked hard to correct what mistakes they could. For example, a breakfast server must have noticed us chuckling at a buffet tray of generic block cheese slices labeled with wild inaccuracy as "White Cheddar, Brie, Blue, San Andreas." Shortly thereafter, she approached our table to explain that they were "in the middle of changing the cheese presentation," and offered to bring us an assortment.
Even taking into account the warm, helpful staff and allowing for the hotel's youth, The Knickerbocker did not measure up. The lobby and guest rooms lack charm, the restaurant lacks interest, and small windows constrain the views. The Knickerbocker may very well be "The Premier Luxury Lifestyle Hotel in Times Square," as its website claims, but it can't compete with my recommended hotels elsewhere in Midtown.
AT A GLANCE
LIKE: The friendly and proactive staff; the Times Square views; the quiet lounge; the well-equipped fitness center.
DISLIKE: The unrelievedly gray décor; the silly bellman uniforms; the small windows; the lack of a bathtub; the uninteresting restaurant.
GOOD TO KNOW: A first-come, first-served house car can drive guests short distances.
The Knickerbocker 87 Premier King, $625; Corner Junior Suite, $875. 6 Times Square, New York, New York. Tel. (212) 204-4980.