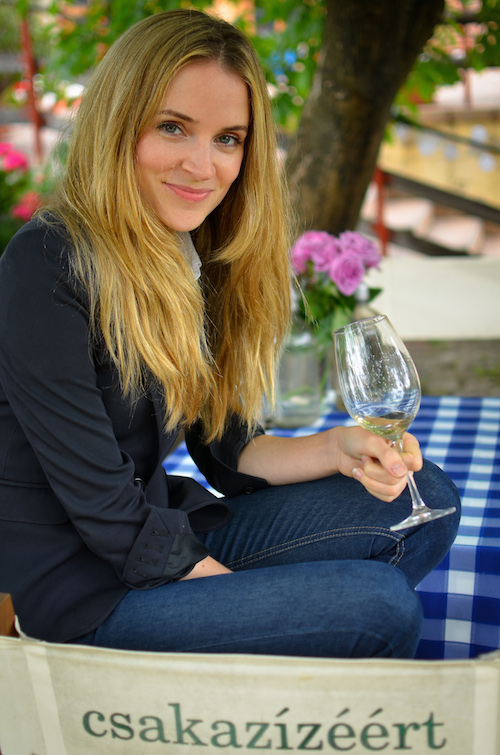 An acquaintance recently alerted me that a fascinating company called Palinkerie had just started operations in New York, focusing solely on importing fine Hungarian wines and spirits. I've long felt that Hungarian wine and cuisine deserve more attention, so I was excited to learn more about what Palinkerie was importing and what was happening in general on the Hungarian wine scene. I contacted Athena Bochanis, the founder of the company, to find out.
What made you decide to focus on Hungarian wines and spirits?
Back in 2009, I was a dissatisfied law student at NYU with insatiable wanderlust and a passion for food and wine. That summer, I found myself working in Budapest in human rights law, and I fell absolutely in love with Hungary, especially with Hungarian wines and spirits. I couldn't believe how such a remarkable food and drink culture had gone virtually unrecognized back home in New York, which prides itself on having it all. Hungary has centuries-old winemaking traditions, an ideal climate and terrain for wine and food (Hungary is, not surprisingly, a major supplier of fruit and vegetables to the EU), and that Old World charm that is totally genuine and hopelessly alluring. It was then that I knew I wanted to somehow bring my passions to a city (New York) that might be ready to appreciate them. And so, in a small degree, my company was born.
I think the wine scene in Hungary has changed dramatically since the fall of communism. What have been the major shifts in the last 10 to 20 years?
From what I can see, quite a lot has changed in Hungarian winemaking since the fall of communism, nearly all for the better. Under the old regime, easy-growing grapes were overplanted in regions that were conducive to low-cost winemaking and were made into large-format wines. This means that some rare and more difficult indigenous grapes were neglected, and some of Hungary's best sites for winemaking (especially those on steep, hilly terrain) were in disuse. So privatization in the 1990s led to smaller-batch, higher-quality winemaking, and this trend is continuing today.
One negative effect of modernization is that the acreage of Hungarian vineyards has decreased. Former vineyards have been converted to prime real estate on Lake Balaton, and Hungary also has to comply with EU directives limiting wine production (protecting French and Italian winemaking). So we've gotten better wines, but we also see less wine being produced overall.
Luckily, there were plenty of winemakers working under communism who did not accept gracefully the high-quantity, lower-quality collectivization scheme. Many winemakers held their own private vineyards, which they cultivated with friends and family, like our winemaker János Arvay, and this was their opportunity to make handcrafted, higher-quality wines outside the communist system. Some of Janos' best stories are about when he first went to work for an internationally run winery in Tokaj after 1991, and how utterly thrilled he was to finally meet people interested in making complex, nuanced wines.
If people have encountered Hungarian wine, it's likely to have been from Tokaj or perhaps Eger, which makes the infamous "Bull's Blood." Are there other wine regions of interest right now?
The wines currently in our portfolio are from Tokaj and Eger, which are the most famous wine regions in Hungary. Tokaj is world renowned for its sweet wines, of course, but it is also interesting because of the incredible development of dry white wines in the region. In only the past five years, these wines have made leaps and bounds in quality, leaving many wine professionals to wonder if Tokaj might soon turn out the finest dry whites in the world.
Eger is a beautiful, hilly region where winemaking had been neglected under communism because it was not economically viable to hand-pick grapes from the higher-quality, steeper slopes. Today, producers are making both whites and reds from these ancient hillside vineyards. The wines are richly complex, acidic and reflective of their hilly terroir. And Bull's Blood is not all plonk anymore! I tasted some gorgeous red Bull's Blood blends when I was in Hungary last summer. Though I think people who remember the older stuff might need a bit more time to reassociate their largely negative connotations.
There are fantastic wines being made in nearly every wine region in Hungary, but some other regions that really are impressing me today are Szekszárd (south of Budapest) and Balaton. Wonderfully elegant red and pink wines are emerging from sunny Szekszárd, including a few dazzling Cabernet Francs. The Balaton region surrounds Lake Balaton, the largest lake in continental Europe, and it produces whites on the north side and reds on the south. There's a fascinating mix of diverse microclimates, resulting from the way the glimmer of the lake reflects onto the south. I tasted Bordeaux-blend reds from the south of Balaton that absolutely blew my mind, as well as spicy whites from the north that were really delightful. And just north of Balaton is a small hill called Somló, where they make distinctively smoky wines on an extinct volcano. We are planning to include some excellent wines from both of these regions in our next shipment to New York.
Let's talk more about Tokaji Aszú wine, which used to be a favorite wine of the czars. What makes it so special, and are there specific Tokaji wines we should look for?
I'm really glad you know about Tokaji Aszú's popularity with the old Russian czars. Peter the Great even had a military unit stationed in Tokaj to procure and transport a private supply of the stuff to his palace in St. Petersburg, where they'd "drink" it from crystal spoons. One of my favorite stories, and I can't say I blame Peter for his obsession!
Tokaji wines are special, first and foremost, because the region of Tokaj is special. It's where two major rivers meet, and where an interesting blend of volcanic soil and loess provides distinctive, complex terroir. Tokaj has been famous for centuries for its wine; it was home to the first wine classification system in the world in 1772, and its sweet botrytis wines were (and are still) considered the best in the world. Quality generally declined under communist-run collectivization, but today, Tokaj is back and making better wines than ever. In the 1990s, pioneers in the region began focusing on dry white wines, and today, dry wine production is widespread in the region.
So I'd suggest you start with a bone-dry white (try Arvay's dry Hárslevelü) and end with a Tokaji Aszú, which is the world-famous botrytized wine from Tokaj. My friends refer to Fanni Kertje's 5 Puttony Tokaji Aszú as "the liquid gold."
Another interesting Tokaji wine is dry Szamorodni, which is a botrytized, dark-gold dry wine with almond flavors ideal as an apéritif or with dessert. It's different from pretty much anything you've tried before, with its teasingly succulent sweet botrytis nose and dry, nutty mouth.
Tell me more about Hungary's dry wines. There are a lot of hard-to-pronounce indigenous Hungarian grape varieties that most of us are quite unfamiliar with. What are some of your favorites?
Hungary has a plethora of great, hard-to-pronounce indigenous grape varieties that are appearing in dry blends and also as single varietal wines today.
First, the whites. Probably the most popular native Hungarian grapes are the Furmint and Hárslevelü from Tokaj. We have both of these as single varietal dry wines in our collection; they're also blended to make the famous Tokaji Aszú and other distinctive Tokaji blends, such as Szamorodni.
There's a white grape that appears both blended and as a single varietal wine called Cserszegi Füszeres that can make a lighter-bodied white wine with lively acids (the one made by Benedek Péter in Mátra is one of my favorites); it also appears in our Egri Csillag (Star of Eger) blend.
Others to look for: Olaszrizling (Welschriesling in Austria, and Hungary's most-planted white grape), Szürkebarát (Pinot Grigio, although local versions produce waxy, well-structured wines) and Juhfark ("sheep's tail," which makes smoky, chalky, masculine wines in Somló).
And the reds. The best (and most famous) native red grape is definitely Kékfrankos, known as Blaufränkisch in Germany and Austria. In Hungary, it produces light-colored medium-bodied wines with nice k; acids and powerful forest-fruit aromas. It can be blended (as in our Bukolyi "Kisfiám"), or can appear as a single varietal (WineLife in Sopron makes a great one).
You're based in New York — what are some of the best places in the city to try Hungarian wine?
You can try our wines at Terroir and North Square in Manhattan, and at Berlyn, Pier Wines, Vine Box, Dry Dock, Thirst Wine Merchants and Picada y Vino in Brooklyn. We've only been in business for a few weeks though, so the list is constantly expanding!