Iceland: Adventure Destination of the Moment
.article-cta-top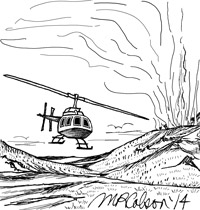 Few places in the world are as pristine as Iceland. The island was formed on the Mid-Atlantic Ridge less than 18 million years ago, and today, it remains a hot spot of geothermal activity, with innumerable hot springs and geysers, as well as glacial rivers, thundering waterfalls and razor-sharp lava fields. As it has fewer than 330,000 inhabitants, two-thirds of whom live in Reykjavík, it is possible to drive for hours on the main 
830-mile Ring Road (Route 1) without seeing a soul.
After the economic calamity of 2008, the country rebounded, and visitor numbers have surged. In part, this is because of interest provoked by the spectacular eruption of the Eyjafjallajökull volcano in 2010, which grounded European flights for nearly a week. Travelers invariably pass through Reykjavík. Filled with colorful buildings and quirky modern design, the city merits a day's sightseeing. Its 120,000 citizens typically have a dry sense of humor and seem genuinely keen to hear about your trip. Although there is no hotel of a Harper standard, both the Hotel Borg, an art deco property in the city center, and the Radisson Blu 1919, a business hotel, are sufficiently comfortable and convenient for brief stays. Hotel Borg is perhaps the better option, but its lodgings are slightly dated and worn. Be sure to request a room overlooking the picturesque square.
The principal reason for a visit to Iceland, however, is the great outdoors. Located 60 miles southeast of Reykjavík, the Hotel Rangá provides a convenient base from which to explore the south of the island. (The most practical way to reach the hotel is to hire a car at Keflavík airport, as transfers are exorbitant.) The summer sun was shining as we set out, and rushing azure rivers flowed through vibrant green pastures dotted by white farmhouses with bright red roofs. On our arrival at the 51-room log cabin-style hotel, a helicopter was landing in the parking lot, returning guests to their base camp after a day of glacier viewing. We followed its passengers inside and were met by a 10-foot polar bear named "Hrammur" standing guard in the main lobby.
Renovated in 2008, the Rangá is under the management of its kind and knowledgeable owner, Friðrik Pálsson. (He personally phoned multiple outfitters to help us rebook an excursion that fell through, and dined with the guests each evening of our stay.) The interior of the building has warm expanses of timber, terra-cotta floors and handmade wooden furniture. Check-in was slightly disorganized, however, and after collecting our room key and hauling our bags down a long hallway, we found that our room faced the parking lot, rather than the promised view of Mount Hekla. Not in the best of moods, we returned to the main desk, where, thankfully, the staff members were more attentive and accommodating than before.
Our new Deluxe Room proved modest in size, with a double bed, a wooden armoire, a light tan leather love seat and a small writing desk. The bath consisted of a corner Jacuzzi tub and shower, plus a single vanity. A door opened onto a private deck with views over the East Rangá River, the banks of which were dotted with salmon fishermen in waders. As a result of Iceland's proximity to the Arctic Circle, we were able to enjoy extended evenings on our deck, watching the pink wash of sunset linger in the sky until well after 11 p.m. (The aurora borealis is best seen in total darkness, from October through April.)
Rooms #6, #8, #16 and #18 look out onto the property's three communal hot tubs. Alas, their décor is rather kitschy, as is that of the hotel's "Antarctica" Master Suite, which is done in a black-and-white motif with a mirrored freestanding tub and life-size penguin statues! We were also able to see three of the themed Junior Suites, "North America," "South America" and "Australia." While idiosyncratic in design, these are notably larger and more comfortable than the Deluxe Rooms. The Rangá's restaurant serves surprisingly sophisticated modern Nordic cuisine. One evening we dined on reindeer carpaccio with truffle oil, shaved Parmesan and arugula, followed by smoked puffin! The latter had a gamey texture and a tang of seawater. Main courses of Icelandic lamb fillet served with root vegetables and a red wine demi-glace, and Rangá salmon over a sweet potato and white chocolate purée, were both outstanding.
Overall, the Hotel Rangá is comfortable and hospitable, but its amenities and service fall short of the Harper standard. At the time of our visit last year, it was the only four-star hotel in Iceland. (A design property, Ion Luxury Adventure Hotel, recently opened on the edge of Thingvellir National Park and may provide a satisfactory alternative.)
Hot tubs at Hotel Rangá - Photo by Hideaway Report editor
Lobby at Hotel Rangá - Photo by Hideaway Report editor
Our Deluxe Room at Hotel Rangá - Photo by Hideaway Report editor
Our bath at Hotel Rangá - Photo by Hideaway Report editor
Restaurant at Hotel Rangá - Photo by Hideaway Report editor
Rangá salmon over a sweet potato and white chocolate purée at Hotel Rangá - Photo by Hideaway Report editor
Opportunities for adventure abound here, with activities ranging from whale watching to dog sledding, caving, hiking, fishing, glacier tours and, not for the faint of heart, scuba diving in a dry suit. We opted for a half-day Super Jeep excursion with the tour operator Southcoast Adventure. We drove 20 minutes south to meet our guide near the base of the stunning Seljalandsfoss waterfall. Our first stop was Thórsmörk ("Valley of the Gods"), the area between three of the island's many glaciers. The drive across glacial streams and desolate rock-strewn plains proved unalarming, thanks to our vehicle's rugged all-weather tires and numerous gears.
"Stakkholtsgjá canyon was tufted with moss and sprinkled with wildflowers, a scene lifted from the pages of Tolkien."
A one-hour hike then took us into the dramatic Stakkholtsgjá canyon, tufted with brilliant green moss and sprinkled with wildflowers, a scene lifted from the pages of Tolkien. A simple lunch of homemade bread, creamy cauliflower soup and hot coffee was served in a warm and welcoming hut. Our trek then continued into the valley surrounded by the Mýrdalsjökull, Eyjafjallajökull and Tindfjallajökull glaciers. Back in the Jeep, we drove as close as we could to the icy fingers of the Eyjafjallajökull glacier. The valley was washed out in the floodwaters following the 2010 eruption, giving the area 
an eerie moonlike quality.
Though chilled from a day in the elements and with our faces burnished by the incessant wind, we returned to the Hotel Rangá in high spirits, just in time to share stories with fellow guests gathered at the bar for happy hour.
AT A GLANCE
LIKE: The pristine setting; the sense of being immersed in nature.
DISLIKE: Lack of amenities: the spa facilities are limited to a small massage room.
GOOD TO KNOW: The hotel provides a wake-up call to guests whenever the Northern Lights are sighted.
Hotel Rangá 89 Deluxe Double room, from $325; Junior suite, from $415; Master suite, from $500. Sudurlandsvegur, Hella. Tel. (354) 487-5700.