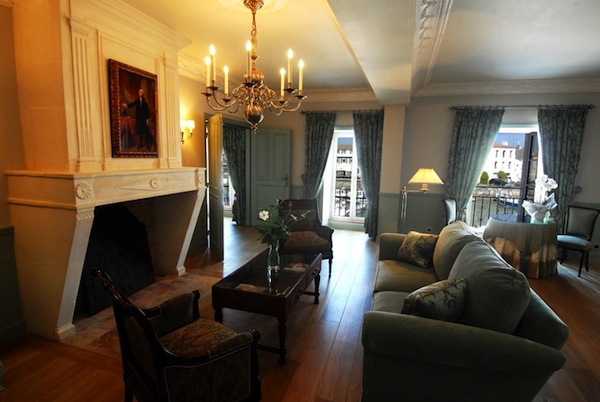 Hotel de Toiras   A Parisian friend once described Ile de Re as being very "Marie-Chantal" (a French equivalent to "preppy," because the name is popular in well-bred circles), but from an American perspective, we beg to disagree. A sandy, pine-forested island just off the Atlantic coast near La Rochelle, it seems to us more like a Gallic version of Nantucket. Not dramatically rugged like Brittany, it is peaceful, pretty and civilized. Perfect for a relaxing summer vacation, Ile de Ré also provides a year-round weekend escape from Paris.
Connected to the mainland by a two-mile bridge, the island is 30 minutes from the train station in La Rochelle, which is just under three hours from Paris by the high-speed TGV Atlantique. Most hotels arrange transfers from the station, so you don't need a car to enjoy the place's charms, and locals and visitors alike mostly get around by bicycle. (Many hotels provide them, and the 20-mile-long island has 62 miles of bike paths.) Each of the Ile de Ré's 10 villages has charm, but the one we like best is the delightful port, Saint-Martin-de-Ré. Surrounded by star-shaped stone ramparts constructed by the famous French military architect Vauban, it is a cluster of low, whitewashed houses surrounding a small harbor filled with sailboats. Happily, there are no serious sightseeing duties here at all. To be sure, you can visit the salt pans where the delicious sea salt used by most of the island's restaurants is produced, but otherwise, you are here to relax.
The 20-room Hotel de Toiras is one of the most delightful seaside properties anywhere in France. Run by the charming Olivia Le Calvez, who met her husband, Didier, while they were both working at the Four Seasons George V in Paris, this place gets virtually everything right. Built during the 16th century of creamy limestone, it was completely renovated by Le Calvez, who also individually decorated each room in gentle colors such as powder blue and celadon, complemented by antique furniture and 18th century-style wallpaper. Upgraded to the "George Washington Suite" — which owes its name to local son Nicolas Martiau, an early immigrant to Virginia and a distant ancestor of Washington — we loved its space, light and startling beauty. A leather armchair in a round sitting room created from an old watchtower provided an ideal perch from which to observe the leisurely traffic of the harbor. The spacious oak-floored salon featured crown moldings, a working limestone chimney, a velvet sofa flanked by Empire armchairs, a writing desk and a fine oil portrait of Washington. The separate bedroom had charming toile de Jouy wallpaper, parquet floors and the same sublimely comfortable bed found at Four Seasons hotels. A dressing room with abundant closet space led to a very large bath with a beautiful black slate floor, double vanity, old-fashioned claw-foot tub and oversize stall shower with brown-stenciled cream tiles. The Hôtel de Toiras has a charming restaurant, La Table d'Olivia, serving "simple and honest" cuisine. If they wish, guests are given wicker baskets to take to the market and the chef then prepares whatever they bring back. The hotel also arranges fishing trips with a local skipper, on which guests can catch their own sea bream and sea bass. Generally, however, we preferred to enjoy a glass of wine in the lounge before going out to dinner in the evening.
Among our favorite restaurants in Saint-Martin were L'Avant Port, La Baleine Bleue and Au Bord d'un Zinc, all of which serve contemporary French bistro menus that showcase fresh and delicious local seafood. If you tire of reading, cycling or strolling along the seashore, the Ile de Ré has several thalassotherapy spas (specializing in seawater treatments), the best of which is in Le Richelieu hotel in the village of La Flotte. -A.H.