A member of our web team just returned from a ten-day vacation in Greece with stops in Athens, Mykonos and Santorini. The first three days were spent in Athens at Hotel Grande Bretagne where daily breakfasts were enjoyed at the rooftop restaurant, with a view of the Parthenon in the distance.
The stay in Athens was wonderful, but it was Santorini that truly captured her heart. A short stay in the beautifully unique House of Portraits at The Tsitouras Collection in Firostefani left her wishing the entire 10 days had been spent exploring the island of Santorini. Here are a few highlights from her stay.
Things to Do in Santorini
Favorite Trip Moment: Watching the sunset from the balcony with our "sunset cocktail." The fading light and reflection of the sky hit the infinity pool at the perfect angle, reflecting the sky as if it were double. And the intimate environment at the five-room hotel – it felt like we were in our own private villa.
Where to Eat: The Tsitouras Collection's breakfast. It is beautifully presented and delicious. I could eat their warm chocolate croissants every single day. For a bit of local flavor and traditional Greek cooking try Nikolas Taverna, or for something a bit more upscale and a great sunset spot, Archipelagos Restaurant overlooking the caldera is nice in the evening. Dimitris in Ammoudi Bay is right on the water and offers fresh-caught seafood.
Insiders' Tip: Look left from the hotel towards Fira before choosing to go into town. If there is a huge cruise liner anchored in the port, you may want to wait until the tourists clear out before heading that way. We heard they usually dock on Wednesdays and can increase the population in town by up to 20,000 people (yikes!).
Overall: Firostefani is the perfect setting. The Tsitouras Collection is situated right onto the cliffside surrounded by whitewashed buildings, hanging over the lip of the caldera. The separation from the more touristy areas of Oia and Fira was ideal, because you are far enough away to have some peace and quiet, yet close enough to reach either in a few minutes time.
Daytrip: Rent a car for 40 Euros (or hire a driver) and explore the island for the day. It is around the same price to get a return taxi to Oia from Firostefani, and the freedom is worth navigating the windy roads. The red beaches near Akrotiri are stunning, and lunch at Dimitris in Amoudi Bay is a must.
What to Pack
---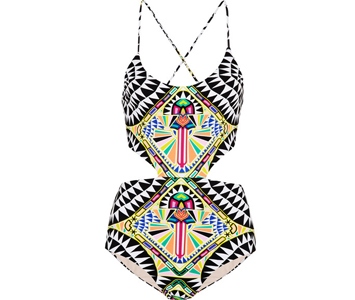 COLORFUL SWIMSUIT
This geometric one-piece by Mara Hoffman is perfect for daytime pool lounging or layered with a breezy top and skirt.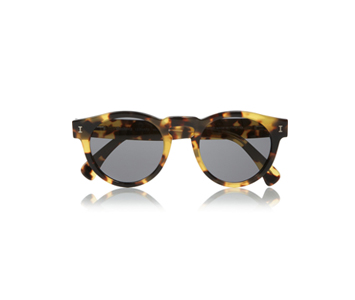 CHIC SUNGLASSES
This subdued tortoise pair from Illesteva looks great on most skin tones and blocks out the bright sun while sightseeing.