Just Back From: McCall, Idaho
.article-cta-top
The art director of the Hideaway Report, Kristina Mitchell, recently visited a place she knows well and loves: McCall, Idaho, a resort town about two hours north of Boise. On this trip, she headed back for a family vacation and stayed for two nights at Shore Lodge, whose Lakeside suites feature gorgeous views over the marina, the lake and the mountains. "McCall," she says, "never ceases to amaze us."
Overall impressions: McCall is a little slice of heaven: Dense forests surround the pristine, snow-fed Payette Lake. There are so many activities for every age there, and Shore Lodge itself is family friendly with a game room, movie theater, s'mores each night, a pool and beach, water slide/trampoline and racket sports, including tennis and racquetball.
Favorite moment: Watching the sunset with the family from our lakeside table at the newly renovated Narrows Steakhouse. The entire dinner was memorable from beginning to end.
Favorite meal: Besides dining at The Narrows Steakhouse, we enjoyed a casual dinner at Steamers Steak and Seafood. Via a complimentary Shore Lodge shuttle, we headed downtown (just one mile) to this locally owned rustic restaurant for excellent clams, tuna tartar and rainbow trout. The restaurant had a great wine selection and friendly servers.
.article-cta-block
Favorite excursion: We rented the Shore Lodge's luxurious pontoon boat for two hours and were able to tour the entire 5,300-acre lake, enjoy a picnic of wine and snacks and watch our son wakeboard. The water was cold but clean, the views were remarkable, and we had the lake mostly to ourselves.
Where to drink: Shore Lodge just renovated its upstairs bar, which now has a delightful atmosphere. The design is very "mountain chic" with floor-to-ceiling windows overlooking the lake and is set up so most every seat has a view. Our appetizer and drinks were prepared with perfection, and we especially enjoyed the attentive service of the bartenders.
Day-trip suggestions: McCall has a number of golf courses to choose from, so bring your clubs. Whitetail Golf Club is private, but guests of Shore Lodge have access to the course during their stay. We have played there a few times and love how uncrowded and immaculate it is. There is also Jug Mountain Ranch, which has a nice clubhouse with great views over the valley and long, challenging links. On this trip we played the city's public course, which has three nine-hole tracks (Aspen, Cedar and Birch) and a new restaurant. The course was in great shape, and there were white-tailed deer hopping around everywhere.
Whitetail golf course - Kristina Mitchell
If you are not into golf, then kayaking or paddleboarding up the slow-moving river at the north end of the lake is a peaceful way to spend the day. Moose sightings are common. To the south, Payette Lake drops into the Payette River, which features world-class whitewater rafting. If your stay is long enough, I recommend a day on the river.
Brought back/souvenir: We brought back some homemade fudge from the McCall Candy Store. And last year, I bought beautiful abstract bear paintings for my office from Razzle Dazzle Gift Store that I still cherish. For Idaho-inspired gifts and home décor, we enjoyed shopping at 44 Degrees North in downtown, too.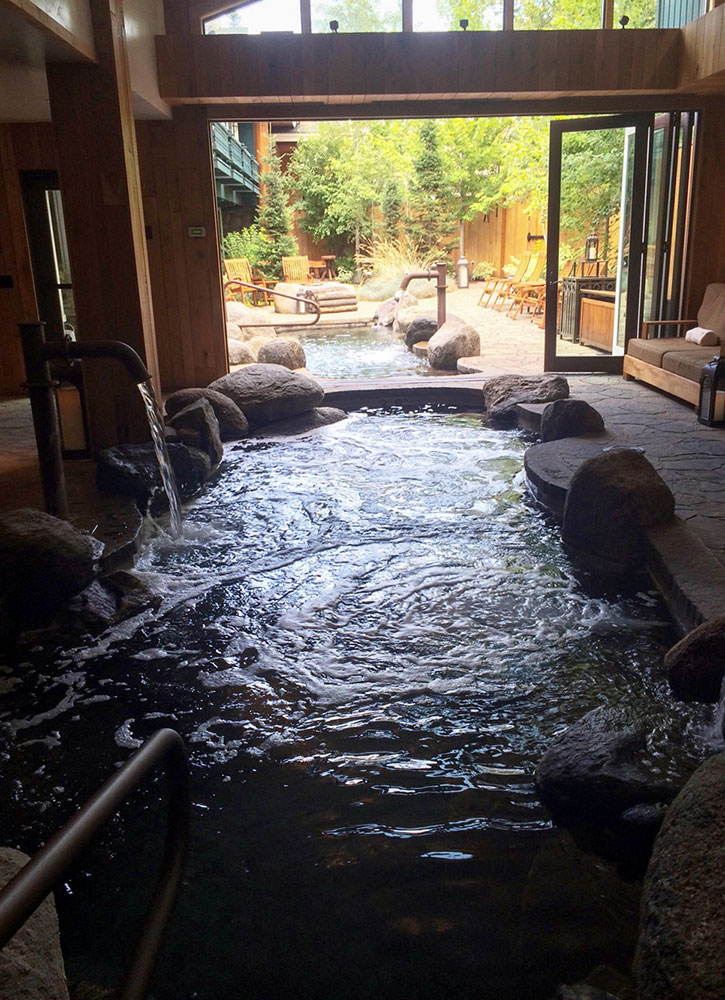 What to pack: Even in the summer, nights can be pretty cool, so you will need a jacket. And bring lots of bathing suits (with rash guards and swim trunks) to hop between the spa pool, the outdoor hot tub, the pool, the rivers and the lake!
Insider's tip: McCall is the most spectacular (and warm) in the summer months. July, August and September are the best times to visit. Weekends can be a bit crowded both because it's a popular time for weddings and because McCall is considered Boise's backyard. Service is typically better on the weekdays. If you stay at Shore Lodge, be sure to book a lakeside suite or the executive suite if it's available. Second and third floors have the best views, but if you have small children, you may like that the first floor opens right onto the sandy beachfront.
A sign showing the upcoming renovations, which will include pickleball courts, a new bar and pool food menu. Renovations should be finished by July 4, 2019. - Kristina Mitchell
Winter in McCall: McCall averages 138 inches of snow per year, more than Sun Valley. About 20 minutes north is a terrific family ski resort called Brundage that has soft snow, high-speed quads and is uncongested. Of course, McCall's lake is frozen in the winter, but Shore Lodge is open year-round, and I imagine it would be a fun place to warm up! At the end of each January, McCall hosts a 10-day winter carnival that features giant ice sculptures, fireworks, a beer garden, special dinners and a torchlight parade.