Last Word: Alain Senderens, 1939 – 2017
.article-cta-top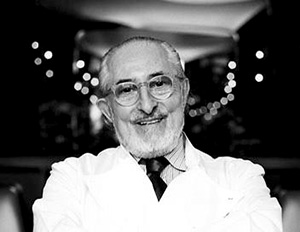 With the passing of chef Alain Senderens, France has lost one of the wizards of Gallic gastronomy, a genius defined by a playful but deeply considered iconoclasm. Senderens was a founder of the now-maligned nouvelle cuisine, but his cooking was about so much more than fussy flowers or baby vegetables, or the use of reductions to create flavor, instead of the heavier sauces that had been the defining trope of French cooking for centuries.
For me, two Senderens dishes were truly spectacular. These were his lobster baked with vanilla and his canard à l'Apicius, duck that was first poached and then lacquered with honey and spices. The duck made sense, since Senderens had found his inspiration on a trip to China; the lobster was astonishing because it seemed impossible that the combination could work. But it did, and the iodine-rich meat of the lobster was intensely flattered by the taste and perfume of the vanilla.
During the dozens of trips I've made to France through the years, I've had the pleasure of meeting many of the country's great chefs. Most of the time, these brief encounters have been tableside chats when the chef made his or her rounds at the end of the meal. On one occasion I'd just had dinner at Lucas Carton, where Senderens had had the innovative idea of serving a different wine with each course. So when he came by, we chatted about the pairings, as well as my upcoming trip to southwestern France. It turned out that he was about to hold an epic tasting in Cahors of dozens of wines against truffles and foie gras. "Why don't you come?" Abashed, I explained that I loved wine but was surely lacking the expertise of his other guests. "That's why it would be nice if you joined us. Otherwise it will be a bunch of old bores." I hesitated, but in the end I went.
The event lasted nine hours, but one pairing stood out. A traditional croquembouche is cream-filled puff pastry piled into a tower. Instead, Senderens gave us whole black truffles baked in pastry, served with Champagne. I've never known anything like it; the feral earthiness of the truffle combined with the slightly malty elegance of the Champagne remains an experience I cherish to this day.
Famously, Senderens had the audacity to thumb his nose at the grand arbiter of French gastronomy, "The Michelin Guide," when he "gave back" his three stars and converted his restaurant into something simpler, less expensive and more joyful. And in doing so, he fostered a new way of thinking about the restaurant experience in France. He also trained a remarkable roster of chefs; his protégés include Alain Passard (L'Arpège), Alain Solivérès (Taillevent), Christian Le Squer (Le Cinq, at Four Seasons Hotel George V Paris), Christopher Hache (L'Ecrin, at Hôtel de Crillon) and Jérôme Banctel (Le Gabriel, at La Réserve). Perhaps one day I will get a second chance at a truffle croquembouche and be able to savor it in honor of the late, great chef.