Learning to cook a variety of regional dishes just may be the best souvenir anyone can bring home from a trip to the Yucatán. An accomplished chef, the late David Sterling lived and worked in New York City for 25 years before his deep love of Mexican food led him, in 2003, to Mérida, where he opened a cooking school, Los Dos, in a beautiful colonial house in the heart of the city.
Sterling single-handedly raised the profile of Yucatecan cuisine during the years he lived in Mérida. He authored two highly regarded cookbooks on the region's cuisine. "Yucatán: Recipes from a Culinary Expedition," which was published in 2014 (winning two James Beard awards), and "Mercados: Recipes From the Markets of Mexico," which came out earlier this year. Following Sterling's death, Mario Canul, Sterling's sous-chef and right-hand man, took over as the head chef at Los Dos.
One of the main missions of Los Dos is to differentiate Yucatecan cooking from that of other Mexican regions.
One of the main missions of Los Dos is to differentiate Yucatecan cooking from that of other Mexican regions. In contrast to the prevailing perception that all Mexican food is fiery, Yucatecan fare is rarely spicy, though some restaurants offer xnipek, a piquant sauce akin to pico de gallo, made from habaneros, tomato, onion, coriander and sour orange. Generally, though, the flavors of the Yucatecan kitchen are subtle and savory. Its most famous dishes are made with ingredients that are readily available in most American supermarkets.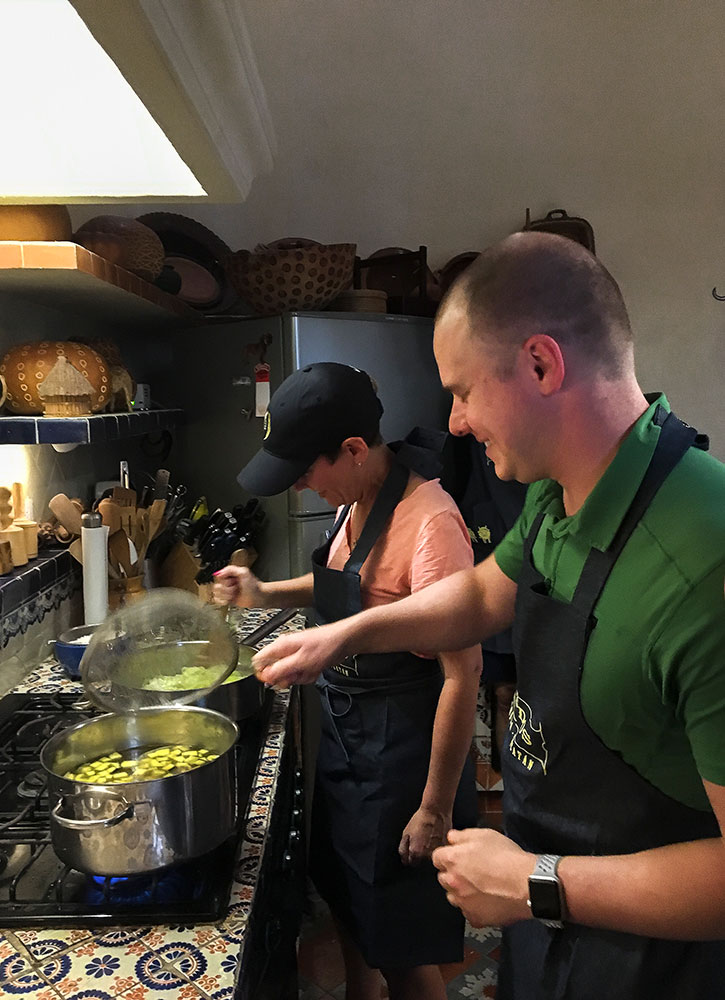 We signed up for the school's most popular class, "Taste of Yucatán," an eight-hour, $200, English-language program. It began with breakfast and continued with a fascinating lecture on the Yucatán's culinary history by chef Canul. We learned that Louisiana's Creole and Cajun cooking was once popular among the 19th-century sisal barons, who traveled to New Orleans across the Gulf of Mexico from the port of Progreso to shop and vacation. Next, we walked to Mérida's lively central market for a tour, and then returned to Los Dos, where we had a light snack before the hands-on cooking lesson began. Among the dishes we learned were three salsas, a delicious cream of cilantro soup, and pork and chicken pibil, marinated in achiote paste and sour-orange juice, then wrapped in banana leaves before being cooked in a Dutch oven (a practical adaptation of the Mayan pib, which is a hand-dug pit in the ground lined with stones and hot coals).