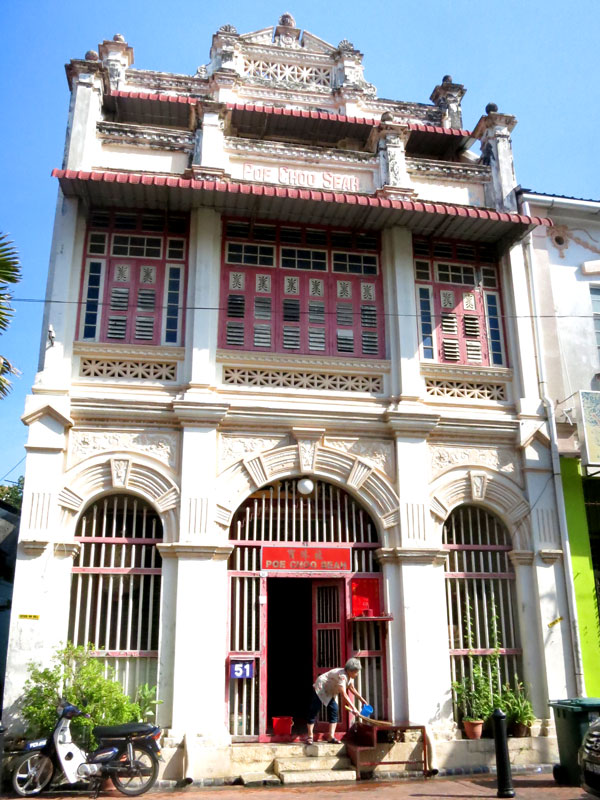 The growing popularity of George Town has led to a mini-boom in development, with many of the so-called "shophouses" in the old city being converted into boutique hotels. The shophouse is George Town's most emblematic form of architecture. The term refers to a contiguous row of houses, rarely higher than four stories, with stores on the ground floor. The idiom became common as a result of Chinese immigration in the 19th century, which explains why so many shophouses have a distinctly Chinese appearance, with ceramic tile roofs and elaborate decoration.
Seven Terraces
The 18-suite Seven Terraces opened in 2013. A hugely ambitious project, it was the brainchild of hotelier Christopher Ong and his Austrian partner, Karl Steinberg. In 2008, they acquired seven fire-ruined shophouses in a small lane near the center of the city and undertook the massive task of restoration. Ong was born in Penang, grew up in Australia, and had a successful career as a banker in Sydney before becoming a hotelier, first with the Galle Fort Hotel in Sri Lanka.
While preserving the 19th-century façades, Ong and Steinberg managed to create a large, tile-floored central atrium ornamented with sweet-smelling frangipani trees in huge glazed pots. The ground floor includes Kebaya, serving a menu of classic Indo- and Straits Chinese dishes, plus a bar, a library and a small lap pool. The public rooms display Ong's spectacular collection of local antiques, including figurines, lacquered tiffin carriers and teak couches inlaid with mother of pearl.
The Seven Terraces is a truly distinctive and utterly delightful hotel.
The suites are decorated in a similar style. The most desirable are the duplex Argus Suites, which overlook a quiet back street. Ours came with a spacious lounge furnished with red velvet-upholstered sofas, Chinese antiques and colonial-style furniture of British, Sri Lankan and local provenance. A huge white bath with a honeycomb-tile floor provided a single vanity and a rainfall shower. Reached via stairs, the bedroom opened onto a small private balcony overlooking George Town's Anglican church. Throughout our stay, service from the mostly Sri Lankan staff was outstanding. The Seven Terraces is a truly distinctive and utterly delightful hotel.
AT A GLANCE
LIKE: Exquisite décor in public spaces; convenient location; fine restaurant; charming staff.
DISLIKE: The lack of room service after 5 p.m.
GOOD TO KNOW: The Mews Café, just a five-minute walk from the hotel, belongs to the same owners and is an excellent choice for lunch, with a selection of well-prepared Asian and Western specialties and friendly service.
Seven Terraces 95 Argus Lane Suite, $205; Argus Lane Grand Suite, $385. Stewart Lane, George Town, Penang. Tel. (60) 4-264-2333.