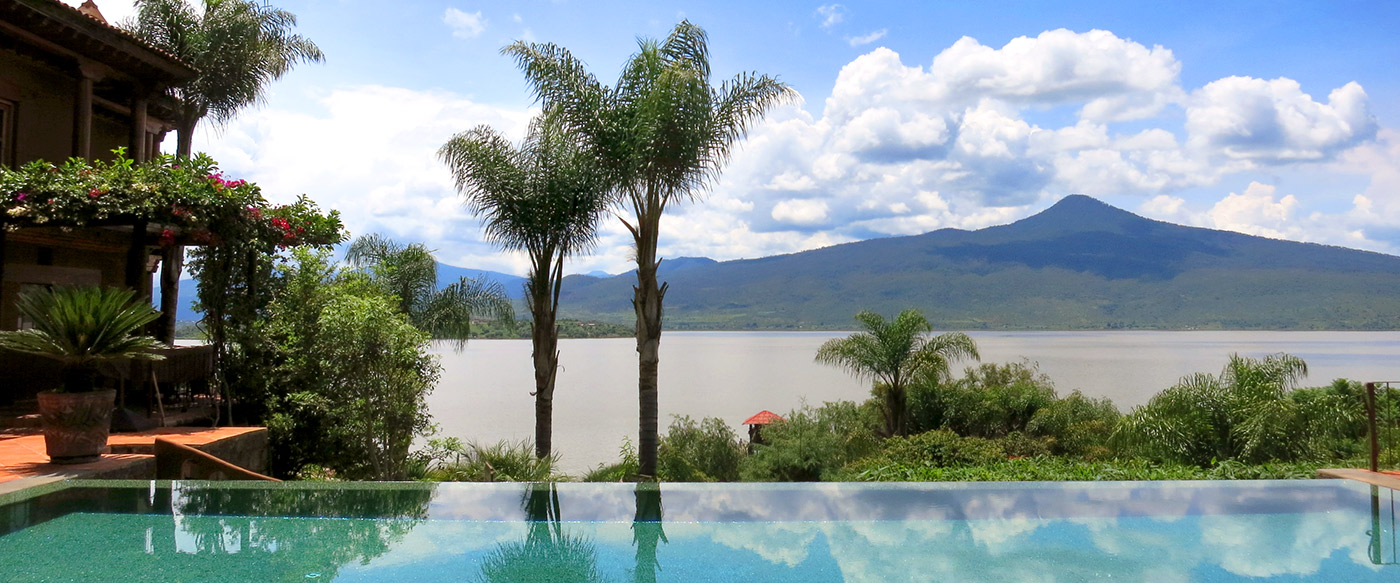 Is It Safe to Travel to Mexico?
Itinerary Extension to San Miguel de Allende, Mexico
Iridescent infinity pool with spectacular view at Hacienda Ucazanaztacua
Photo by Hideaway Report editor
Michoacán Villa on Lake Pátzcuaro
By Hideaway Report Editor
November 1, 2014
Hacienda Ucazanaztacua
We concluded our itinerary with a stay on the shore of Lake Pátzcuaro, the heartland of the Purépecha, an indigenous people the Aztecs never managed to subdue. It is possible to explore this region as a day trip from Morelia, but I highly recommend spending two or three nights at the remarkable Hacienda Ucazanaztacua, making excursions to the lake's islands, the colonial city of Pátzcuaro, the copper center of Santa Clara del Cobre and the ancient pyramids at Tzintzuntzan and Ihuatzio.
"I want you to feel like this is your home," Pereznares explained to us. Would that it were.
Rising from a steep bluff, this six-room retreat is the vision of owner Rafael Pereznares. After purchasing the land, he and a force of Purépecha workers spent ten years constructing the resort. Next to the main adobe villa, a wide terrace with an iridescent-green infinity pool affords sensational views. Inside, the décor reflects Pereznares' flair for the dramatic. The main lounge's fireplace faces a white sofa and a unique glass-topped dining table supported by monkeys woven using reeds from the lake. Opt for the "Rey Hirepan" suite on the ground floor or my favorite, the "Reyna Ireri" suite directly above it. Accessed through a pair of 16th-century Chinese doors, Reyna Ireri has vaulted ceilings, a woodburning fireplace and a wraparound balcony with a stupendous panorama of a dozen extinct volcanoes on the opposite shore, clad in shimmering jungle and wreathed with clouds. We could also enjoy the view from the window above the Jacuzzi tub in the bath, where a gold glass sink set into a carved stone capital competed for attention.
Pereznares trained the staff members himself, and their professionalism would be a credit to any luxury hotel. On the first night of our stay, we overheard our host turn down a last-minute dinner reservation for 10 people. "I want you to feel like this is your home," Pereznares explained to us. Would that it were.
AT A GLANCE
LIKE: Sensational lake views; anticipatory service; the immaculate infinity pool. 
DISLIKE: For lack of anything more substantial, I would have liked more hooks in the bath. 
GOOD TO KNOW: The rooms are not air-conditioned, but because of the altitude, nights can be surprisingly chilly. No television, but Wi-Fi is complimentary.
Hacienda Ucazanaztacua 94 Rey Hirepan or Reyna Ireri, $350. Domicilio conocido s/n, Lago de Pátzcuaro
enfrente a la Isla la Pacanda, Pátzcuaro. Tel. (52) 443-204-1457.
This article appeared in the November 2014 print edition of Andrew Harper's Hideaway Report under the headline "An Idyllic Villa on Lake Pátzcuaro."