During the past 40 years, Milan has become a fashion capital on a par with Paris and New York. But beyond its boutiques, Milan can surprise and delight anyone who allows the city more time. If the magnificent Duomo — the largest cathedral in Italy — and Leonardo da Vinci's mural "The Last Supper" are its best-known sights, it also offers a constellation of fine museums and restaurants.
Lately, Milan has also acquired a number of small luxury hotels as several of Italy's major fashion labels have sought to extend their brands. Missoni and Versace have opened properties overseas, but Moschino, Bulgari and Armani are in Milan itself. Of these, the latter two seemed most promising. Always eager for some sunshine-flavored risotto and a cotoletta alla Milanese (breaded veal chop) at my favorite, Antica Trattoria della Pesa, followed by an afternoon at the wonderful Brera gallery, I recently decided to spend a week in Milan, staying at the two new hotels and checking up on an old favorite.
BULGARI HOTEL MILAN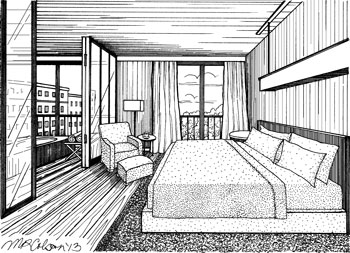 The 58-room Bulgari Hotel Milan occupies a renovated 18th-century palazzo at the heart of the city. Since it opened in 2004, the property has come to challenge the two hotels long considered the best in Milan: the Four Seasons and the Park Hyatt. On arrival, we were immediately seduced by its secluded setting overlooking a garden, and charmed by one of the warmest welcomes we've received in a very long time.
Relaxed, friendly and spontaneous, the attractive young woman who escorted us to our room offered a constant stream of useful information, punctuated by polite questions about what we might like to see and do during our stay. Her manner was in contrast to the sometimes-starchy rituals of traditional European hotelkeeping, which derive from a time when the aristocracy demanded deference from their social inferiors. During our stay, the service style at the Bulgari seemed to be informed more by North American notions of friendliness and Asian standards of efficiency than by a specifically European ethos.
After a brief tour of the basement fitness room and small spa, which included a compact pool, sauna and steam room, we were ushered into our Junior Suite. Tranquil tones of chocolate, beige and slate were complemented by silk-shaded lamps and oak parquet floors, while folding glass doors lined with filigreed brass screens separated the bedroom from the bath and the sitting room. The latter provided an armchair, a black leather-covered desk, a full-length mirror and a minibar with an espresso machine in a mirrored backlit niche. Overall, the attention to detail was conspicuous, from the feather-filled duvets and gossamer cotton sheets to heavy oak hangers in the spacious walk-in closet. An arrangement of green orchids provided an additional touch of sophistication. In the splendid travertine-faced bath, an oversize tub in the middle of the room afforded a view to the garden below. The suite came with all of the amenities you might need, including an iPod dock and a Tivoli clock radio. In addition, a succession of thoughtful surprises animated our too- brief stay. For example, returning from dinner one night, we found a stainless steel thermos of herbal tea waiting for us, and the bath softly illuminated by scented votive candles.
The lobby at the Bulgari is an inviting space where many guests choose to spend some time. Leather couches and chairs are arranged close to an ethanol fireplace, and it became our habit to relax in its warmth, browsing magazines and guidebooks, before heading off for a spell of sightseeing. On winter afternoons, hot chocolate is on offer, along with a delicious assortment of pastries. Just off the lobby, the bar is among the most popular in Milan, since it overlooks the hotel's large and tranquil garden.
To be sure, not everything during our stay was perfect. Breakfast was overpriced and absentmindedly served: The fresh fruit included in the $40 continental breakfast never showed up, and the newspaper ordered at check-in remained undelivered. But overall, I was extremely impressed. Bulgari currently has properties in London and Bali, and will open one in Shanghai in 2015. Before long, the company's hotels may be as highly regarded as the brand's famous jewelry. Suffice it to say, we were very sorry to leave this delightful place and have every intention of staying here the next time we visit Milan, ideally when the weather is warm and we can enjoy an evening drink in its lovely garden.
AT A GLANCE
LIKE: Tranquil private garden; charming service; exceptionally comfortable rooms.
DISLIKE: Uninspiring restaurant with a dull dinner menu and an overpriced breakfast.
GOOD TO KNOW: Print a map with the location of the hotel to show to cab drivers, as none seems to know where it is.
BULGARI HOTEL MILAN, Rating 95 Deluxe Room, $945; Junior Suite (Garden View), $1,245. Via Privata Fratelli Gaba 7/B. Tel. (39) 02-805-8051.
ARMANI HOTEL MILANO
Proof that the talents needed in the world of high fashion do not necessarily translate to the hotel business is to be found at the 95-room Armani Hotel Milano, located in a former 1930s office building on the busy Via Manzoni. The ground floor is mostly occupied by Armani boutiques, while the main reception is to be found on the seventh floor. There, we found a polite but reserved crew of young "life-style managers" — yes, they really are called that — lined up behind the front desk in dark suits.
Before heading to our suite, we were shown the hotel's spectacular spa, which affords impressive views over Milan to the Duomo. We then boarded the elevator to descend to the third floor to find our junior suite. Even though we stayed at the hotel for several days, we never became accustomed to this time-consuming double journey.
Our suite was such a study in minimalism that it looked a mess as soon we had unpacked. Indeed, the room seemed to have been designed to instruct guests that clutter is undesirable. There was not a single decorative object to be seen, aside from a small white plate with six carefully arranged chocolates. Toward the end of my stay, it occurred to me that its ideal occupants might be mannequins, since our quarters had the same posed beauty as a department store window. The bath was undeniably impressive, however, with dove-gray striped marble, frankincense-scented toiletries, underfloor heating, excellent lighting and an indulgent soaking tub.
Since Milan has so many exceptional restaurants, we did not find time to try the hotel's dining room, Armani/Ristorante, which seemed to be empty much of the time. (Perhaps fashion-conscious people don't really eat anything.) However, we did enjoy a cocktail in the top-floor Armani/Bamboo Bar, which has cleverly configured tables that encourage conversation, and stunning views over the city. The drinks are pricey, of course, but they come with an array of delicious little hors d'oeuvres, including tuna tartare, mozzarella balls and even tiny bowls of pasta. The staff in the bar also seemed more relaxed than their colleagues elsewhere in the property.
Although our life-style manager had emailed a questionnaire about our preferences in pillows, newspapers and restaurants long before our arrival, it took a lot of back-and-forth to get restaurant reservations sorted out; our International Herald Tribune was never delivered; and we generally found this concierge system to be inefficient and poorly organized.
Overall, the Armani is designed to appeal to an extremely specific clientele. There are doubtless those who would regard it as the summit of chic, but it is emphatically not to my taste.
AT A GLANCE
LIKE: Convenient location; the spectacular bar.
DISLIKE: The minimalist décor, which is so pure that it is almost monastic; strangely restrained and inhibited staff.
GOOD TO KNOW: Rates here (as elsewhere in Milan) soar during the fashion collections, and the concierge charges a commission and service fee for requests such as railroad tickets.
ARMANI HOTEL MILANO, Rating 89 Premiere Room, $785; Classic Suite, $1,060. Via Manzoni 31. Tel. (39) 02-8883-8888.
GRAND HOTEL ET DE MILAN
After a surfeit of minimalism, I felt in need of a strong dose of Old World charm. I was therefore looking forward to a stay at the aristocratic 95-room Grand Hotel et de Milan, which is celebrating its 150th anniversary this year. Once the home of Giuseppe Verdi, where he worked on "Falstaff" and "Otello," it has also played host to dozens of crowned heads over the years. But, alas, the front desk staff were frosty to the point of being snooty, with none of the graciousness and good manners one expects at such a storied address.
Though we later learned that some rooms have been entrusted to Milan's Dimore Studio for refurbishment, we had the misfortune to stay in a deluxe double that didn't appear to have been freshened for some considerable time. As we'd requested a courtyard room rather than one overlooking the noisy Via Manzoni, our accommodations were peaceful. But the caramel- colored curtains were unattractive, there was a worn Brussels carpet on the otherwise handsome oak herringbone parquet floor, and, in the sitting room, the upholstered furniture had a grandmotherly air. All told, it was hard to understand how such a room could possibly be sold for $800 a night.
To be fair, the hotel still provides many distinctive details—such as crisply ironed linen hand towels in the bath — and the public areas possess authentic 19th-century opulence. But overall, the property seems rather faded, even elderly, with facilities that are no match for those of the Bulgari, Four Seasons or Park Hyatt. Those in search of traditional Milanese grandeur should head to the Hotel Principe di Savoia.
AT A GLANCE
LIKE: Great sense of history; convenient central location.
DISLIKE: Stuffy service; dated room furnishings.
GOOD TO KNOW: Skip breakfast here and head for Cova, one of Milan's nicest cafés, at Via Montenapoleone 8.
GRAND HOTEL ET DE MILAN, Rating 87 Double Deluxe Room, $720; Junior Suite, $870. Via Manzoni 29. Tel. (39) 02-723141.
Illustrations ©Melissa Colson