Set on a grid pattern, Montréal is an eminently walkable city, and an excellent place to start is the lovely Vieux-Montréal, with its time-honored buildings set on cobbled streets.
Begin at the Place d'Armes, which contains the magnificent Notre-Dame Basilica— a favorite of Luciano Pavarotti, apparently, owing to its excellent acoustics. Built in 1824, it is rather plain from the outside, but the Gothic Revival interior has elaborate painted and gilded woodcarvings, most notably in the sanctuary. Tuesday through Saturday nights, there is a son et lumière show. 
If you are a keen walker, head down rue Notre-Dame to rue McGill, then make a right on McGill and a left on rue Ste-Catherine, with its lively shopping scene. After a right on rue University, you will find Musée McCord on rue Sherbrooke (690 rue Sherbrooke Ouest). This will take 20-25 minutes at a good pace. If this does not appeal, you can simply take a taxi, or catch the metro from the Place d'Armes to the McGill stop, from where it is a short walk to the McCord.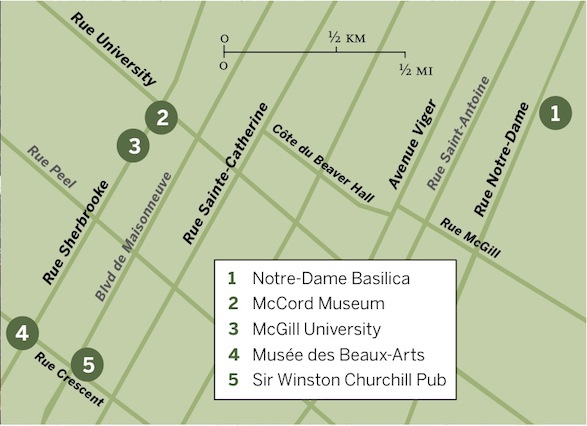 The McCord is a terrific small museum that is often overlooked, but shouldn't be. Its permanent exhibit, "Simply Montréal: Glimpses of a Unique City," is full of remarkable photographs and artifacts. There are wonderful displays of First Nation arts, as well as changing exhibitions of photography and more. On our visit, the museum was showing a wonderful exhibit of original costumes from Cirque du Soleil, which is based in Montréal. 
Exiting the McCord, continue on rue Sherbrooke and you will shortly come to the impressive gates of McGill University. This is Canada's most highly regarded seat of higher education, founded in 1821 by Scottish merchant James McGill, and has a student body of 36,000. Enter the gates for a fine view up the promenade. 
Back on rue Sherbrooke, proceed to the Musée des Beaux-Arts (1339-1380 rue Sherbrooke Ouest). Its extensive holdings include modern Canadian art, European painting and sculpture. I particularly enjoyed the decorative arts from the Middle Ages to the 19th century, a wonderful accumulation of furniture, ceramics and glassware. (This will be closed until June 2011 for reinstallation work). Every display is carefully explained in both English and French. The museum store, in the annex across the street, is also well worth a stop. 
After your visit to the museum, head back on rue Sherbrooke to make a right on rue Crescent, which is full of pubs and cafés, making it the perfect place for a reviving drink or snack and some prime people-watching. We stopped at the Sir Winston Churchill Pub, which has several English ales on tap. From here, you can stroll along the shopping street, rue Ste-Catherine. We hailed a cab, however, and headed back to the hotel, our feet agreeing with our heads that we had taken our exercise for the day.
Map © Andrew Harper.