I enjoyed my two-night stay: The welcome was efficient and cordial, and the lobby lounge, dominated by an astonishing Baccarat chandelier, was exceptionally impressive. My Deluxe King room was elegantly appointed in a harmonious contemporary style, with expanses of natural wood; a restful palette of cream, gold and gray; comfortable leather armchairs and attractive modern artwork. The lavish marble bath was awash with natural light and came with underfloor heating, twin sinks and a walk-in shower, as well as a generous soaking tub set beneath the large window. All of the amenities worked flawlessly, and both room service and housekeeping proved friendly and efficient.
Alas, dinner in The Northall restaurant was less satisfactory. The Modern British cuisine was lackluster — my lamb was overcooked — and the service was slow. Maybe I was unlucky. The alternative, Massimo Restaurant, serves straightforward Italian cuisine in a stylish art deco setting. (There is also a glamorous oyster bar.) The Corinthia's one stellar amenity is the huge ESPA Life, which is now widely regarded as the capital's best spa. Spread over four floors, the facility offers 17 treatment rooms, a 30-foot stainless steel indoor pool and a black marble steam room.
The Corinthia is a superior hotel, and in many ways, I am tempted to recommend it. Its intended rivals are, I imagine, The Savoy, The Dorchester and the Four Seasons. As yet, however, it is not ready to compete at this exalted level.
AT A GLANCE
LIKE: Excellent location; exceptionally comfortable rooms; dramatic public areas. 
DISLIKE: Somewhat impersonal atmosphere; lackluster food and service at dinner.
GOOD TO KNOW: The spectacular spa has to be experienced, even by those who profess indifference to spas.
Corinthia 89 Deluxe King, $805; Junior Suite, $1,215. 10 Whitehall Place, London SW1A 2BD. Tel. (44) 20-7930-8181.
Bulgari Hotel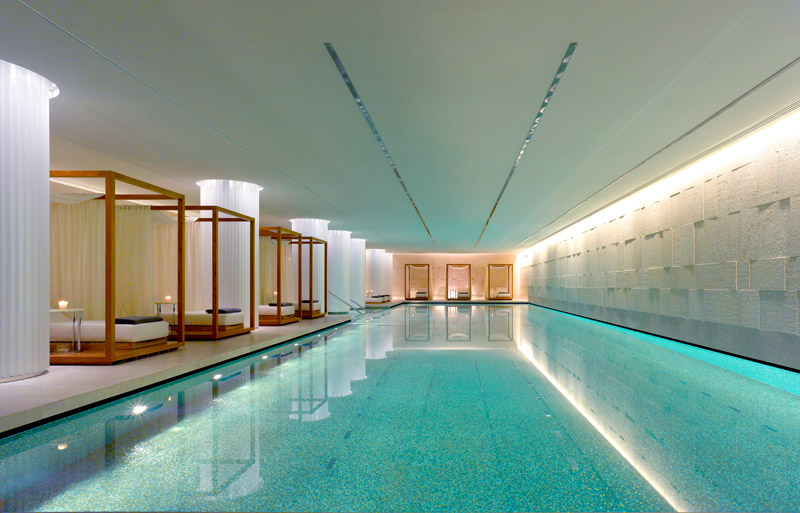 Located in the heart of Knightsbridge overlooking Hyde Park, the 85-room Bulgari Hotel opened in June 2012. Its interior is the work of Italian designer Antonio Citterio, who here has employed the same idiom that distinguishes the group's property in Milan. But in London, the pearl-colored silk-paneled walls, raw silk floor-to-ceiling curtains and Milanese modern furniture seemed curiously out of place.
No doubt the Bulgari has been targeted at a 21st-century demographic that is less susceptible to the charms of traditional British style. In recent years, London has become the preferred domicile and vacation spot of the world's newly rich. And for travelers from Russia, China and the Middle East, one of the city's principal pleasures is shopping. With Harrods and Harvey Nichols less than five minutes' walk away, and the luxury boutiques lining Sloane Street also nearby, the Bulgari is close to ground zero for all forms of designer merchandise.
From my perspective, however, real luxury is enhanced by a sense of place. And this quality is something I prize more than ever as globalization accelerates a monotonous international uniformity of taste and style. The Bulgari would be an equally good fit for Sydney or Shanghai — though the predominantly Slavic and Balkan accents of the staff might lead you to conclude that you were actually somewhere in Eastern Europe.
Consequently, one of the things I liked best about our Deluxe Suite was the library in the spacious and well-lit lounge, which featured an extensive selection of contemporary British fiction. On a more practical note, the wardrobe area was larger and better appointed than many Manhattan studios, and the bath was elegant, with black stone counters and white fixtures. Elsewhere, the Bulgari spa, with 11 treatment rooms and a 75-foot colonnaded swimming pool, provided an exceptionally pleasant and relaxing afternoon. Lunch at the Rivea London restaurant, a branch of the Alain Ducasse original at the Hôtel Byblos in Saint-Tropez, was unexpectedly good. Both the warm octopus-and-potato salad and the John Dory with zucchini flower beignets were outstanding.
AT A GLANCE
LIKE: Proximity to Hyde Park; the excellent Rivea London restaurant.
DISLIKE: The sense of being in an international environment that is entirely unrelated to London. 
GOOD TO KNOW: Even if you're not staying here, the very good and reasonably priced menu in Il Bar makes it an excellent place for a light lunch.
Bulgari Hotel 89 Deluxe Room, $905; Junior Suite, $1,780. 171 Knightsbridge, London SW7 1DW Tel. (44) 20-7151-1010.