New Discoveries in Rural Provence
.article-cta-top
Few places in the world are as irresistible as Provence, especially the Luberon valley to the east of Avignon; Les Alpilles, which is south of the same city and includes Saint-Rémy-de-Provence and Les Baux-de-Provence, two of my favorite French towns; and the lovely leafy city of Aix-en-Provence. The region has recently seen the opening of several new hotels that cater to travelers looking for accommodations of exceptional comfort and character.
Domaine de Manville
Les Baux-de-Provence, France
Just outside Les Baux-de-Provence, the 30-room and nine-villa Domaine de Manville was created from a group of 18th-century stone farm buildings on a 250-acre estate. The main farm building, the Bergerie ("sheep barn"), houses the reception and two restaurants. Most rooms are located in two newly constructed wings. Thanks to the talents of architect Mireille Pellen, who specializes in projects that gracefully join the old and the new, they blend into their surroundings perfectly. The main bar occupies a handsome new conservatory-style space and is a delightful place in which to linger over drinks before or after dinner.
The Winter Garden, which acts as the breakfast room for guests, at Domaine de Manville in Les Baux-de-Provence, France - Domaine de Manville
On arrival, we were surprised by the exuberant Baroque décor of the reception area and disappointed by the robotic behavior of the distracted receptionist. But our ground-floor Junior Suite was spacious, comfortable and attractively decorated. A small private terrace overlooked the hotel's enormous pool and adjacent restaurant, and the modern décor was a welcome change from traditional Provençal hotel décors, which so often combine faux antiques and floral prints in a style that has become a pastiche of itself. There was a small sitting area with a velvet chaise, and the wardrobe was spacious and well-organized, an intimation that this is a place where people unpack and stay for a while.
The factors that really make this property special, though, are its beautiful 18-hole golf course, its superb spa and the fact that you can book a serviced villa for the number of nights that suits your itinerary, a blessing for anyone who doesn't have the time, or the desire, to rent a place for the usual minimum of a week in high season. The Domaine de Manville is also a very family-friendly hotel, with a kids' club and babysitters available.
- Hotel at a Glance -
Domaine de Manville 94
Like
The exquisite setting; exceptional spa; beautiful golf course.
Dislike
The food in the gastronomic restaurant is overcomplicated.
Good to Know
Le Bistrot du Paradou, one of the most charming restaurants in the south of France, is less than 10 minutes from the hotel.

Rates: Deluxe Room, $550; Junior Suite, $640
Address: Les Baux-de-Provence
Telephone: (33) 4-90-54-40-20
Domaine de Fontenille
Lauris, France
The exterior of Domaine de Fontenille in Lauris, France - chapuis-photo.com
As improbable as it may sound, there are still a few secret corners of Provence where you won't run into tourists wearing Souleiado shirts or buying lavender-flavored candy — it exists and it's not good — and one of them is the string of quiet farm towns along the Durance river, on the southern edge of the Luberon. One of the prettiest is Lauris, which is well-known for the asparagus grown there. The 17-room Domaine de Fontenille is located on an 86-acre estate at the edge of town. The handsome 18th-century mansion is surrounded by vineyards — the estate makes good wines — and landscaped grounds dotted with ancient cedars of Lebanon.
The property was transformed into a hotel by two Parisians, and, as one of the owners explained to me when we arrived, their concept is "relaxed, affordable luxury, since this is what we think people look for in Provence." The individually decorated rooms are spacious and come with high ceilings, oak parquet floors and stylish traditional French furniture. Most baths have double vanities, soaking tubs and walk-in showers. The hotel has two restaurants: Le Champ des Lunes, which has a Michelin star and serves contemporary French cooking, and the more casual La Cuisine d'Amélie. Amenities include an outdoor swimming pool and a small spa. Yoga classes are offered on Tuesdays and Thursdays, and wine tastings are available at the estate's cellar. Quiet, intimate and full of character, this property is a wonderful base from which to explore.
- Hotel at a Glance -
Domaine de Fontenille 94
Like
The quiet setting; large, attractively decorated rooms.
Dislike
Service is occasionally amateurish.
Good to Know
The Domaine de Fontenille's own wines are well worth trying.

Rates: Executive Room, $420; Prestige Room, $520
Address: Route de Roquefraiche, Lauris
Telephone: (33) 4-13-98-00-00
.article-cta-block
Villa La Coste
Le Puy-Sainte-Réparade
The private terrace off the Pavillon Suite at Villa La Coste in Provence, France - Richard Haughton
About 14 miles from the Domaine de Fontenille, the 28-suite Villa La Coste in Le Puy-Sainte-Réparade is the most talked about new hotel in France. And it's absolutely spectacular. Built on a hillside overlooking a 600-acre estate belonging to Irish businessman Patrick McKillen, the hotel's accommodations are housed within individual stone-faced villas, set along a shady jasmine-planted lane. On arrival, you'll spot a huge bronze-and-steel spider by the late French artist Louise Bourgeois, the first evidence of McKillen's passion for contemporary art. Since he purchased the estate in 2002, he and his wife have acquired one of the most impressive collections of modern art and sculpture in France, including works by Alexander Calder and Richard Serra.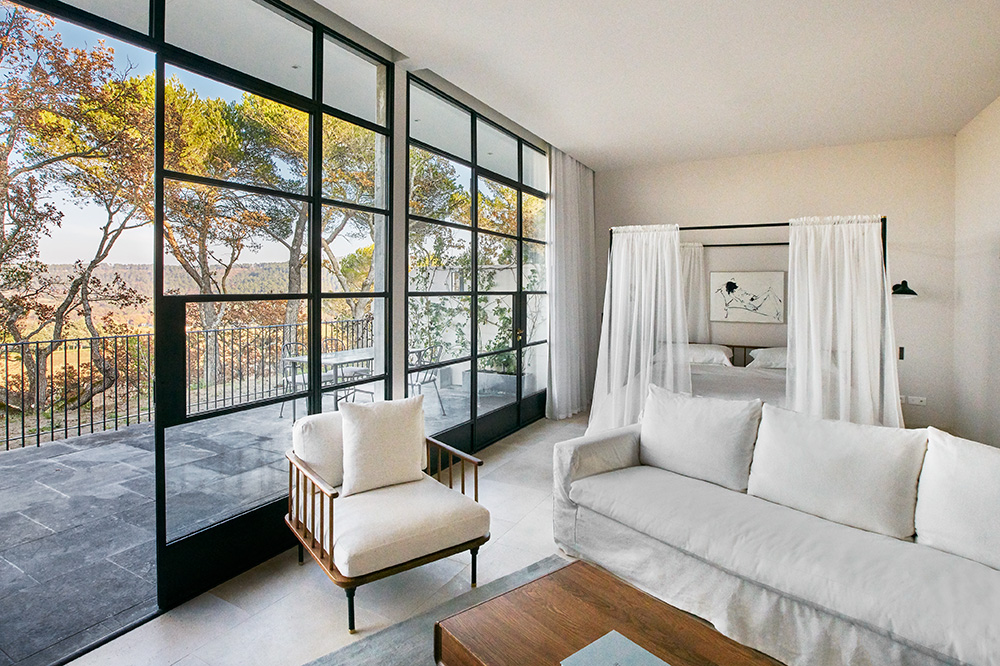 The main hotel building, which houses reception, several lounges, a bar, a library, a spa and the Louison restaurant (where three-star chef Gérald Passédat of Marseille is the consulting chef), has a Fernand Léger tapestry on the wall. The young staff members are efficient and cordial, keeping paperwork to a minimum before escorting you to your suite. All the accommodations have private gardens and large balconies; some also come with private plunge pools. Their interiors are furnished with streamlined contemporary furniture, including plush sofas and armchairs. Every suite comes with a large teak table and chairs, plus book-filled walnut étagères. Four-poster beds are hung with gauzy curtains and made up with the highest-quality linens. Baths feature soaking tubs carved from blocks of Vietnamese marble, walk-in rainfall showers and double vanities. Supremely private and comfortable, these accommodations are a tour de force of low-key, chic, contemporary design.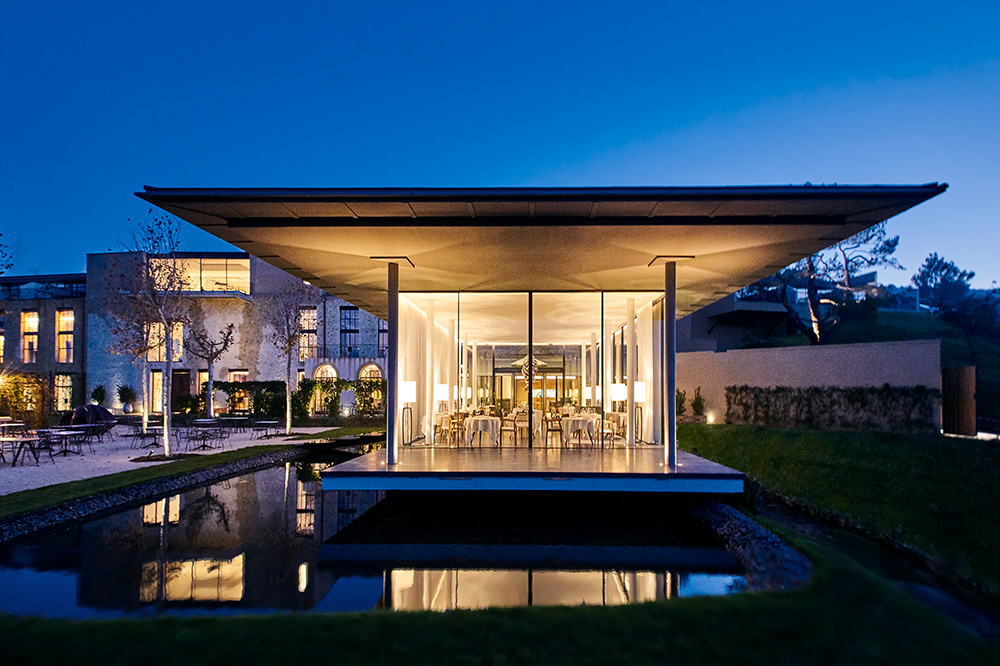 The property offers two other restaurants: a grill by famed Argentine barbecue master Francis Mallmann and a café serving contemporary Provençal dishes. In addition to an "art walk," to view the McKillens' sculpture collection, wine tastings and tours of the estate's cellars are available. Although located only a 30-minute drive from Aix-en-Provence, Villa La Coste is a self-contained property and one that merits an extended stay.
- Hotel at a Glance -
Villa La Coste 98
Like
Superb modern comfort of the rooms; the museum-quality contemporary art; outstanding restaurants; the peaceful location; excellent service.
Good to Know
On weekends, the estate can get busy with visitors to the art collection.

Rates: Villa Suite, $1,600; Pool Villa Suite, $2,000
Address: 2750 Route de la Cride, Le Puy-Sainte-Réparade
Telephone: (33) 4-42-50-50-00

View Villa La Coste Hotel Listing