From Zurich Airport, we arrived in Gstaad after a three-hour train journey through soaring mountains and snow-stilled countryside. Although a glamorous ski resort, with more than 130 miles of groomed trails, Gstaad still has the character of an unspoiled Alpine village. Of course, it contains a constellation of luxury boutiques, including local institutions such as winter sports outfitter Lorenz Bach, as well as some very stylish bars and restaurants. But one of the main reasons for its enduring appeal is a wise building code that requires all new construction to respect the local idiom of traditional chalet architecture.
Alpina Gstaad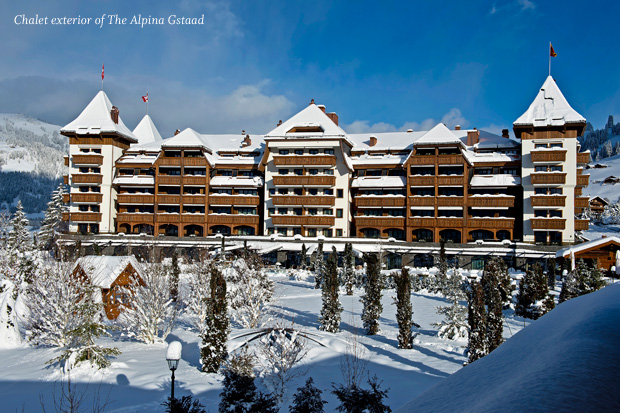 The hotel driver greeted us at the station, and after a five-minute drive, we pulled up at the 25-room, 31-suite Alpina Gstaad. This proved to have a traditional whitewashed façade with weathered pine balconies and slate roofs, but a rather James Bond-like subterranean entryway with a waterfall, evergreen trees and amber lighting. However, a glimpse of the cozy lobby, with its recycled timber, slate and Swiss antiques, swiftly set me at ease. Upstairs, our Grand Luxe Suite was an expansive yet homey space, with paneled walls, a coffered pine ceiling and a stone chimney surrounding a gas log fire. A chaise longue by one of the windows was upholstered in herringbone-weave worsted and draped with a crimson alpaca throw; wingback chairs stood before the fire; well-stocked bookshelves lent themselves to happy browsing; and a dining area provided a pine farm table with seating for six. The bedroom came with an extremely comfortable bed with Frette sheets, a leather headboard, bedside lamps on easy-to-use dimmer switches, and a Bang & Olufsen entertainment system. An adjoining pine-paneled dressing room provided ample built-in closet space, while a large, well-lit bath was equipped with a separate soaking tub and shower. Having unpacked, we enjoyed a perfectly served room service lunch, accompanied by a bottle of Fendant du Valais, one of my favorite Swiss wines. We then set out to explore.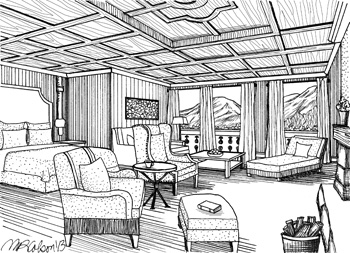 The Alpina Lounge & Bar overlooks the hotel's heated outdoor swimming pool, and the surrounding mountains are visible through a wall of floor-to-ceiling windows. Beyond the bar, we discovered the hotel's three dining venues: a branch of New York's Megu for Japanese cuisine; Restaurant Sommet, a Continental dining room; and the Swiss Stübli, a wood-paneled space with an Alpine menu featuring cheese specialties such as fondue and raclette. Down a level, the spectacular Six Senses Spa comes with a pool, hammam, sauna, chromotherapy suite and a special salt-paneled room that is apparently beneficial for those with respiratory problems.
For the next few days, we found it difficult to leave the hotel, aside from occasional skiing excursions, because we felt so comfortable and cosseted. One evening, we did venture out for dinner in the basement restaurant of the Hotel Olden, where, as usual, we ordered the famous spaghetti "sciué scuié," which comes with a simple but delicious sauce of tomatoes, red pepper, basil and garlic. Otherwise, we ate at home, enjoying superb meals at Megu, as well as an agreeable dinner at Restaurant Sommet, where both the ravioli with seasonal mushrooms and the grilled veal chop were outstanding. Throughout our stay, the service was excellent. The front-desk staff displayed the warm and easy good manners of a family-run chalet hotel, while a smiling chambermaid routinely greeted me by name on my way to the elevator.
As is invariably the case at a new hotel, a few details require attention. Why not fill the ice bucket in the wet bar every night without waiting to be asked? And the potato roesti, the iconic Swiss dish that is supposed to arrive with a crunchy golden crust, appeared to have been seared with a torch like a crème brûlée. Overall, however, The Alpina is an outstanding resort and a notable addition to one of Europe's most discerning destinations. I have no doubt that it will lure clients from the luxurious but never especially charming Grand Hotel Park. But to compete at the very highest altitude of Gstaad's carriage trade, it will have to work assiduously to match the flawless Old World standards still set by the Gstaad Palace. That said, The Alpina is a world-class contemporary property that offers remarkable comfort and spectacular amenities. We left with considerable regret.
Alden Luxury Suite Hotel
After the snowbound tranquility of Gstaad, Zurich offered a welcome change of pace. The city's classic address is, of course, the renowned (and extremely expensive) 120-room Baur au Lac. On this occasion, however, I had decided to try two well-regarded boutique hotels. Located in a quiet neighborhood just a few minutes from the lake, the Alden Luxury Suite Hotel occupies a stone-trimmed, art nouveau townhouse. All 22 of its light, spacious, high-ceilinged suites comprise two ample rooms — a large sitting room with an appealing mixture of antique and contemporary furniture, and a separate bedroom.
Our accommodations had clearly been designed for those on business, but their comfort and convenience make them equally suitable for leisure travelers. The lounge was furnished with a burled walnut rolltop desk, a glass-topped contemporary table, suede chairs and a velvet sofa. A pair of French doors opened onto a stone balcony. The bedroom came with a bed topped by a feather duvet, and the small bath offered a separate whirlpool tub and shower. The property has few amenities other than an excellent restaurant, which extends onto an outdoor terrace in summer. There, chef Sebastian Pertl serves an appealing menu of regional and Mediterranean dishes. Overall, if you are in search of a reasonably priced Zurich address, you might be very happy at this well-run and comfortable hotel.
Widder Hotel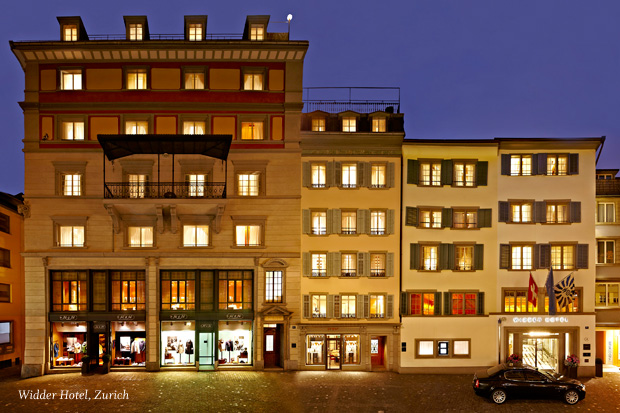 Five minutes from the Alden in the historic Augustiner Quarter, the 34-room, 15-suite Widder Hotel occupies nine landmarked historic houses that have been ingeniously joined to create a cozy contemporary property. (An ingenious system of color coding helps to guide guests through the architectural maze.) We were charmed by the hotel from the moment of our arrival. Not only was the front desk service exceptionally gracious, but the lobby area was decorated with sophistication and displayed a seamless combination of old and new. Although this is a 21st-century hotel, its appearance is a good deal more subtle and interesting than the dreary and predictable minimalism of a standard Design Hotel.
Our Junior Suite came with Oriental carpets and medieval frescoes on the whitewashed walls. The latter were in striking contrast to the re-editions of iconic modern furniture by designers such as Eileen Gray, Josef Hoffmann, Le Corbusier and Frank Lloyd Wright. Only the trendy halogen lights met with our disapproval. Done up in black-and-white marble tiles, the bath was small but equipped with a separate tub and shower.
The Widder Bar is distinguished by an impressive selection of Scotch whiskys, plus some terrific Swiss eaux-de-vie, and enjoys great popularity among local bankers and hedge fund managers, who fill the red-leather booths and converse beneath the 13th-century beamed ceiling. The hotel's two dining venues, the formal Widder Restaurantand the Alpine style Turmstuebli are both excellent. A small but well-equipped fitness center rounds out the amenities.
Although the Widder Hotel will not appeal to all Hideaway Report subscribers — its style is too modern and idiosyncratic — it will nonetheless find favor with those who prefer smaller properties with distinctive personalities.